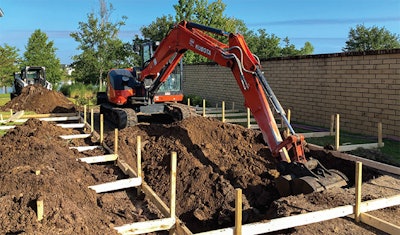 2020 has been a year unlike any other. Amid the chaos and constant uncertainty, it turned into the breakout year for which the swimming pool industry had been yearning for more than a decade. It seemed like literally everybody wanted a pool. Builders that typically finished one pool per day were getting 100 requests per week.
For builders this has been one of the most unique, inspiring and stressful years in memory, and as the swimming season draws to a close and winter sets in, thoughts immediately turn to the question: What can we expect from 2021?
BUSINESS IS STILL BOOMING
To try to understand the year to come, it's important to look back on where this one started off. For Lee Russell of Russell Pool Company, the middle of March was beginning to look like things might take a turn for the worst, noting that he felt as though another recession might be on the way. Russell scrambled to assure he had a plan if the pandemic impacted his business, and although he managed to stay six steps ahead, he soon found out that none of it was necessary.
RELATED: Boom in the Small Room
"Around the first week of April the calls just started coming in, and we got a boom unlike anything we've ever seen before," says Russell. "Compared to now, it's been an interesting year to say the least."
Michael Berggren of Berggren Pool and Spa had a similar story followed by the same outcome. Initially prepared to face an economic downfall, Berggren ended up above and beyond the original quota with customers putting down payments on their pools as far out as July of next year. Not because customers are necessarily looking for a specific timeframe — with a completely booked schedule, it's currently the earliest he can fit them in.
Russell and Berggren's stories echo what countless industry members have experienced. The year started off with hopes that, at the very least, businesses could continue at some capacity and keep their workers employed. Now it has evolved into one of the best years in sales history, though problems have come up every step of the way.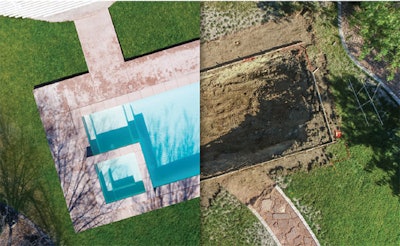 FACING NEW CHALLENGES
Business is better than ever before, but the past year has been accompanied by the stress of never knowing what might change. From a labor shortage to manufacturers limiting or shutting down production, keeping things running doesn't necessarily mean that they're always running smoothly. When the demand for pools started pouring in, Russell saw the opportunity to quadruple sales from previous years, but the impacts of the pandemic reached his company in an unexpected way.
"The worst part for us was there were service employees who left because they thought they'd make more from unemployment," Russell says, "even though you can't get unemployment if you just leave a company."
RELATED: The Best Year In History
While Russell tried to fill the new gap in employment, he had workers offer to take on some of the service roles. This helped with one shortage in the meantime, but it temporarily shifted labor from construction to keeping his service doors open. With such a prominent change in the supply and demand curve, he says there simply hasn't been enough labor to keep up with what customers want.
At the same time, Russell is looking forward to what the near future has to offer: bookings out until 2021, with a schedule that only continues to grow.
For many builders including Russell, limited labor was only one of their problems in the wild summer of 2020. Due to manufacturers shutting down or slowing production, the resulting nationwide supply shortage has been the leading cause of company setbacks.
"Orders that used to arrive in under a month are now taking anywhere from 12 to 16 weeks," Berggren says. His company isn't the only one experiencing such an extended timeline. Russell adds that although he anticipates 2021 to be another exceptional year for business, he hopes it also brings an end to the supply shortage.
With certain products either being produced in limited quantities or pausing altogether, builders have had to make occasional sacrifices. From extensive wait times for shipments to plastering pools without the lights in because they can't get them from distribution, interruptions in the supply chain were felt down the length of the product line all summer.
"When the manufacturer can't make the product, we can't get the product, and we can't provide that product to our customers," says Russell. "It's that simple, and it's tough."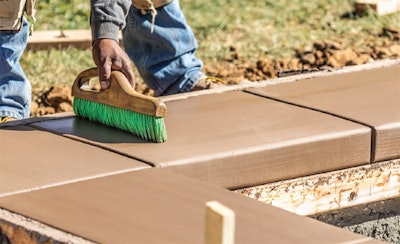 The shortage has forced many companies to think on their feet and find creative solutions. Berggren utilizes staged funding as his company works through each project, and a major challenge was faced when his payment was put on hold. Due to the pandemic, he couldn't get a chemical controller — a crucial part of completing the project — and therefore Berggren was unable to uphold his end of the bargain. Until he could find a solution, he couldn't receive his payment.
He and his rep had to get creative, taking a controller brain and various parts scavenged from replacement and repair units to piece together a working solution.
Another way that Berggren and others are setting up for success this upcoming year is by taking their own advice from months ago: prepare for the worst and hope for the best. By purchasing and storing months' worth of certain supplies while they're readily available, many hope that — should things take a turn for the worst — they'll have enough products to account for the work they already have lined up and avoid anything remotely similar to spring's recent toilet paper catastrophe.
RELATED: How To Make Online Hot Tub and Swim Spa Sales Easier
Berggren is hopeful that he won't have to even worry about a scenario like that. He adds that he fully expects 2021 to be great for sales and is optimistic that manufacturers will be able to start shipping out products as usual in the following months. "But for now, we're really just in the thick of trying to finish out everything for this year."
GROWTH FOR ALL
Between uncertainty and unprecedented numbers in sales, builders in the industry are both hopeful and hesitant on how the upcoming year will play out. And somewhere in the middle of the most unpredictable year in history, one outcome has been overwhelmingly positive. Berggren states that while his company is booked until the middle of 2021, others are scheduled for up until late 2022, and it's giving everyone the opportunity to profit.
"What we're seeing is not only a peak in interest, but also a good amount of overflow from other builders," Berggren says. "We all refer each other to each other, so rather than seeing everyone as competition right now, we're really all just different players on the same team."
As a result, he says that more and more companies are seeing a significant rise in business. If a customer wants a pool by next summer but can't get scheduled until 2022, they'll be recommended to another company who can currently manage the client's needs. Many businesses that operated as competitors are now working together to make sure everyone that wants a pool can get one.
Likewise, Berggren has found it difficult to keep up with the overflow that he's receiving. To assure that business is steady, he recommends other companies for services that his business provides but might not be able to do in the timespan that his customers want, including automatic pool covers, equipment repair and new equipment installation.
"The end goal is to make sure the customer is getting what they want, regardless of who's making the sale," says Berggren. "It's neat to see that in this industry."
The prospects of the upcoming year appear golden on paper, though there are obstacles that will need to be overcome and problems that require a prompt solution for business to go accordingly. It's a matter of waiting, remaining optimistic and planning ahead. But in the midst of not knowing what's next, one thing continues to be certain — one way or another, customers are getting their backyard haven during global uncertainty.
RELATED: A Brick-and-Mortar Retailer Fights Back
"People are always willing to spend money on things that are most important to them," says Russell. "Swimming pools really fit in well with that because so many people feel particularly safe in their own backyard. We get to provide them with that comfort and enjoyment, and that keeps all of us moving forward. It's important to never forget that we're creating something special for our customers, especially now."
"2021 will create an unlikely bonus for us all," Berggren adds. "We get to watch everyone grow."