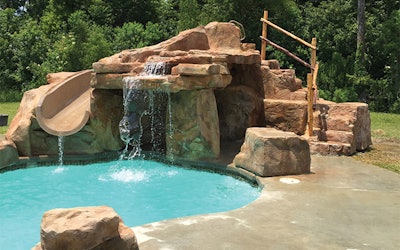 Despite the uncertainties surrounding our return to a new "normal," one thing is for sure: Homeowners are increasingly investing in their own backyards and seeking to amp up the entertainment capacity of their homes. This means a golden opportunity for the pool and spa industry to show them all there is to offer. With increased demand for outdoor features, it's crucial for builders to stay sharp and sell products that will help expand their number of contracts without skimping on quality and durability. There's no better time than now to get informed, step up your game and strike while the iron is hot.
One smart addition builders can use to strengthen their portfolios this season is custom rock projects.
"Any sort of a waterfall, natural rock or artificial rock is going to be a pretty profitable addition," says Bruce Riley, managing director at RicoRock. "Having a waterfall adds a lot of fun to the pool even if you're not using the pool."
RicoRock offers both structural and modular artificial rock products. Structural products, including grottos and caves, need the structural integrity of steel-reinforced concrete to support the weight of people climbing around on them. Modular products are simply mortared together. The cost is mostly in the product when it comes to modular waterfalls, and mostly in the labor when it comes to structural waterfalls.
RELATED: Courage and Experimentation
It's no secret that the profit margin of natural rock is significantly higher than that of artificial rock, but the simple truth is that natural rock projects end up posing more risks over time. Increasing the quantity of artificial rock projects may be the simpler, smarter way for builders to go, despite them being initially less profitable.
"A lot of pool guys really have a mental block to using artificial rock. And yet a lot of them can't build a natural rock waterfall that doesn't leak," Riley says. "The perception is that there's a higher profit margin with natural stone...but if they have leakage issues, they're going to create a headache for themselves."
This is not to mention the problems that arise due to the sheer weight of natural rock additions.
"If you put a five-ton waterfall on the edge of a vinyl liner or fiberglass pool, you could have issues," Riley says.
Artificial rock projects can also help builders optimize: about 70% of RicoRock's business comes from selling waterfall kits that are one-day installations, according to Riley.
Builders can save time and headaches from leakage issues later on by opting for artificial rock.
This efficient choice allows increased capacity to take on more projects and finish faster — ultimately making more money.
BEAUTY OF THE BOARD
Waterfalls enhance the sensory enjoyment of any backyard pool, but when it comes to good old-fashioned fun, it's hard to beat the joy of springboarding into the sky and plunging down into cool water.
Mikel Buyse, founder of Mikel Tube Wooden Diving Board Company, has seen an increase in interest in boards amid the pandemic. His leads have increased 130% compared to the same period last year.
"The way things look today, I'm sure it will be an excellent year for the swimming pool business," he says.
To Buyse, a great pool blends into its environment because it's one of the few elements of the backyard that won't fade away in time. And a diving board is the icing on the cake.
"I tend to think of it like a jewel that finalizes the whole project," he says.
Buyse's handmade wooden diving boards are sleek, simple and environmentally conscious, with consideration put toward the fluctuating nature of lumber itself.
"It is important to understand that a wooden diving board expands and contracts with the elements in its new environment," Buyse says. "So next to the choice of the correct type of hardwood to minimize this process, one needs to find a way to control it."
This is where his 'floating' and 'tension' techniques come in. It's all about the construction and makeup of the boards, based on the inevitable fact that they will change in shape over the course of changes in season and temperature.
"The floating technique assembles the upper shelves with a pen-hole attachment. There is no glue involved," says Buyse. "During the seasons, this upper blade will expand and retract like parquet. The distance between the shelves can change up to 0.08 inches in the summer.
"The tension technique, on the other hand, works with beams that are assembled together with rubber rags using tension bars. This technique is more expensive, but has the advantage that the rubber rags will absorb the expansion. And the board can be tensioned when needed. This was developed for motor yachts and offshore pools where the elements are harsher."
In order to create the best diving board for the pool, the designer must consider the general environment first, while also combining beauty, functionality and cost, Buyse says.
"Blending quality and style with affordability is the real challenge. Every design lover knows it comes with a price. Finding the balance between affordability and quality/style will lead to products that actually sell."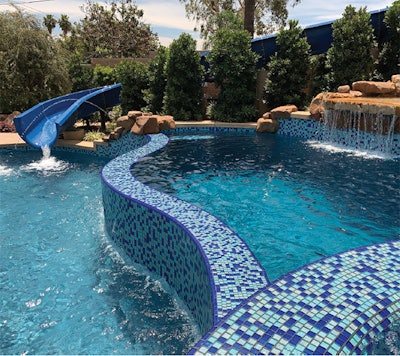 SLIDES ARE JUST FUN
The third element in the classic pool fun trio is the waterslide. They come in all sorts of shapes and twists, adding instant excitement to any body of water. Like other manufacturers of pool accessories in the post-COVID market, Roxanne McClain, founder and slide designer at Dolphin Waterslides, has seen an increase in business resulting from a change in customer perspective.
"Homeowners suddenly got a lot of free time on their hands, so we have seen a dramatic increase in old projects picking back up, as well as new ones. We are busier than ever at this point," she says.
Adding a slide to a pool package can be very beneficial for builders: New installations can generate repeat business for years, according to McClain.
"Slides are just fun. A builder that doesn't install a custom slide isn't opening themselves up to offering their clients that added excitement that can really be a game changer."
By encouraging homeowners to ramp up standard pool projects, builders can draw them along the road that will ultimately be a more satisfying purchase for the homeowner and a more lucrative project for the builder. And it all begins with showcasing the options.
RELATED: Considering a Pool Slide? Here's What You Need to Know
"The builder has to show the owner what's out there. Every family is different, but all designs start somewhere," says McClain. "Add the slide or any other feature in your materials as an option when closing the basic projects. A lot of people don't know they want a slide and grotto kit until they have seen it."
As for what's trending in the world of waterslides right now, McClain points to the rise in popularity of Quick Elevation Changes.
"Everyone is looking for fun, and not just a serpentine slide. They want the thrills," she says.
When it comes to hesitant homeowners, McClain offers this bit of wisdom:
"I would say, people don't regret the things they added to the pool, they regret the things they talked themselves out of. Just like life."