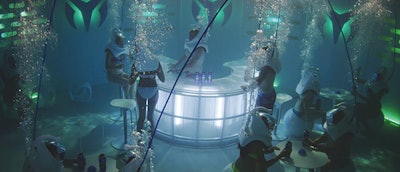 Look around and it might look like any other nightclub — conversation, drinks, a dart game. But the giant breathing helmets and swimsuits give away a key element to this lively night scene. It's located 14 feet underwater.
Created to promote TechnoMarine underwater watches, the world's first underwater nightclub was thought up by New York City-based Thinkmodo, a marketing team known for its viral promotional videos. The team, consisting of writer-filmmakers Michael Krivicka, James Percelay and producer Sam Pezzullo, owe their impressive portfolio to unconventional ideas.
RELATED: German Troupe Performs Underwater Opera
The video was shot at a military training facility with navy divers and help from the Sea Trek helmet, a fully functioning breathing helmet that allows users at any swimming level or physical ability to comfortably explore underwater.
While some consider the video to be marketing at its finest, the best part about the project is that everything on set could be used commercially. So the idea of an underwater nightclub could someday become reality for all of us. After all, what better way to get to know people than to dive below the surface level.