Bob Shehan is the owner of Shehan Pools, a high-end building firm in the greater Cincinnati area. His company, located in Florence, Ky., netted a Silver in APSP's Awards of Excellence this year for indoor custom hot tub design.
Bob's pool career began after he graduated from the University of Kentucky, where he played football for the Wildcats and earned a degree in arts and education in 1992.
"My dad had started the business in 1972 after researching how to build a traditional backyard pool," Shehan says. "When I got out of college, I went straight into the family business. I always knew I would, really."
We called Shehan to talk about the hot tub's surrounding rockwork, cascading waterfall and spectacular setting inside an old barn and learned there's much more to the project than meets the eye.
AQUA: So your dad started the company by building a pretty standard backyard pool for his family. How did the company go from that to the type of custom work you're doing now?
BS: Well, he had started to change the focus of the business a little bit over the years, but I kind of took it to another level after college in 1992. Each summer it sort of turned into something different. We still build those standard pools, but we have the name around here for doing more of the elaborate, lagoon-style pools and hot tubs now. They're more fun to look at and more fun to talk about.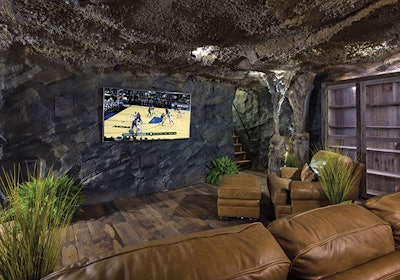 RELATED: Like Father, Like Son
AQUA: Tell us about this Awards-of-Excellence-winning project. You called it a "man cave," so it must be indoors?
BS: We actually did an outdoor entertainment area for this client that has a pool, a rock slide and a separate outside spa. The house is close Lexington, Kentucky, which is the horse capital of the world, and the client had purchased a barn that was probably about 50 to 75 years old and pretty run down. So we transformed the entire lower level of this barn into a man cave entertainment area. From there he can walk out the back into a new backyard with a huge lagoon pool, rock waterfall, a slide that meanders through some rocks and into the pool, another spa, a vanishing edge. I mean, it has the works.
AQUA: Is this unusual for you company?
BS: There are not many people that do projects like this. There aren't many that can do it. But I would say about 40 percent of our projects are on this type of scale. We do design work for people all over the world. So for that style of work you really need to cover a wide area. A lot of our clients come as recommendations from other clients, so they've seen our work. Jay Leno was in one of our pools several years ago, and he talked to somebody about that, who spoke with somebody else, and that led to a large project for us. It's really interesting how it works. That's how this guy came to use us, because he had seen some of our work and he knew what we were capable of.
On projects like this, a lot of times we'll do both the design and construction. I'll even have architects or the homeowners call us and say, 'We'd like you to give us designs, and then we're going to work around those designs for the rest of the house.' Because a lot of times architects don't know the capabilities we have and what is out there that we can do. So they want to see our creativity fi rst, and then work on everything else based on that. That happens a lot.
AQUA: So that describes a blank-slate job. In this case, with the spa, it's the opposite. What were some of the challenges you faced siting it in an old barn?
BS: As I mentioned this barn was pretty old. They jacked the entire barn off the ground just to get the appropriate footings to hold it up, because they were adding a second and third level to the barn. So the whole thing had to be jacked up, footers poured, and then lowered down onto the footing. Once that was done we came inside and we had to mostly hand dig the spa out because we couldn't get equipment in. So the whole spa was dug out and the dirt hauled away in wheel barrows.
AQUA: Why didn't he just knock the barn down?
BS: They didn't want the 'new' look, and they wanted to use all the existing wood and basic structure. He spent a lot of additional money doing it that way, but he wanted to preserve the historic barn.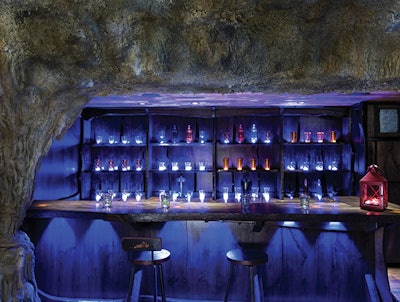 RELATED: Hot Tub, Haute Look
AQUA: Tell us about the custom spa you placed in the lower section of the barn.
BS: One very interesting feature is the stalactites we made to funnel water back into the hot tub. There was a dehumidification system for the whole building, and the water had to be piped out someplace. The guy didn't know what to do. So I said, 'Let's take that water and put it in a stalactite. So over time the water would just drip out of this stalactite and back into circulation. Sure enough the client loved that idea. To this day it works perfectly. You see the water dripping out, so it resembles exactly what you would see on the inside of an actual cave.
So all we're doing is recapturing water and sending it back into the spa. A lot of hotel pools also recapture water like that and send it back into a pool. They don't do it via stalactites, though! We took the idea of a man cave literally.
AQUA: How much input did the client have in the design?
BS: They showed us some photos. He had been to different resorts all across the country, and said, "Here are some things we like, but we don't want to necessarily lead you in a certain direction." So they said they wanted us to get creative and didn't want to limit us in any way. The idea was to come up with our designs then scale up or down based on what the client liked and didn't like.
On the first design, he said we'd nailed it. We did tweak some things here and there, small things. You just never know how that's going to go. The client may start trying to take away from the design. But in this case we continued to add to it.
AQUA: What kinds of modifications did they ask for?
BS: Actually, they first came to us with the outdoor space and said, "We want a pool and spa." So we created all of that first. It wasn't until after we started doing the fake rockwork for the outdoor living space that he started adding to the indoor space. We did not only the small area around the spa that won the award, but we ended up doing about another 2,000 square feet of what can really only be described as a man cave.
Once he saw the detail and the quality of the rockwork on the outside, there was no turning back. He said, "This is second to none! Let's start looking at what we might do on the inside!" So we took the ideas from the outside and brought them inside.
AQUA: What is the scale of the entire project?
BS: The outdoor pool is 24 by 50, so it's pretty good sized. There's also a hot tub outside, the waterfall, rockwork, of course.
AQUA: Tell us about the equipment you chose.
RELATED: The Wide World of Custom Spas
BS: I have an equipment pad on the outside that's 4 feet wide and 35 feet long, and it's full of equipment. We have about six or seven pumps going. That's just on the outside. The indoor spa has its own equipment area. Here in Kentucky we get sub-freezing temperatures. For clients wanting to use the indoor spa year-round, the equipment needs to be inside, whereas the equipment for the outdoor living space is all winterized.
Everything is concealed both on the inside and the larger equipment area on the outside. You don't see any of the filtration equipment. We hid it with artificial rock, landscaping. Even indoors, everything is concealed with hidden doors and passageways. When you go into the man cave area you don't even know there's a man cave there at first. You have to open hidden doors just to gain access to these areas. I mean, it's really cool.
AQUA: Almost sounds like you pull down on a candlestick and a secret door opens.
BS: That is how it works! In this case he has two access points. One is in a billiards area. You literally pull down a false pool cue and that opens the door to the cave.
AQUA: I was kidding about that. But wow.
BS: I know. It looks like it's just a storage area for pool cues, but it's actually hiding the equipment. The other secret door, you pull a log on what looks like a wood pile for a fireplace, and that opens another door.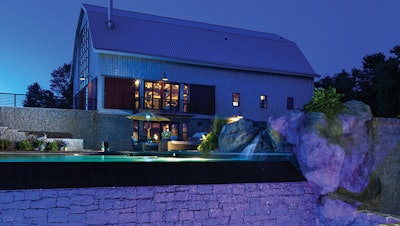 AQUA: How big is the indoor equipment area and what's in there?
BS: It's about 5 feet by 10 feet. The water feature pump and things are probably a little larger than normal because we've got a large wall to cover. The client had been to a resort and showed me some photos and said, "I love sitting under this waterfall and I use it for therapy. I really need this large volume of water." So we picked a larger pump for that. Otherwise it's a pretty ordinary pump that you'd use on an average pool. For the filters we use cartridge. For the heater we did use a low-NOx heater. On the Eastern Seaboard we don't use those much — it's more common out west — but we did it for energy efficiency. He's very much into green technology. We also used automation. All the lighting, the pumps, the water features, the slide, the inside stuff and the outside stuff, he can turn it all on and off with his phone.
AQUA: How long did it take from signing the contract to handing him over the keys?
BS: We probably went through four or five months of designing, redesigning, making changes and getting that portion off the ground to the point where we could go pull the permit. My wife, Sara, who I married 20 years ago, does most of our design work, and she did most of the work on this project.
Once she got the final design approved, the actual construction took almost a year. There are 2,000 square feet of artificial rock on the indoor man cave area, and I think we had another probably 1,800 square feet of artificial rock on the outside, maybe a little more than that even.
RELATED: Futuristic Hot Tub Design
AQUA: You mentioned that your wife does the design work. Did she study design?
BS: This is kind of a funny story. Thirty years ago we did everything by hand, so when we were dating, she would come over on Friday nights and instead of going out, she would help me color in hand drawings. And she really enjoyed it! Several years later we got married and she wanted to be part of the family business. Well, she loves designing, she loves outdoor living spaces and furniture and that sort of thing, so she began doing designs for our clients. Once the pool is built, our clients come to her for decorating the patio space, and she'll help them fill their entire space with other amenities and things that you need around the pool. That's another big part of what she does.
But to get back to the design, she was doing that hand-coloring, and some designing too, then as technology improved over the years she learned CAD. It's amazing the designs she produces. And she is 100 percent self-taught. It's definitely interesting working with her and doing the jobs we do. The custom stuff is a lot more fun that just your average rectangular pool and spa. That's for sure.