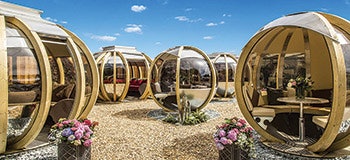 As the concept of outdoor living continues to gain momentum among homeowners worldwide, some of the designs and products emerging to meet the growing demand can take on rather interesting creative twists. That's especially true for firms looking to combine artistic form with luxurious function.
Case in point: Ornate Garden is a British firm founded in 1987 (originally known as Farmers Cottage Lamps) that has built a reputation for customized landscape features that by the company's own admission "hint at our sense of British eccentricity and humour."
In that whimsical spirit, the company boasts hundreds of creative products with perhaps the most unusual being its line of garden pods, which create intimate outdoor living spaces nestled inside striking spherical structures. The works are made from a combination of stainless steel, wood, vinyl and other materials.
RELATED: The World's First Living Backyard Umbrella
The pods range in size and interior design, and can accommodate varying numbers of people. With names such as the Wheel Bench, Garden Seater, Rotating Lounge, Summerhouse and Oval House, the peculiar objects have garnered widespread attention in a variety of residential, commercial and public settings.