It's called the S-POOL: A fully pre-manufactured concrete pool, delivered by truck and craned into place with turnkey equipment sets and customizable features.
Manufactured by an Israeli company of the same name (or "SP" for short), the S-POOL can be installed in client's home as little as two days. In the four years it's been on the market, the company reports it has manufactured and installed over 250 S-POOLs, a significant number in the relatively compact Israeli swimming pool industry.
FROM CONFLICT TO COMFORT
A potentially transformative concept, the basic idea of pre-manufacturing concrete pools grew out of the demand for "protection rooms," which are commonplace in Israel where missile attacks from neighboring countries are part of life. S-POOL founder and CEO Avi Romano developed the idea after spending years with his father building, delivering and installing the shelters.
In terms of structure, a prefab pool is just a prefab protection room turned upside down. They simply converted the concept to the pool industry, Romano says, speaking via interpreter. "Instead of putting them inside the house, now we're installing them outside in the ground."
RELATED: The Wide World of Custom Package Pools
He's quick to point out that there was much more involved in creating the S-POOL than simply inverting a protection room. The company spent two-plus years developing its patented manufacturing process as well as a special lightweight concrete that reduces weight by more than 25 percent compared to traditional gunite/shotcrete. Company management says the firm also worked to create a manufacturing process based on Israeli technology and U.S. standards for workmanship and structural strength."It was a long process," Romano says, "and it took many tries to make sure everything was right. Now we're at a point where it is 100-percent good. From a structural point of view, concrete pools have strength that can withstand most regional climatic conditions and temperature fluctuations, making them an excellent choice for homeowners anywhere. Our pools have no cracks from ground movement and remain intact."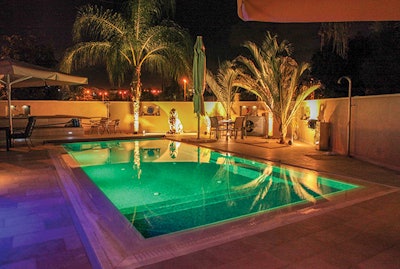 The shell is well within the size limits required for shipping by flatbed truck and can be lifted without difficulty with cranes, which vary in size due to the distance the pool is being lifted, not the weight of the vessel. In Israel, the maximum distance a crane can lift is 165 feet, more than enough reach for nearly all installations.
FAST AND EASY DOES IT
The company's pools are pre-plumbed and come with fully equipped vaults using all Hayward equipment.
In terms of cost, compared to a built-in-place shotcrete pool, the shell itself is marginally less expensive. Because installation time is so dramatically reduced, however, the cost of the overall project can be cut by about 30 percent, the company reports. "And there's no dirt, noise or equipment for weeks at a time," Romano says. "Homeowners are not inconvenienced the way they are with other pools that have be built completely on site. Everything is there, you install and connect it, and in two days you can have an operating swimming pool."
S-POOLs are mostly rectangles, although many of the company's Israeli clients have asked for other shapes as well. The vessels can be customized with a variety of features including attached spas, customizable steps and bench designs, perimeter overflows, vanishing edges, swim jets, waterfalls and tile mosaics, among other features. All pools come with complete equipment sets, pool vacuums and LED lights. They also come with engineered plans and a lifetime warranty.
RELATED: A Groundbreaking Concept
"The interior design is unlimited," Romano says. "We offer a variety of options and sizes so that homeowners can select the pool that's right for their family."
The pools are installed on separate concrete pads to prevent damage from ground movement. They also can be installed on rooftops, semi-inground and completely above ground. At the moment, S-POOL is using six variants on length and six on width, for a total of 36 possible sizes, which can be expanded. Using 12-meter trucks, the company is limited to approximately 36 feet, but it is capable of building larger shells, too. "The truck and crane are really not that complicated," Romano says. "With our experience moving more than 250 pools, it's really no challenge once you understand the material and equipment. In the summer we're lifting at least one swimming pool a day."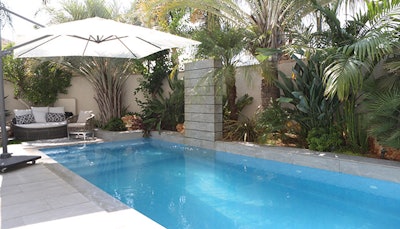 Because they are made in a factory to exacting standards in controlled conditions, Romano is confident the S-POOL's structural quality is more consistent than pools built in the field, where site conditions or even weather can impact the installation process. Every pool is reinforced and waterproofed. "We're able to make the highest quality every time," he says.
EXPANDING THE REACH
One of the advantages of working in a small country is that all S-POOLs sold in Israel can be manufactured and easily shipped from a single location. The company is currently looking to expand into the U.S. market, however, where distance naturally becomes far more of an issue.
According to the company's management, S-POOL aims to set up regional manufacturing facilities in the U.S., providing patented technology, training and part of the necessary funds. It reports a handful of U.S. pool manufacturers have already approached S-POOL to discuss setting up operations in their territories.
RELATED: Adventures Abroad — The International Spa Market
Back in Israel, Romano says he is proud and satisfied knowing that because of the S-POOL's lowered cost and vastly accelerated installation time, people who could not otherwise afford backyard pools are enjoying them along with all their benefits.
Special thanks to Eran Eizik, commercial director for S-POOLs, for his help preparing this article. To learn more about S-POOL, contact Eizik at sp@poolsp.com, or visit poolsp.com


---