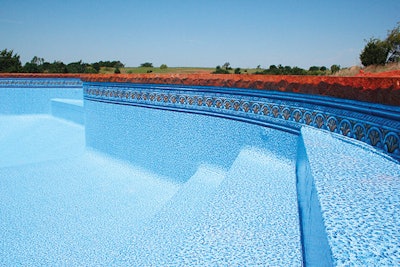 As the recession fades, builders report that the middle class customer is coming back into play. And while homeowners remain cost-conscious, they also want design elements that set their pools apart from others. Builders working in the package pool market must offer both affordability and design flexibility to make these customers happy.
Traditionally, the common knock against package pools has been that they're essentially cheaper versions of their concrete counterparts. In response, proponents of vinyl-liner pools have promoted technical advancements, saying they now compete with concrete even in the high-end custom marketplace.
Indeed, package pool builders confirm that advances in design and manufacturing technology have empowered them and their customers to think more broadly about what they can achieve with various package concepts. That freedom, coupled with the traditional advantages of affordability and serviceability, has resulted in a wide niche for pools that fall somewhere between so-called "volume" or "production" vessels and those identified as purely "custom."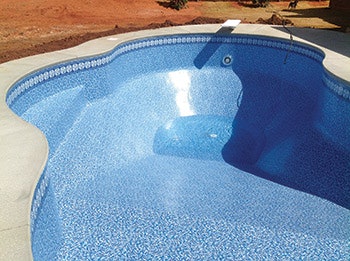 The beauty of this "tweener" class of pools is that builders can deliver environments that still inspire pride of ownership while also remaining attainable for people who can't afford six-figure installations. In that sense, package pools represent a reliable and attainable option for the working class.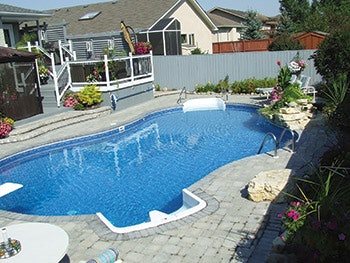 GROWING SOPHISTICATION
According to package pool builders, the expansion of manufacturing technology has enabled them keep pace with clients who are now more sophisticated and informed thanks to their own online research and TV programming like HGTV — a trend that's made it tough on companies that have refused or have been unable to evolve.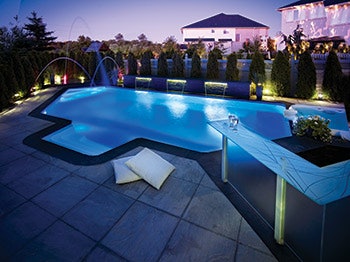 "Customers have definitely become more knowledgeable," says Mike Mancini of Fox Pools in Toronto. "As a result, the guys who are suffering for business are what you might call the cookie cutter companies. A lot of homeowners want to differentiate their pools from someone else's. When you spend a large amount of money, they want those features that will make the pool more useful for them or that will make the pool more enjoyable.
"I used to say we can do anything but a pool the shape of Texas or a guitar," he adds, "and last year one of our dealers came up with a pool that was a guitar. They made the strings right in the liner."
While Mancini acknowledges that such truly outrageous projects remain rare, manufacturing and design technology opens the door an ever-increasing spectrum of variations.
"The CAD-drive manufacturing process changed everything," he says. "Today, some of the companies will offer a hundred and some odd shapes. You'll see pools some will call a lagoon or mountain lake, basically free form pools, and they might offer each of those in different sizes. Then you go and tweak, make it smaller or make larger. Most of the package pool companies have a design center you can call and adjust the shapes and sizes."
That spirit of invention and customization for some has meant not only customizing the design but also developing their own techniques for construction, in some cases taking the hybrid concept to an even higher level. That's the view of Kyle Tripp of Tripp Construction, Raymore, Mo., a builder in the greater Kansas City area. Tripp has been involved in his family's business since early childhood. Established in 1960, the firm's work has evolved along with its middleclass clientele looking for the affordability of package pools and the design freedom typically associated with concrete.
"In our case," says Tripp, "we build concrete walls with a vinyl liner inside of it rather than the metal walls. Anything that's straight is concrete, anything that's curvy is metal. We call those pools hybrids. The package walls do provide a nice consistent radius, so we'll tie them into the concrete, which gives us the best of both."
The reasoning for the combined approach: "First of all, we can pour a concrete wall more affordably than buying the manufactured walls," Tripp says. "But the main reason we've gone that direction is that we've seen so many situations where the metal walls corrode or get pushed in. I saw a pool recently where a tree fell and collapsed the wall. A concrete wall probably wouldn't have suffered that kind of damage. I sometimes ask homeowners, what kind of wall do you have holding up your house, is it metal or concrete?"
GAINING TRACTION
For all of the creativity in design and construction that now characterizes the work for many package pool dealers, it's been some of the seemingly less dramatic developments that have gained the most traction with homeowners. Among those features: liners that tightly fit over steps and benches appeal to homeowners looking to avoid the look of vinyl liners.
"Liners on steps is actually an old concept," explains Mancini. "Before the fiberglass and polymer steps they made them out of steel and you'd put the liner over the top. Back in those days, when you'd put the vinyl over the steps, there were issues with wrinkles; you were always trying to tuck it here or tuck it there. That's why manufacturers developed the polymer or fiberglass stairs. Now with the CAD systems, what they can do with a liner is phenomenal, so we've come back to the concept of installing the liner over steps and benches without all the issues we had before."
"We've been using the liners covering steps for about eight to 10 years and our customers just love it," Tripp says. We can freeform it where the customer can tell us exactly what size bench they want or what size and shape of steps they want. We probably haven't put a set of fiberglass steps in within the last five years."
That sort of customized approach also works well for Les Gomez of Royal Enterprises, a builder based in Blanchard, Okla. "We do a lot of custom swim outs, really depends on size and shape of the pool," he says. "There are still a lot of people who do the fiberglass steps, but we haven't done a dozen of them in the last 15 years. There are many lay people who can't determine if it's a liner pool or a gunite pool."
In addition to eliminating the telltale appearance of fiberglass or composite steps and swim outs, manufacturers more recently have addressed a major consumer concern regarding traction on vinyl-covered entry and egress components.
Says Gomez: "That really used to be the issue with the vinyl on the stairs; they were slippery. Even when you'd explain that the steps would be slippery to the clients, when they'd get in the pool some would say they didn't like it and wouldn't pay their last payment until you fixed it. It got to the point where we were discouraging people from the vinyl over the steps. Now the textured steps have addressed that problem.
"It's become very popular," he adds. "There's not much we really can't do with a package pool that the gunite guys can do. Before, if you wanted a sun ledge, you had to go with gunite, but now we do those easily in vinyl. I've even sold replacement liners for projects that are only three or four years old, but because the texture has come out, the clients say they want a new liner."
LINER LOOKS
One of the primary factors that have kept the wind in the sails of the package pool business has been the annual parade of new liner patterns. As these builders point out, that ever-changing selection gives them an aftermarket edge over both concrete and fiberglass vessels.
"At least 90 percent of our clients get very, very excited when there are new prints out there," says Tripp. "Only about 10 percent call me up and say they want the exact same liner as they did before. More often I have to limit how long they have to choose the prints. I'll give the prints and say that we need their decision in two or three days, otherwise they might take weeks to decide."
Speaking from more than four decades of experience, Mancini sees pattern popularity as similar to passing trends in fashion. "With patterns, you'll go through phases. For a few years you'll see dark liners become popular, then it'll be light liners. We even went through a phase where pastels were extremely popular," he recalls. "We've seen trends where people want a black liner that almost looks like a pond. From a safety standpoint you really shouldn't use solid black because you loose depth perception. Now we have sort of tied-dyed patterns and other patterns that give you that deep reflective look without having problems with losing the ability to see how deep the water is.
To that Mancini adds: "It's always changing, 15 or 20 years ago, Fox got into printing university mascots on their liners, which lasted for a season or two. Now we have jumping dolphins."
"We do quite a few replacement liners," confirms Gomez. "There are so many patterns available they're able to find a look they like. I've never had people who were unhappy with their choice."
Gomez also points out that the longevity of today's liners sweetens the deal for his clients: "We tell customers, 'You will have 10 to 14 years, we've had some last as long as 20, even if they're a little faded.' They might change them a year or two sooner to get a different look."
That said, Gomez adds that there are some circumstances where vinyl does fall prey to damage.
"Because we're in Oklahoma, we do quite a bit of work in rural areas where we've had several instances of horses or cows getting into the pool and doing damage with their hooves. That's just a matter of replacing the liner and fixing the vermiculite if they've distorted the bottom."
Despite the susceptibility to damage from large animals, Mancini believes that maintenance will always remain one of, if not the strongest selling points for liners.
"If you ever get algae, concrete being a porous material, the algae has a place to cling," he explains. "With vinyl being a smooth material, you may have an issue or two around a gasket or some place like that, but you kill the algae, vacuum it up and away you go. You'll use less algaecides and other chemicals in vinyl pool. Here we can replace a 16-by-32 liner for $3,500 whereas if you epoxy a gunite pool, you're looking at $5,000 minimum."
KEEPING UP
The shared enthusiasm for the package pool market shared by these professionals is based on decades of experience in regions that are admittedly afield from the massive concrete markets of much of the Sun Belt states.
Nonetheless they see their role in the industry through the same lens of providing lifetimes of positive outdoor experiences for their clients. "It's a great feeling knowing that we offer a product that brings so much fun and happiness to families," says Tripp. "It's why I love my job."
Comments or thoughts on this article? Please e-mail eric@aquamagazine.com.