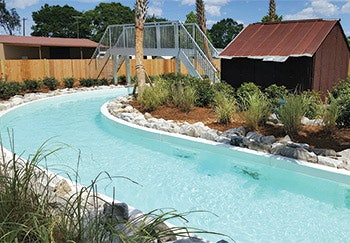 For all of the innovation and creativity that has come to define the fiberglass pool industry, size has remained a limitation. Manufacturers point out that, after all, you can only ship shells up to a certain size on trucks.
A fiberglass slide manufacturer may have developed a solution — at least for lazy river installations.
It started back in 1988 in Crump, Tenn. Chris Green, president of Extreme Waterslides, had been using a sectional, bolt-together system for building fiberglass slides, and decided to use the same basic idea to build a lazy river in his own backyard. "It wasn't that different from building a slide, it was just level," he says. "We wanted to see how our residential pumps would work, and we found it was very efficient. We had the lazy river in our backyard for quite a few years and really enjoyed it."
RELATED: This Small Backyard Has a Custom Lazy River
Green continued to play with the idea and did a small number of installations over the years, but never really pushed it. That recently changed when the firm completed the installation of a 301-foot lazy river for the Gator Grounds RV Resort and Waterpark in Bunkie, La. Green's company teamed with Brannon Corp Engineering and Consulting (Tyler, Texas) and Current Systems (Ventura, Calif.) in the system design and equipment selection.
The installation took only two and a half weeks. The lazy river includes 48 pieces, averaging 7 1⁄2 feet. Seventy-five-foot sections were assembled and hoisted into place during the rapid install.
The project is part of the company's overall plan to move into the lazy river business using its sectional construction scheme. The 35-year-old company, which formerly included both Extreme Lazy Rivers and Extreme Slides, has been renamed American Aqua Works.
Jim Fredrickson, vice president, believes in both the future of lazy rivers as well as the speed and flexibility of the fiberglass concept.
"There is no limit to size, and the installation method is far faster than traditional shotcrete construction," he says. "It goes in so much quicker which enables everyone involved to better control their budgets. The sizes we make fit well on the tractor trailer and they're easy to move around."
RELATED: The Jigsaw Waterslide
The fiberglass channels currently come in two sizes, 8 feet wide by 3 feet deep, and 5 feet by 20 inches.
The drive into the lazy river market was driven by their growing popularity, Fredrickson says. "When you go to a water park you might wait 45 minutes in a line for a 45 second ride. With a lazy river you don't wait in line because you can enter the water from maybe 20 different places. And once you get in, you can ride the current as long as you want."