There's more than one way to build a water slide.
On the DIY front, there's the plastic or vinyl sheeting with a garden hose, an approach that will probably live on indefinitely in backyards occupied by enterprising children. Some homeowners opt for the far more elaborate inflatable slides that are rented like bounce houses for birthdays and other special events. For use with pools, there are the familiar drop-in manufactured slides that bolt onto the deck, which are typically used as an affordable and often temporary way to give small children a short ride.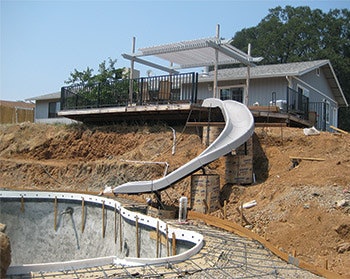 On the far other end, there are massive waterpark slides on the scale of the world's largest roller coasters. In such outsized commercial settings, there are also slides incorporated with interactive play structures, those designed to go really fast, others that flush you into a vortex and others that provide a more leisurely ride.
Clearly, not all waterslides are created equal.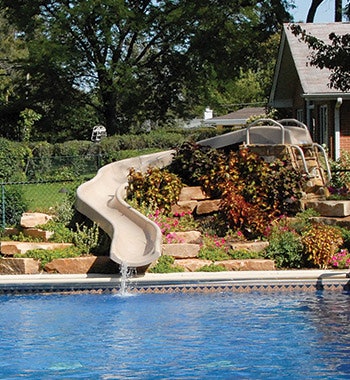 RELATED: Considering a Pool Slide? Here's What You Need to Know
For many pool builders who work with waterslides, the choice comes down to either constructing the flume out of concrete and other masonry materials, an often expensive and painstaking process, or turning to modular slide systems that are pre-manufactured to provide custom design solutions, an option growing in popularity and the focus of this discussion.
CHANGING OVER
As the customization of backyards has continued to blossom in the post-recession era, and as Baby Boomers become grandparents, builders report the demand for slides that provide the thrill of the ride and do so in developed landscaped settings has increased. In response to the trend, some manufacturers have developed pre-fab slide pieces that can be combined into a spectrum of slippery configurations to meet the demands of homeowners looking for customized designs.
These slide systems offer an alternative to the more traditional method of constructing slides from masonry materials and all the issues of materials selection, engineering and craft that go along with that process. In other words, these slides offer the convenience of pre-fabrication as well as the customization required to support unique settings.
RELATED: Is the Diving Board Making a Comeback?
For residential builder Vance Dover of Georgia Classic Pool (Canton, Ga.), it made sense to join the ranks of professionals turning to the modular, pre-fab approach. That decision led the firm to Paradise Slides, which offers a set of both off-the-shelf slide sections and made-to-order systems.
"Our company used to be exclusively concrete for many, many years," Dover says, "but we've started moving a lot of our jobs to fiberglass slides. They're smoother, easier, fun and faster." And, he says, modular slides tend to be the choice for longer slides, those ranging between 20 and 40 feet with multiple curves.
However, Dover still sees a place for concrete slides, especially where natural aesthetics are a big priority.
"I don't want to say anything negative about concrete slides. With the types of pools we do, which are like backyard resorts, concrete definitely can look more natural. You can work it within our boulders and waterfalls more easily. Fiberglass being fiberglass takes more effort, not necessarily to cover it up, but to make it visually work with the boulders and other landscape elements. It can have a very commercial look, which is something most homeowners want to avoid."
GREATER INTEGRATION
For Ed Maytum, owner of Ultamaytum Pools in Salt Lake City, the choice to go the modular route was clear. Maytum opted to work with Inter-Fab, which offers the Build Your Own Slide product line. Doing so, he says, has opened up new opportunities for customers with a need for speed, be they affluent or more middle class.
"The trend for fun slides is really heading in the way of landscape slides," he says. "I do these huge slides for pool owners with big budgets, but I also use the same system for backyards with smaller budgets with smaller slides on smaller pools. They still want a smaller slide that blends into their landscaping and includes smaller grottos and waterfalls and other types of water features. It really seems that the fun pools are what everyone wants these days. They want something different, not the standard old pool anymore."
Modular slides also offer an alternative to the less expensive standalone units, the descendants of the familiar modified curving playground slide popular in the '60s and '70s. While standalone units can be a sensible choice for families with small children, it's not a look that appeals to many homeowners seeking a more sophisticated level of visual integration.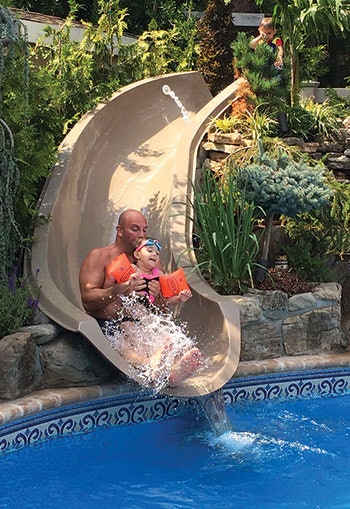 Leaving behind slides of the past has been part of why Fresno Clovis Pools in Fresno, Calif., has stepped into the more customizable options.
"Most people find the standalone slide less attractive," says Company Manager Jeff Smart. "It reminds them of the slides we had in the 1970s, and they want something bigger and more exciting. Something more like what they might have seen on vacation at a resort. When I first sit down with customer and ask them what they envision for their pool, most start by mentioning a pool they saw on vacation. And they are willing to put more into their pool investment than to just have the body of water.
"With standalone slides," Smart adds, "everyone just wants to try to 'hide' or 'disguise' the slide so it's not the focal point of the backyard. Once I show them the custom slide, that is what they want."
BEYOND THE INSTALL
Despite what some may assume, the shift toward modular slide systems is not necessarily driven by price. "In terms of cost, we've found it really comes out about the same," says Dover. "It's not really the slide itself but all the stuff you have to put around it. Most of the time, you're not going to want to just put a slide on a hill, you're going to want to cover it with waterfalls or boulders. That's where the project cost goes up."
Another factor leading builders to consider moving away from concrete installation is what happens with their slides long after they're gone. "Gunite slides always need re-sealing and re-coloring. They fade and crack every year," Maytum says. "They look nice but are really a thing of the past now."
"There's no question concrete requires more maintenance," Dover adds, "but with fiberglass, you really only have to wipe it down every once in a while."
Beyond maintenance concerns, Dover also points out that modular slides are more conducive to renovation down the line. "If you ever decide to remove a slide from your pool because your use has changed, removing a fiberglass slide is a whole lot easier than concrete, which is pretty much permanent," he says.
A GENERATIONAL SPLASH
Stepping aside from the question of construction type, those interviewed for this story stressed that mastering slides is part of working with today's shifting demographics, specifically the growing ranks of grandparents in the Baby Boom generation.
RELATED: Comin' Down Fast
"Let's face it," Dover says, "people put slides in because of the kids. I've had a pool for years and just put in a slide a couple years ago. The reason was I became a grandfather and my lifestyle changed. I don't personally care about having a slide for myself, but now there are all these kids around who do want a slide."
As is true with many elements in residential aquatic settings, understanding homeowners' situations and priorities drives the decision whether or not to include a slide and what type is best suited to the project. "It really all depends on your personal situation," Dover says. "My kids are in their late 20s and having kids. My goal is to make sure my backyard is better than their backyard."
"Most customers are looking to entertain their kids through the age of 12 and maybe through high school with their pool," Smart adds. "They want to keep their kids at home and entertained but not playing video games. They want to make their pool fun so kids don't want to go to the mall or the neighbor's house."
Ultimately, says Dover, regardless of the slide type, having one is about bringing family together in a fun way. "When we have family gatherings it's almost always at our house because we've invested in outdoor living," he says. "There's always a pool involved and now there's a slide involved too."