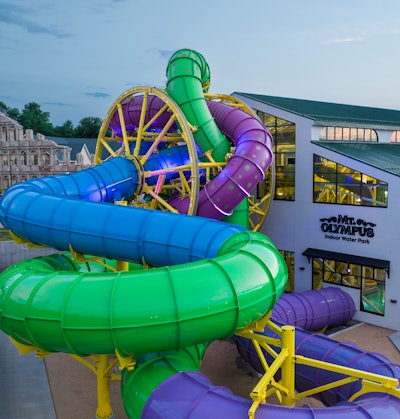 Photo Courtesy Joseph Leute
Among Greek mythologists, Medusa is known for her venomous hair of snakes and all-encompassing eyes that turn her victims to stone, but when it comes to water slides, people don't typically associate the two. For the first time in U.S. history, a rotating water slide called Medusa's Slidewheel has been built inside of the Mt. Olympus Water & Theme Park, located in Wisconsin Dells, Wis., so that guests can experience an unmatched level of splashing, dipping and screaming.
Medusa's Slidewheel was opened to the public on May 28, 2022 for year-round use. It combines the speed of a water slide with the movement of a Ferris wheel, resulting in a thrill like never before. The attraction spans 100 feet in width and 80 feet in height, and lasts about 96 seconds from start to finish.
If they dare, guests will enter the ride through an automatic tube conveyor on a raft that can hold up to four people. Because of the intricate tangle of tubes on a horizontal axis, guests will rotate three times per minute and probably exit the slide hoarse from all their screaming. The ride can reach speeds up to 25 miles per hour — and when combined with G-force and air time, it's no wonder guests are happily terrified.
Tucked in the Wisconsin Dells, a place often called the waterpark capital of America, Mt. Olympus Water & Theme Park is equipped with both indoor and outdoor attractions to accommodate Wisconsin's four seasons. Recently, the indoor park underwent a 22,500-square-foot expansion, allowing for a new children's splash zone and swim area, a multi-level go-kart track, an underground roller coaster, and of course, the Slidewheel.
The chance to experience Medusa's Slidewheel is included for guests who book a stay in Mt. Olympus' 1,700-plus room options; otherwise, day passes are available for purchase.