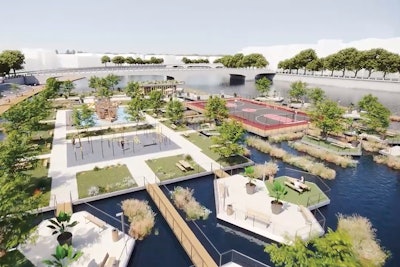 All photos courtesy Poralu Marine

Poralu Marine is a French company that has been developing projects (gangways and pontoons), products (coastal waste collectors and autonomous vegetable gardens) and marina management services for almost 40 years. Its mission is to protect and respect the environment, society and well-being of individuals so that people can live in harmony with their ecosystems.
Poralu Marine's new business unit responds to the two pressing challenges communities face: land shortages and rising water levels. According to scientists, 15% of the world's population will be impacted by rising sea levels. Poralu Marine's goal is to create new, floating living spaces in the heart of cities — projects that develop the local area while also protecting it, and that take a sustainable approach to urban development.
"The aim of our new waterfront development business unit is to take water into consideration as part of a comprehensive approach," says Quentin Bresson, business unit manager. "Our goal is to design and produce floating eco districts."
For this new business unit, the company has announced a a $1 million euro investment over a three-year period. This investment will focus heavily on researching new materials that will better protect the environment. Poralu Marine has already developed a floating modular assembly system that guarantees strength and modularity, thanks to its bolted aluminum platforms and unique geometry. All of the company's installations are scalable, modular, removable, recyclable and meet the required standards of the designated areas. This all combines to offer an excellent level of safety to every user, including people with limited mobility.
"With the creation of this new business unit, our goal is to no longer only target harbor managers, but to focus our development on urban areas and communities located on inland waters," says Bresson. "Our aim is to assist areas with the implementation of innovative concepts that are fully tailored to their needs. We create true living spaces that are dedicated to individuals' well-being and leisure, designed with the city of the future in mind. We are targeting the French market but also the international market, with initial opportunities in Canada, the United States and Europe."
Poralu Marine has three business lines: promenades over water, leisure areas on the water and floating buildings. The company has just finished installing two promenade projects located within Canadian nature reserves: Oka Parc and Ile Bizard. These solutions are aimed at urban developers, architects and all communities and cities with inland bodies of water like rivers, lakes and ponds.
This article first appeared in the May 2023 issue of AQUA Magazine — the top resource for retailers, builders and service pros in the pool and spa industry. Subscriptions to the print magazine are free to all industry professionals. Click here to subscribe.