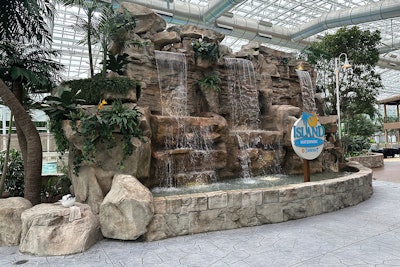 All photos courtesy Rico Rock
In July of 2023, Atlantic City became home to one of the largest beachfront indoor waterparks in the world. Known as The Island Waterpark at the Showboat Resort, the stunning 120,000-square-foot oasis includes 11 waterslides, six bars and a 6,500-foot lazy river — holding more than 317,000 gallons of water overall. And, at the entrance to welcome visitors, is a cast concrete rock water feature designed and built by Rico Rock.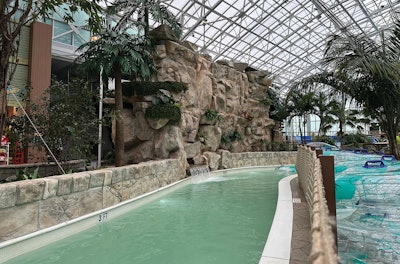 It all started back in January of 2022, when the company was exhibiting at the NESPA Pool & Spa Show and found themselves called into meetings with the development's project managers.
"We aren't normally the builders on this type of project," says Bruce Riley, owner of Rico Rock. "But in this case, we ended up being very involved as a sort of joint-venture with American Pond company in New Jersey, who has been a dealer of ours for more than 20 years." Riley explains that his builders ended up taking the lead on the project because of the job's complexity.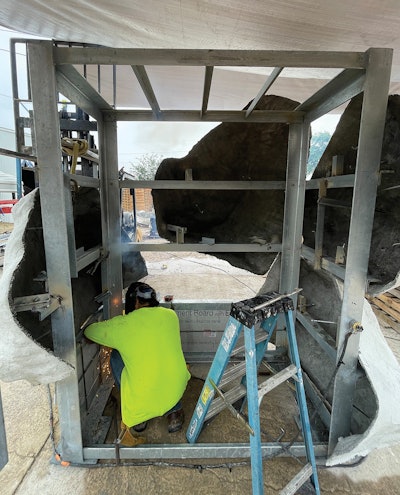 During the meetings with general contractors in Atlantic City, they quickly realized that Rico Rock had the expertise for this type of water feature and requested design ideas for the entire project.
"We listened to what the contractors wanted to achieve and made suggestions based on their ideas, while keeping the timing and budget in mind as well," explains Zayvian Camacho, a lead designer on the project. "After going over logistics, we determined it would be best to build the water feature offsite at our facility in Texas, which resulted I considerable savings for the project, both in time and labor."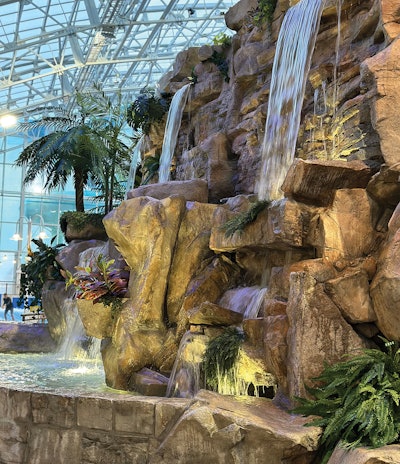 The water feature was built on 10 steel frames, most of them 8-feet-wide- by-8-feet-tall and about 4 feet deep. Once the water feature was completed, it required three completely loaded trucks to move it to Atlantic City. Now, it sits at the entrance of the park at a whopping 40 feet wide, 20 feet deep and 19 feet high.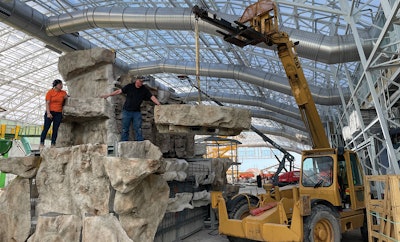 The design features sheets of broken water that cascade over the cast concrete artificial rock, which creates a dramatic effect as these features are stylized into three parts, flowing from separate, unique sections of the waterfall. The water flows at 600 to 800 gallons per minute, and to create an even more stunning look after dark, lighting was built into the water feature, both within the basins and the waterfall ledge.