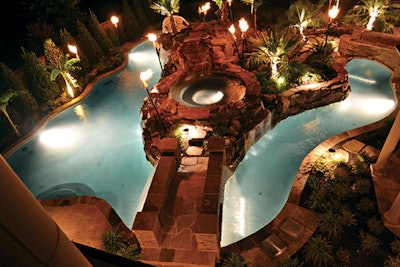 According to designer/builder Mike Farley of Dallas-area builder Claffey Pools, some of the most challenging projects are those where clients want numerous features in a small yard. No stranger to working in relatively tight spaces, Farley's skills were pushed to the limit by this project, a lazy river with multiple design elements located in an average-sized residential back yard. It wasn't easy, he reports, but the effort resulted in a truly spectacular residential resort-like pool, with nary an inch to spare.
Although this project is located in typical backyard, about a 65-by-70-foot space, the project itself is anything but typical.
The design centers on a lazy river that consumes the majority of the space, around which you will find small slices of deck area, landscaping and an outdoor kitchen area. There are two bridges that lead to a large island in the center of the scene that includes a spa, lounging area, plantings and a large stone structure that forms a cave you enter from the pool, among a number of other details and features.
In many instances we were down to just a few inches available for the various structures and plumbing, and a number of factors seemed to constantly crunch things as we went along. Because trees were part of the design, for example, the available area was further decreased by "no plumbing zones" to protect the root systems. Property-line setbacks further compressed the design. Add to that a client who kept coming up with new ideas about things he wanted, and as we went along, it all just grew tighter and tighter.
IN ITS PLACE
Needless to say, everything was about as crammed as it possibly could've been; laying out the whole thing was like solving a grand puzzle. You couldn't put a shovel in the ground without hitting something. There were gas lines, sewer pipes, elements of low voltage lighting and electrical service, drainage trunks, in-floor cleaning lines, trunk lines for Tiki torches and, of course, the circulation plumbing lines for the pool and spa.
Aggravating things even more was the fact that we try to never stack plumbing because that can create a nightmare should you ever have to go back do a repair, so all the lines are laid out flat. Our refusal to cut corners on those types of details coupled with the homeowner's high-flown ambitions made for a design and construction process that was interesting, to say the least.
When the homeowner purchased the property, located in a lovely neighborhood in Collegeville, Texas, the lot came with some really nice landscaping. There were all sorts of trees, lush planting areas, a fountain, statuary and overall sound landscape design. To say the new owner wanted to go in a different direction is something of an understatement. In the end, the list of elements was as comprehensive as projects installed in areas several times the size of this one.
In fact, when I visited the lot with our construction superintendent prior to breaking ground, he looked at me as if I was crazy and said, "You must have measured it wrong. This isn't going to fit." I assured him I had measured it numerous times and as unlikely as it might have seemed, I knew everything would fit, but as mentioned above, only by the narrowest of margins.
In visual terms, one of the things we did have working in our favor was that the lot abuts a green belt with all sorts of mature trees. That enabled us to visually "borrow" the view of the greenery, which makes the space not appear as confined as it really is.
A FAMILY ATTRACTION
It's always interesting to know why people want what they want, and in this case there's a funny story behind the homeowners extensive wish list. The client's daughter married the son of one of my past clients — I had designed another fun environment for them. When I asked the client why he was so motivated to do so much in the yard, he explained that all the kids in the family always wanted to hang out around that pool I previously built. He wanted to create a space that would motivate the extended family, and especially the kids, to visit his property instead.
Hence, he wanted an area that would be irresistible in terms of fun and it was up to me to make it all fit. I was, in a sense, competing with myself.
Now that the project is finished, the yard has indeed become a venue for all sorts of gatherings. In fact, the client told us 75 people attended the first party he had after its completion. When I asked him how those people fit, he said they hung out in the water, in the spa, around the edges, by the outdoor kitchen and in the lounging areas — and all in all, everyone was comfortable.
One of the biggest issues we had during the design process was a lack of space available for decking. The client assured me that with the existing back porch, all he really needed were a few spots for lounge chairs. So we put a spot on the island and a spot in the corner where we placed a doublewide lounge chair.
Another challenging factor was the client's desire for lush landscaping. Growing up, his family owned a vacation home on Maui and he wanted the yard to feel like it was in a lush tropical setting. He didn't simply want a river with a bunch of concrete around it, it had to look like a tropical garden.
One of the reasons there was some generous space between the fence and the river was that we were working with a six-foot setback, seven feet to water. The client also wanted a curvy structure to give the vessel a meandering river look, so those contours also afforded us a bit more room here and there for plantings.
A RIVER TRIP
The lazy river is 135 feet around. It includes a wide area that functions as a normal pool. There are two Riverflow pumps by Current Systems, strategically located to ensure clockwise circulation through the entire river. (See the sidebar for more on that challenge.)
There are sheeting waterfalls off the bridges to make river ride refreshing. As it turned out, the bridges would become one of the client's favorite elements. One bridge leads directly to the spa while the other leads to a small path that in turn leads to a small, private lounging area. We finished the bridges with beautiful stone, with travertine cladding even on the undersides.
In studying landscape architecture over the years, I've learned that if done correctly, segmenting a given area can lend the impression that it's bigger than it actually is. In this case, the presence of the island, which is approximately 45-by-45 feet, does work to make the entire scene appear bigger. It also provides an intriguing destination and conceals portions of the river no matter where you're standing. The fact that you can't see the whole thing from any one spot creates the impression that there's always something more beyond your view.
The island includes a waterfall that is eight feet above the finished floor of the deck surface. It cascades down into the spa and then down another five feet into the pool. That structure, done in large natural stone boulders, is located on center with views from a number of rooms inside the house. So when you're inside, you see this towering structure with moving water and plantings, which serves to draw your eyes outdoors and intrigues visitors to want to go explore what's outside.
(The homeowner also wanted the island to block views from people walking by in the green belt, another reason for its height.)
The island spa is 10 feet across, which includes a 6-inch-deep tanning shelf around the perimeter. The idea was to enable bathers to easily transition in and out of the spa as they heat up and cool off, and to increase the number of people who can comfortably enjoy the spa area at the same time.
The waterfall flows over the mouth of a cave that is accessed only from the river below. It measures 10-by-10 feet and includes a granite countertop bar, granite shelves, sound system and underwater speakers that run throughout the entire pool.
Outside the pool, the stone decks are finished in tumbled travertine, which has a slightly textured surface to prevent slip and fall hazards while still maintaining a rich appearance.
SPECIAL CHALLENGES
This project presented a number of challenges beyond the fact that everything was such a tight fit.
One example, and something I'd imagine might not be considered initially when designing an island, was how to remove the irrigation water from the planting beds. We knew we couldn't gravity feed it out, and it certainly couldn't drain into the river, so we installed a large drainage trunk line that feeds a sump pump which in turns sends the water out to the green belt.
Problems also arose when we realized we couldn't bring in a crane to place the rocks on the river to the island, which includes some huge boulders. We knew we didn't want to use rocks small enough to carry because that would've look contrived, but how to get those big boulders over the island was a head-scratcher.
The solution was decidedly low tech: Our masonry crew laid two-by-twelve planks across the river and simply shoved them across into notches we left in the gunite. Perhaps not the most elegant of solutions, but with some considerable brute strength, it worked.
Yet another unique challenge, one I had never dealt with before, involved upgrading the electrical service. Of course, it's not unusual to increase the size of a service panel on the home, but in this case, because of the home's location at the end of a block in its subdivision, there wasn't sufficient current coming into the home to run all the pumps and other devices.
As a result, we had to work with the local electric utility company to come out and change the transformer, a proposition that involved considerable time and no small measure of red tape.
The equipment pad presented another exercise in spatial organization. It's located in a 55-foot long side yard where, again, we used every square inch, all the while trying to make sure it was all serviceable. (All the equipment is from Zodiac/Jandy including a cartridge filter and a Nature 2 water treatment system.)
Also, because we knew that simply cleaning a vessel like this would present a serious maintenance challenge — there was no way an automatic cleaner could manage all the turns, nooks and crannies — the pool, spa and cave areas are all fitted with an extensive in-floor cleaning system.
COOL FEATURES
As mentioned above, as we worked through the project, the client continued to come up with items on his wish list, resulting in a near-constant process of rearranging to make everything fit.
For example, the project includes 13 permanently installed Tiki torches, a detail we used to help create the Hawaiian effect. That detail came up when the project was in progress and meant that we had to find space for a two-inch gas trunk line.
Also, because the home has hardwood floors, the client didn't want wet children traipsing in and out to use the bathroom, and he certainly didn't want to indirectly encourage them "going" in the pool, so he asked for an outdoor bathroom. We solved that one by using part of the garage, which is adjacent to yard, to create a bathroom that includes a changing area as well as a dry sauna and a steam shower. That all meant we had route a sewer line to the location, along with plumbing and electrical service, yet another piece of the already crowded puzzle.
The existing back porch had a roof that was very formal in design and didn't really work with the tropical/rustic design motif. We removed the roof and replaced it with a cedar structure that has a warm appearance. Because the client likes to be outside at night during gatherings, we installed outdoor space heaters in the ceiling. We also removed the existing outdoor fireplace, which the client thought was too small, and put in a new 50-inch fireplace. The porch includes an entire new outdoor kitchen and two outdoor flat-screen TVs, as well.
Finally, we located six permanently installed ice chests at strategic locations on the river's edge so you can float by and grab a cool drink. Each ice chest includes a drainage tied to a trunk line.
TIGHT TIME FRAME
Not only was the project the tightest of fits in terms of space, it was also done on an extremely tight timeline. The contract was signed in February last year with an estimated Memorial Day completion date. We would've made that deadline, but the issues with the power service meant that we pushed it back to the 4th of July.
For a project of this complexity, getting it all done in time was no small challenge and much of the work progressed simultaneously with very little downtime between phases.
In the end, I'm proud to say that the project worked out beautifully. For all that's going on, it hangs together from a visual standpoint, everything works functionally and most importantly, the client is thrilled.
Comments or thoughts on this article? Please e-mail [email protected].
A Tense Moment
One of the interesting, and frankly somewhat terrifying, things about building a lazy river is that you're not entirely sure the "river effect" is going to work completely until it's filled with water and you give it a try.
That sense of unease was all the worse because I had never constructed a lazy river and the only person I knew who had was my good friend Brian Van Bower, co-founder of Genesis 3 and president of Aquatic Consultants. I knew that a few years prior, Brian had worked on lazy river at a commercial property in the Caribbean. So when the time came, I called him up and asked who he thought we should work with on the river's circulation system.
He endorsed the folks at Current Systems, who were extremely helpful in helping us position the jet systems so that you'd be able to float around the pool with no effort or interruptions. These systems include 12-inch suction fittings and 10-inch returns, mounted in the wall of the pool. Although the current is adjustable, there's no such thing as making adjustments by moving the system around. Simply installing the system took six guys an entire day wrestling the massive fixtures into place.
The system, known as Riverflow, has been used on a number of lazy rivers before and the experts at Current Systems certainly know what they're doing. Even with that expert help, however, we were still worried there might be dead spots, which would essentially blow the whole lazy river effect.
Admittedly, it was tough to sleep the night before we fired up the system for a test run. When we turned it on, we had one of our laborers take a dip and watched with intense anticipation to see how it worked. As it turns out, the lazy river effect operates perfectly as it neatly pushes you around the circuit without much need to navigate the ride.
We did find the effect is more pronounced if your floating on a "noodle," where your body is more fully submerged compared to floating on a raft or inner tube. That's to be expected because when you're floating in the water, instead of on top of it, your body provides a larger surface for the current to push against.
This being the first lazy river I've ever designed, I was anxious to get in and give it a try myself. The experience of floating around the circuit was great fun and provided wonderful relief from the Texas heat (and the small worry that the system might not work as intended).