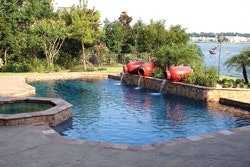 There's a saying in our industry: Renovation is like a box of chocolates, you don't know what you're going to get," says Gary Nemetz, sales manager for Custom Pool Renovation in Livermore, Calif. "And there's some truth to that, because so much is hidden underground."
It is the unique character of the renovation business - the absolute impossibility of knowing exactly what you're up against, distinct from the new-build segment where there are fewer imponderables.
While it's difficult to anticipate all possible complications while standing next to a pool full of water and bidding a job, often there are signs, Nemetz says. "Like when a pool needs its plaster stripped, you'll see evidence of delamination or you'll see calcium nodules. Usually, there's an indicator."
Nevertheless, Nemetz still encounters situations he never could have predicted. "We're doing a commercial spa right now in Livermore, and it had seven layers of plaster on it. First of all, a responsible contractor would never do that, but here I am bidding the job. There are some indicators that tell you there are multiple layers, but never in our wildest dreams would we guess that anyone would put seven layers on there. So that required some extra labor and additional charges, but fortunately we have a good relationship with the client, so they trusted us, and there was no problem."
That relationship is the basis of successful renovations, he adds. "What I do first is establish rapport and trust with the customer. I spend a lot of time educating clients about what the bid entails and what might potentially come up, so that if we do find something in the middle of construction, they're not completely surprised."
Experience in the pool industry also helps quite a bit, especially during the bidding process, says George Wieland, director of the commercial and remodel divisions at Paddock Pools, Spas & Patio in Scottsdale, Ariz. "The guys that are successful on the renovation side are the guys that have been in the business 20-plus years because they have a pretty good understanding of how things were built in the past by each of the major companies. They do a better job setting the right expectations because they know how that pool was built."
But that historical knowledge only goes so far. Once on site, the remodeler is left with the five senses. "You kind of have to have X-ray eyes, and try to anticipate what's going to happen when you take the pool apart," adds Wieland. But since Superman isn't bidding renovation jobs, it's important to closely observe the pool and its deck. "Look at the tile and the interior, look for cracks, look for a deck that's been moving. Was the pool built prior to us putting GFIs on lights? Is the pump properly grounded? You're really doing an inspection of the pool to anticipate what needs to be done or what could happen when you take it apart."
Feeling The Pressure
Certain tests may be a part of these pool inspections. "Pressure tests are a really big thing for us," says Chris Smith, co-owner of Marquise Pools in Oak Ridge, Texas. "We're able to determine the dynamics of the plumbing by doing pressure tests to see if there are any leaks or cracks. We also usually run a leak detection service on all the light niches and main drains to make sure all those O-rings are intact. Most of the time, we'll change those seals out as we're doing the remodel just to anticipate any dry rotting or cracking.
"And if the pool shell is 20 years old or older, there is a test you can do to check the psi of the gunite to make sure everything is OK before you put all this money into a shell that may or may not be structurally fit. We also use a laser level to make sure the pool hasn't shifted or floated or that a previous owner didn't drain it and shift the levelness out of it.
A basic comprehension of how groundwater works on pools is essential in these jobs. Amazingly, Smith notes, that fundamental understanding is lacking in some startups. "We've had remodel companies pop up here in Houston that do a replaster and they'll drain it Friday, come back Monday to refinish and the pool has floated 8 to 12 inches out of the ground because they didn't know what they were doing. The first thing you do when you drain a pool is punch holes in the bottom to relieve the hydrostatic pressure because otherwise the shell may just float right out of the ground."
Smith adds that renovation in general has been "really big" for Marquise. "A lot of people are staying in their homes now because of the economy, and they're putting more money into what they have and making it more current."
Wieland has noticed this trend, as well. "There are more people willing to renovate a pool right now than are ready to take on a new pool."
Nevertheless, the recession has affected renovations. "It's a different world now than it was a year or two ago," says Nemetz. "A couple years ago, there was a lot of refinance money floating around, the stock market was rolling, there had been a lot of property appreciation in California and people were really spending a lot of money on these complete renovation projects where the entire backyard would be removed and everything top to bottom would be replaced. We would take the pool down to a gunite shell and would add a spa or benches or a raised wall with water features or a waterfall. There was a lot of that going on. Now people are much more careful about their expenditures. It's much more of a need-based market."
There Is Need!
Fortunately for pool renovators, thousands of people this year will need to fix up their pools. These people typically call a builder because their plaster is discolored or falling apart. "This is generally the catalyst to a full renovation," says Nemetz. "It's the thing they notice the most.
"Usually, they want far less than what they need. They'll want to refinish the inside of the pool, and you'll look at the coping and the tile line around the pool and see a horizontal crack along the tile, which typically means there's a broken bond beam. Many times that's because the expansion joint on the outer part of the coping wasn't adequate and the pool decking has exerted pressure on the coping, which of course breaks it loose. Often they don't understand that or even notice it, though they'll say, 'I never have to drain my pool,' and I'll tell them, 'That's because it's draining right through this crack, across the beam of the pool and down into the dirt.'
"Another common thing to do is replace the cement around the pool, and if they want to do that, I talk to them about replacing the pool plumbing because no matter how careful the deck contractor is, in the old days, the trenching depth was not adequate many times, and all the pool plumbing will come up with the deck when they're taking it out. The skimmers also often need to be replaced at the same time, because a lot of times they were structurally tied to the decks in some way and so they're damaged beyond repair when the decks come out. And some of the old two-piece skimmers tend to leak anyway."
During renovations, Nemetz also often replaces oversized pumps with more-efficient multi-speed pumps that pay for themselves pretty quickly. Solar heating is also going strong, he says. "The trend has been for people who have a pool without a spa to go solar rather than replacing their heater."
Finish The Job
In terms of what's popular for interior pool finishes in Nemetz's neck of the woods, it's a mix. "There's a trend away from traditional plaster, which tends to be porous and stain relatively easy, and toward upgraded plaster products. These have better cement and better types of sand in them. We also do exposed pebble finishes, and there's a polished aggregate finish that's quite popular now. But the pebble finishes are really quite bulletproof. So even though the economy is not what is was a couple years ago, people are being practical and recognizing the long-term benefit of spending the extra money on a pebble surface, instead of traditional plaster."
Nemetz also points out that a pebble surface is very blendable if it ever needs patching, whereas a plaster patch will almost always show no matter how good of a job the contractor does. "So pebble just has a lot of advantages to it," adds Nemetz.
Gregg Whitley's clients certainly recognize the value the pebble products offer. The vice president of Aqua Pool & Spa in Manteca, Calif., says, "We're doing Pebble Tec products more than we're doing anything else. Selling upgraded interior finishes is much easier for a customer who has an existing swimming pool than for one who doesn't because they understand the problems with the product they currently have, so they're more inclined to buy more-durable, long-lasting finish products."
Wieland says Paddock is still putting on a lot of Pebble Tec finishes, but they're using other finishes, as well. "It's like anything else, the trends change. At one time when pebble was really popular, almost everything was pebble, but we're seeing that change. We're seeing people who want to go back to the white plaster look, so we're doing a lot of enhanced plasters that are much harder and denser and we're mixing in quartzes to give it a little bit of a texture. If somebody wants a smooth pebble look, they can get concrete with a stone and polish it to expose the stone. There are a lot of products out there that are not pebble that they can get some longevity out of. It's a matter of being educated about what's available."
In addition to a new pool interior, many renovations also include new waterline tile and a change to the deck. "The main thing on decks," says Wieland, "is we convert them to an acrylic lace, which is the pattern. If we rip out the deck, travertine pavers are becoming a really popular choice, and the nice thing about them is you don't have any maintenance. It's not going to crack like your 4 inches of deck."
Wieland says the waterline tiles going on the pools they renovate tend to have more individual variation. "Instead of every tile being exactly the same, each tile is a little bit different."
In general, much like how a new pool should match the character of the house, the materials used in a renovation should blend well with the home and the character of the pool. "If they have a rectangular or Grecian pool, and they want to put a rock waterfall on it, well, that just doesn't go together. So that's when you get creative and maybe do a waterfall or a water feature that has columns with some very formal stacked stone with copper scuppers pouring into the pool. If the client has the budget and it fits the pool, fire and water features have become real popular. Those features change the whole dynamic."
Recession Proof
Some pool owners, like those adding fire and water features, still want builders to transform their whole backyard. "These buyers are what we call recession proof," says Smith. Like most pool owners looking to renovate, many of Smith's clients come to him because their plaster is failing, and the job grows from there, especially after he takes them on a tour of pools and backyards Marquise has already renovated. "They have no idea what's really possible till they go on the pool tour," says Smith.
On the tour, Smith shows clients pools with new finishes, new travertine coping and waterline tile, waterfalls and expansive outdoor living areas with kitchens, fireplaces, pizza ovens and pool houses that have changing rooms, game rooms and home theater rooms. "And the resale value on those outdoor living areas is every bit of 110 percent," says Smith.
After the pool tour, Smith says many of his clients typically say: We want one of these and these and these. When can you start? "We're able to show these people a way to entertain outdoors," says Smith, "and they just take that model and run with it."
Perhaps the best part of renovations, whether small scale or large, is seeing the pool sparkle again. "I'm so proud of our work," says Nemetz. "What I enjoy so much is taking something that looks so pathetic and transforming it into some beautiful. You walk through the gate, and you can't even believe it's the same place."