Our SOI survey of pool and spa pros across the country produces an annual catalogue of service wisdom, everything from how to save time on the job to how to survive the hot sun.
TIME-SAVING TIPS
1. "Pour calcium into a deep net, and set it in front of a strong return jet. This quickly dissolves the calcium without having to use a bucket."
2. "Use proper, specialized eyeball tools instead of using substitute tools that can damage them."
3. "I use a drill to take an EC65 filter apart."
4. "Use small electric power washers for cartridge cleaning."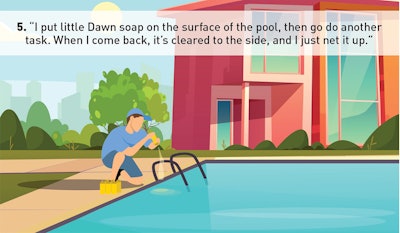 6. "I have three: a) Use a fish tank net to remove all the small debris from the skimmers. b) Feed water into your hose by pushing it under the water vertically. c) After cleaning the filter, turn the equipment on to fill the filter tank, then turn it off before it gets to the top so the draining water pulls the lid on."
7. "Use every single tool at your disposal, from spa dollies to aqua combs to shark vacs, wheelbarrow suction pumps and software. Technology makes you faster."
8. "I put color-coded zip ties on things, and I know what the colors mean. They stay on there forever."
ORGANIZE! IT MAKES LIFE EASIER.
9. "Mentally lay out jobs before leaving the shop (if possible, of course)."
10. "Documentation of existing pool equipment can save you a trip when having to replace."
11. "Stage EVERYTHING you can before the season hits. We have folders prepared in advance with all of the documents consumers will need when they purchase a new pool or hot tub."
WISDOM OF THE WATER TRADE
12. "Start the morning off with something you love."
13. "CYA — take a picture before and after cleaning the pool, especially during bad weather."
14. "Just think ahead. That's all."
15. "Sight checks before bids, always."
16. "Keep records so you can learn the "attitude" of the pools you're working on."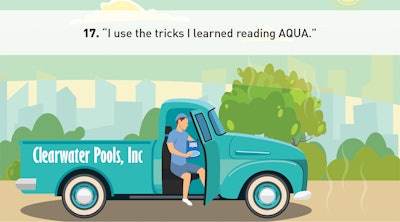 18. "Know your customer's pool usage."
TRAINING EMPLOYEES AND CUSTOMERS
19. "Use three-man crews instead of two. Three-man crews get 2x the work done in the same amount of time, with only a 50% increase in payroll."
20. "Measure your crews' efficiency and give bonuses based on that."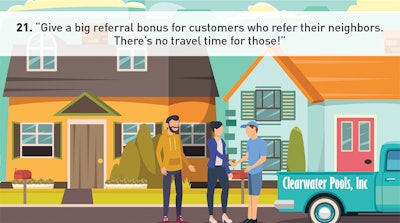 22. "Text your repair customer that you are on the way."
23. "Show them how the equipment works, and then have them show you."
24. "Customers rarely know or tell all when they call for service. I prepare for the worst and take everything I could possibly need in my vehicle. Like the old saying, 'pack for bear.'"
25. "Gotta get workers motivated and focused on the job at hand. For us, a bonus mid-season and end of year helps."
26. "I work with/incentivize my customers to get pool vacs. Cuts the work in half."
27. "Get rid of customers outside your geographic range, and outside your personal tolerance range. Just do it."
PRIME TIME
28. "Using zip ties for plumbing on fiberglass pools! Time saver and less worries about supporting plumbing during backfill."
29. "Vacuum out the air under a new liner install."
30. "Preload the night before, don't waste your morning time. And preassemble as much as you can at the shop."
31. "When removing large debris, I work from the deep end to the shallow end every time."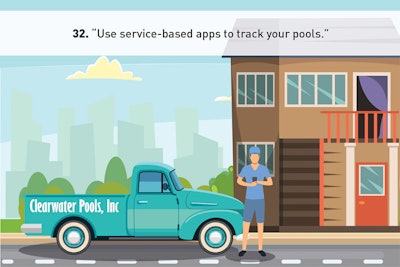 33. "We use high-end test strips. You can do six tests in 15 seconds!"
34. "When you're doing a hot tub drain and fill in winter, use the hot drain water to melt away snow and ice around the tub. Makes working around it easier."
35. "WD-40 with that little red spray tube can actually clear a lot of things in tight places around the pool."
HANDLING CUSTOMERS
36. "Have a ton of parts on the service truck so you can sell on the spot!"
37. "If a customer or a pool takes too much time or hassle, we just get rid of them. In the long run, that's a smart move."
STRATEGIC THINKING
38. "Carry all the parts you think you'll need — plus 50%."
39. "Gradually switch over to chemical feeders as an alternative to trichlor."
40. "Use mobile service software. Stop using paper."
41. "Having good notes about each pool and the equipment helps a lot when there is a problem. In short, understand your customers pools before you have to service. Photographs on cell phones are a must."
42. "Get used to using the Langelier Index. It's a better tool."
43. "Glass filter media on swimming pools."
44. "Use video chat/FaceTime to support technicians in the field."
45. "I wear a bucket hat to keep sun off the ears and good steel-toed waterproof boots with orthotic insoles to keep feet happy."
46. "Don't always think service route and driving. It's more important to send the right guy to each job."
47. "Work goes faster when the client is not present (but communication is better when they are)."
---
This article first appeared in the January 2022 issue of AQUA Magazine — the top resource for retailers, builders and service pros in the pool and spa industry. Subscriptions to the print magazine are free to all industry professionals. Click here to subscribe.