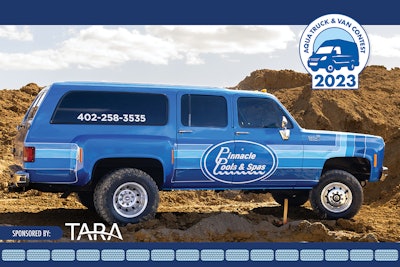 AQUA's Truck and Van Contest is back, and thanks to an excess of exceptional submissions, we were able to increase our winner categories for their outstanding work vehicle designs.
The design of a work vehicle, both inside and out, is important to get right if service technicians wish to be recognized on the road from any new, potential customers, as well as if they want to streamline efficiency on their daily routes. The trucks that adorn the following pages do both, and do them well.
We kept our typical categories — such as the Grand Prize, Runner-Up and Reader's Choice awards — and added new ones in order to showcase all the unique entries we received this year. From buses to Chevy El Camino's, or looming octopuses to lovable hounds, or even just simple wraps to flashy ones, we have a category to represent all those who stood out.
It was great fun looking at everyone's work vehicles — even if they didn't end up as a category winner — so we would like to say thank you to all those who entered. Without your participation, this section would not be possible. And a note: If you didn't come out victorious this year, we encourage you to submit again when the contest re-opens in the spring — you may just end up a winner!
Now, without further ado, we invite you to travel the road to service success...
Sponsored by:

---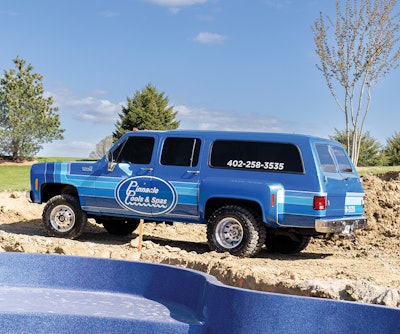 GRAND PRIZE WINNER
PINNACLE POOLS & SPAS OF OMAHA, NEB.
This year's Truck & Van Contest winner drew our attention due to its simple, blue aesthetic wrapped around an older, chevy suburban.
At first glance, we thought the exterior of this vehicle was too nice, and there was no chance anyone would risk driving it, let alone working out of it. However, after talking to Ross Haley of Pinnacle Pools & Spas, we learned that he does, in fact, drive this vehicle to service and build pools — it's not just put on sacred display.
When asked about the design process, Haley revealed that the suburban was originally converted to a dually and labeled the "custom deluxe," but has since been completely rebuilt in his own backyard.
"The truck has a brand new crate 454 Chevy big block, as well as a four-speed transmission — all branded with Pinnacle Pools of course," says Haley. "To draw even more attention, we have outfitted the exhaust with electric cutouts that bypass the muffler, making it sound like a true monster truck, or an authentic air compressed train horn."
In order to achieve the simple, blue aesthetic, the Pinnacle design team "custom designed the wrap by using one of our fiberglass pools," says Haley. "We had our team match the truck wrap with the fiberglass, which makes it shimmer and sparkle when it's in the sun. The stripes and logos were also made from reflective vinyl that glows in the dark at night."
Pinnacle Pools & Spas was founded in 1988, and has since grown into a nationwide family owned and operated company, with a portfolio of over 70,000 completed pools. Specializing in inground gunite, vinyl and fiberglass pools, Pinnacle uses their superior craftsmanship and dedication to customer service to transform ordinary backyards into breathtaking oases, all while working out of this sleek suburban.
---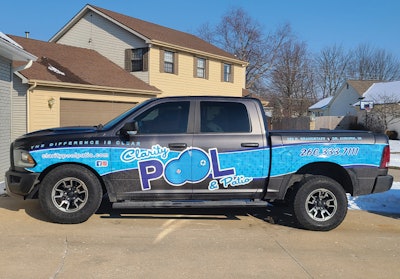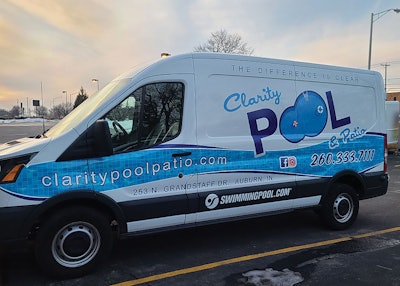 RUNNER-UP
CLARITY POOL & PATIO OF AUBURN, IND.
Ken Thompson, co-owner of Clarity Pool & Patio, has seen countless industry work trucks in his 20 years as a business owner, and overtime, he has come to notice that they always seem to be designed similarly: a white vehicle with a blue pool graphic.
Although he doesn't mind this design — in fact, he actually likes it and took his original inspiration for his truck wrap from its simplicity — he did want to design something a little bit different so that his work vehicles would really pop.
"We opted to go with the dark gray truck, combined with the various shades of blue pool, because we thought it showed up well and really stood out," says Thompson.
Other noteworthy details include the two circular pools that replaced the double "o's" in the company's logo — with a beach ball, inner tube and climbing ladder placed as accents within — a thin, horizontal pool positioned below the logo, spanning the entirety of the work truck and the company slogan of "The Difference Is Clear" highlighted right above the pool graphics.
---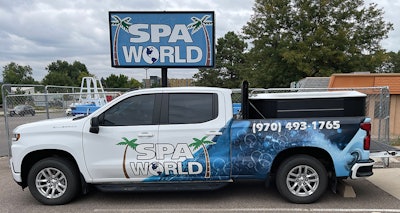 READER'S CHOICE
SPA WORLD OF FORT COLLINS, COLO.
Due to our impressive submissions – in both quality and quantity – we decided to ask our trusted readers to weigh in on our Truck & Van Contest for the second year in a row with the Reader's Choice Award survey.
Out of the 12 esteemed companies listed, Spa World of Fort Collins, Colo., came out victorious after voting came to a close. Thank you to all who voted, as the race was a nail biter up until the very end.
When asked about Spa World's goal for the design of their work vehicle, Shane Merkt responded with, "The thought process behind our design was to blend our company logo with themes of relaxation. It took us a couple of weeks before we were all happy with the way it looked, but we all agreed that the final product turned out great."
From the palm trees to the spa jet to the planet, this wrap definitely gives off themes of relaxation. Merkt also revealed a new detail. "We added a final, fun touch this last year on our Chevy Silverado service trucks. There's now a rubber duck on the antennas of all our vehicles. This is just another great way we get people's attention."
---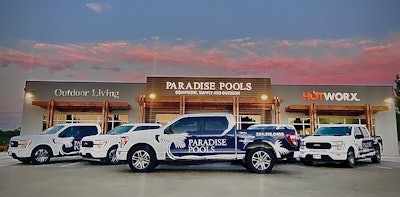 LESS IS MORE
PARADISE POOLS OF STEPHENVILLE, TEXAS
Some may think a simpler wrap design comes off as boring, but when presented with this simple design from Paradise Pools (Stephenville, Texas), we thought it was anything but boring — making it this year's "Less is More" winner.
Paradise Pools chose a white and navy truck wrap — with only a few palm tree graphics — because "everyone wanted a simple design," says Liberty Virgen of Paradise Pools. "The whole team helped to pick out the final product that ended up on the trucks. It was a team effort."
"Our team wanted something clean that wasn't so conventional, but at the same time, would get the point across," says Virgen. "We kicked around design ideas for a while before moving forward. We chose the dark colors to match our existing logo and incorporated our logo as the design."
The team also decided they wanted trucks as their work vehicles instead of vans because of how multifaceted trucks are. "The large back area is great for storing our tools and parts," says Virgen. "Each truck has retractable bed covers, giving us the ability to cover it at night or on longer trips in between jobs. Each service truck is equipped with a dual hitch to carry a cleaner for leaves and heavy debris, as well as a pump and filter cleaner cart for the sand and silt."
Outside of the simple design found on their work vehicles, the Paradise Pools' staff also helps differentiate them from their competition. "The best part of our vehicles are the team members that drive them," says Virgen. "We have become a family over the years. We are a team of pool professionals specializing in pool and spa construction, remodeling, retail and service. Support is a priority throughout our company, and the true definition of our team. Whether it is taking time out to lend a hand on another team member's route, or merely supplying the right tools for the job, we ask, 'How can we support each other?'"
---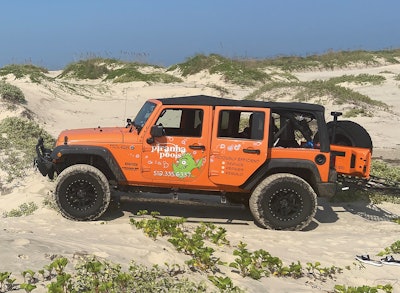 IT'S VICIOUSLY DIFFERENT
PIRANHA POOLS OF CEDAR PARK, TEXAS
When you think of the color orange, or a viscous piranha, you don't typically associate them with swimming pools, which was actually the objective of the Jeep design at Piranha Pools — a family owned pool and spa care business — located in Cedar Park, Texas.
"When we initially went into this business, we didn't want anything associated with the color or word blue because we wanted to stand out from everyone else in the industry," says Owner Rhonda Warren. "Orange vehicles are rare, so we went with that as our base color. We chose a Jeep as our vehicle because the rack on top of it makes it super easy to carry poles and PVC. It also has four-wheel drive, allowing us to get into rough terrain when building pools." "When designing the logo, we wanted to incorporate a vicious fish that looked happy and approachable all at the same time. We chose our tagline, 'Viciously Efficient!' based on similar criteria. Now, people constantly look and point at our vehicles because of how fun they are. We once passed a driver on the road, and she ended up trying to catch up to us so that she could inquire about our design, which led to her inquiring about our services. She's now a customer!"
---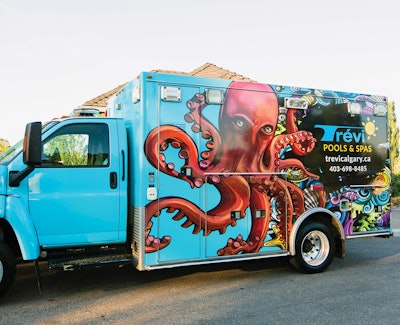 MOST CREATIVE
TREVI POOLS & SPAS OF ALBERTA, CANADA
We received quite a few submissions this year that had different animals – both domestic and wild alike – adorning people's work vehicles; however, the entry from Trevi stood out to us as being the most creative.
Trevi was founded in 1972 in Canada, with only a trailer and two aboveground pools to act as its office and showroom at first. Since then, the company has grown to serve the residential and institutional segments of North America, as well as various European countries. Trevi provides its customers with products, build, and service for both inground and aboveground pools.
We thought the stark contrast between the light blue of the front of the van, combined with the red of the giant, looming octopus, really made the vehicle stand out. We also liked how there was minimal text, highlighted by the black backdrop, as well as the coral reef, fish and shells. The design would grab anyone's attention driving by.
---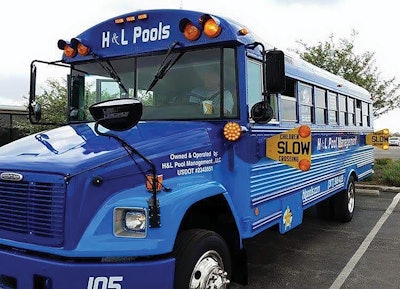 THE WHEELS ON THE SERVICE BUS GO ROUND AND ROUND
H & L POOLS OF NOBLESVILLE, IND.
When this year's contest closed, and we started reviewing our submissions, we didn't expect to receive pictures of a school bus, but we're so glad that we did! Jeremy Hagan, owner of H&L Pools in Noblesville, Ind., says choosing a school bus as his work vehicle was intentional, due to his past experience and familiarity with driving them.
"I was a school bus driver for 15 years," says Hagan. "When I started H&L Pools in 2012, I wondered how much a school bus would cost because if they were cheaper than a truck or van, then it would be a no-brainer for us to buy one — especially since they were so much bigger in size, too.
"It just so happened they were really cheap, at least at that time, so we bought a school bus to act as our first work vehicle. This initial idea has now evolved into our company having over 40 school buses to service pools out of. We have all different kinds, but they were all former school buses at one point or another."
Now, around a decade later, H&L Pools has racked up both a customer-base and an awareness- base throughout their service area. "Whenever people in our area think of school buses, they think of our 'pool buses' now," says Hagan. "For example, one of our buses was parked in a neighborhood to work on a pool, which prompted one of the homeowner's neighbors to come over and inquire about the bus just randomly sitting on their street outside of the typical school drop-off or pick- up hours. The homeowner simply replied, 'Don't worry about it, it's just the pool company.' We've now made everyone think of the pool company when they see a school bus, making us, the 'pool bus.'"
---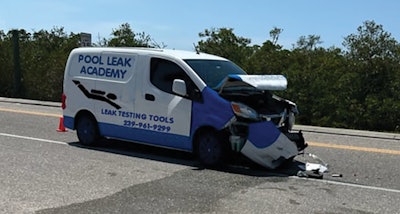 YOU CAN ALSO SUBMIT THIS PHOTO TO YOUR CAR INSURANCE
POOL LEAK ACADEMY OF BONITA SPRINGS, FLA.
It's generally standard practice to send a truck/van submission of a vehicles in one piece... that is, until now. Nathan Weston with the Pool Leak Academy of Bonita Springs, Fla., sent in this picture of a work vehicle under duress (to say the least). When we asked him why he chose to submit this photo to AQUA, and also to his car insurance, no doubt, this is what he had to say:
"This was one of our newer vans. One of our employees was out on a service call. The speed limit was 35, and if you would have seen the accident scene, you would have quickly discovered the reason behind this crash was distracted driving because there were no brake marks leading up to the crash. This employee was texting while driving, resulting in the state of this vehicle."
Weston went on to explain how important it is to train your employees to be safe drivers while working on the road. "The van had to be totaled and luckily, no one was seriously injured; however, I wanted to send this picture in as a reminder that texting while driving is no joke; someone could have been killed. Always reiterate the importance of keeping your eyes on the road and your hands on the wheel — the text can wait — when training your service technicians who will be driving your work vehicles."
---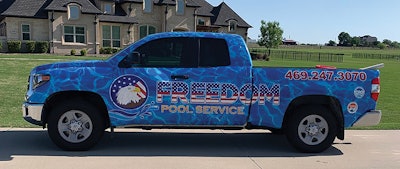 MOST PATRIOTIC
FREEDOM POOL SERVICE OF MCKINNEY, TEXAS
When you think about the United States, you may picture the flag, or the colors red white and blue, or maybe even a bald eagle. Freedom Pool Service, a pool service company located in McKinney, Texas, has combined all of these American associations into one, patriotic truck wrap, making them the "Most Patriotic" category winner this year. While the owner himself is not a veteran, nor does he have anyone on staff who was formerly in the military, he still credits himself as a patriotic American who wanted to associate both himself and his company as being such.
"My wife and I worked together on the truck design," says Scott, owner. "We liked the whole idea of water being the main background, but for the logo itself, we wanted to stand out as a patriotic pool service company because people generally like to support patriotism.
"We worked with a designer to decide upon placing the eagle next to the word 'Freedom,' which we chose to adorn with blue stars on the top and red and white stripes on the bottom. I think the final result gives off a feeling of patriotic professionalism; I get recognized with the occasional nod or salute, making me simultaneously proud to be an American, proud to own and work for such a respectable company, and proud to drive such a patriotic work vehicle."
---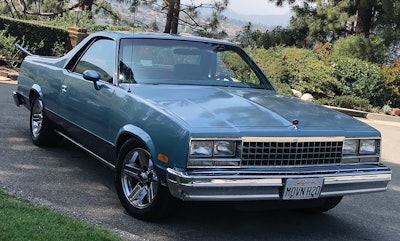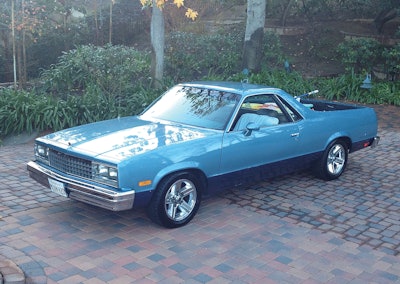 VINTAGE RIDE
WE CARE POOL SERVICE OF THOUSAND OAKS, CALIF.
We chose to highlight this vehicle – from We Care Pool Service in California – more for it being a cool, vintage car than it having a flashy, big design.
Although it is light blue in color, which falls in line with the industry's most popular colors, we like how the only clear items that help connect it to the industry are the "H2O" license plate combined with the pool gear sticking out of the bed of the car.
We asked the car's owner, also the company owner, Mark Klein, how he keeps this beautiful, vintage ride on the road and available to service, instead of in a scrapyard.
"Ol' Blue is a 1983 Chevy El Camino. It's been my pool service truck for 24 years now. It's really a labor of love to keep a 40-year-old truck on the road and have it still be as reliable as mine is. All these years of working out of it, and I've only been towed home twice!"
---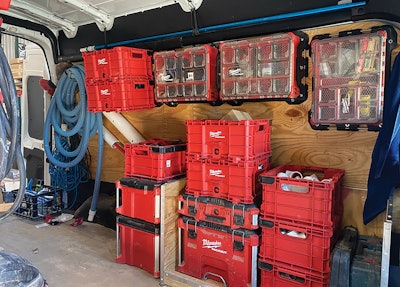 MOST ORGANIZED
SPRINGHETTI LUXURY OUTDOOR SPACES OF NEENAH, WIS.
Taking a look inside the Springhetti van, every tool, service part and hose has a designated spot, either within a specific crate or hung along the walls of the vehicle. Nothing appears to be out of place or moving freely around the van, which is why we deemed Springhetti's van as this year's "Most Organized" winner.
Building unique, custom outdoor spaces, Springhetti's team of skilled professionals can bring clients' dreams of a garden or outdoor oasis into a reality. As a multi- generational family business with years of experience, each swimming pool, outdoor kitchen or wood structure is beautifully crafted to meet the individual needs and personal style of each client.
When out on a call or project, Springhetti employees have no trouble finding the tools they need to complete their duties. Each tool box is categorized appropriately, with sections for each tool or part, and there are no overflowing containers. When pool professionals are out completing jobs, it can be difficult to keep their vans organized throughout the day, especially if they have a jam-packed schedule, but by having multi-functional tool boxes and crates, Springhetti stays ahead of the clutter and mess.
---

DOG LOVERS
LENNY'S POOL SERVICE OF CHANDLER, ARIZ.
Honored for his companionship and cantankerous spirit, Lenny the basset hound is the face of Lenny's Pool Service, the winner of this year's "Dog Lovers" category. Lenny's beautiful, sweet face can be seen driving around Chandler, Ariz., on a beautifully designed service van.
Jerry, Lenny's owner, and Paul are brothers who entered the pool business with the hopes to provide full-service pool cleaning, maintenance and repairs to their neighbors throughout the East Valley. As Arizonians, they know better than anyone how great — and refreshing — it feels to be gathered around the pool with friends and family. They also know how much upkeep pools require and aim to alleviate pool maintenance concerns for their clients.
Blending Arizona's breathtaking landscape with a depiction of Lenny taking a splash, Lenny's Pool Service van successfully communicates to potential clients who they are and what they do. While the van utilizes just a few colors to capture the scene, the use of the luminous blue highlights Lenny and allows the van to stand out against the territory's rugged terrain.
Jerry will forever honor Lenny, as he was his first dog and his best friend. While Lenny was a handful, his fierce spirit will live on as Jerry and Paul continue to run their business in honor of their furry friend.
---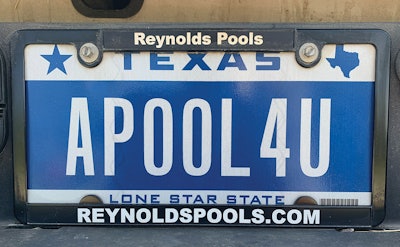 HONORABLE "LICENSE PLATE" MENTION
REYNOLDS POOLS OF LA VERNIA, TEXAS
For one of the submissions, we didn't actually receive an image of a work vehicle, and instead, a photo of a license plate. But thanks to the creative combination of numbers and letters, we choose to give Reynolds Pools of Texas an "Honorable Mention" this year because of its marketing-savvy design.
"It's obviously a vanity plate, that's what they're called when you request something specific like this," says Bobby, owner. "The truck has nothing on it; I didn't have a bunch of colorful, swimming pool images to submit to this contest, only the 'A P00L 4U' plate."
Surprisingly, a vanity license plate can be just as good of a marketing technique as having a flashy truck wrap. "I didn't actually request this license plate because I'm vain, I requested it as a marketing technique," says Bobby. "It'll draw your eye just as effectively as any big, colorful design, with the upside of it being a lot cheaper."
---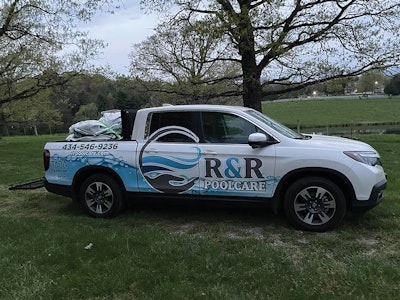 SPONSOR'S CHOICE
R&R POOLCARE OF LYNCHBURG, VA.
We asked our friends at Tara, the 2023 Truck & Van Contest sponsor, to choose their favorite work vehicle out of all the excellent entries we received this year. Their team really liked the entry from R&R PoolCare of Lynchburg, Va.
"R&R PoolCare's vehicle wrap is a well-designed and effective marketing tool," says Tara Marketing Director Thomas Kennedy. "The logo, with a hand elegantly encircling the water, not only captures the essence of pool care, but also showcases the company's commitment to exceptional service. The blue water background and white truck make a striking contrast, and the logo is clear and easy to read. The phone number and website are also displayed prominently, making it easy for potential customers to get in touch with the company."
R&R PoolCare is strictly a service and repair company whose goal is for its customers to enjoy time with their friends and family around their backyard pool, rather than trying to keep it balanced and clean. The R&R team understands how busy life can get, cutting into quality family time, so they want to take the stress out of pool maintenance — and they do so in style.
---
This article first appeared in the June 2023 issue of AQUA Magazine — the top resource for retailers, builders and service pros in the pool and spa industry. Subscriptions to the print magazine are free to all industry professionals. Click here to subscribe.