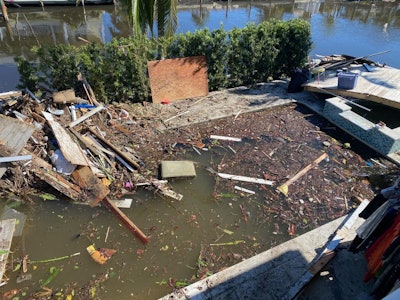 Jeffrey Murphy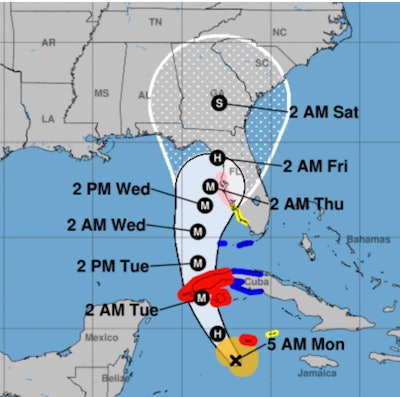 If you service pools on the coast, especially on the coast of the Gulf of Mexico, there is no calm before the storm. Instead, you pay careful attention to what's known as "the cone of uncertainty" — that is, the projected path and intensity of the storm shown on every screen in every newscast — with trepidation, knowing that your weekly costs will fall on the 'dirty side' of the eye: That right-front quadrant that blows toward shore, unleashing tsunami-like waves that can precede the hurricane by as much as a day. This is the area in the storm that will face the most destruction, and it is in this area where the sea will overtake swimming pools.
The weeks following this weather event are the most brutal and grueling days a pool service professional can experience. Often, the equipment has been submerged, the water in the pools is not salvageable, and it is not uncommon for them to be filled with several feet of sand.
Not to mention that everything the service company's customers are experiencing is also occurring at the technician's home. It takes dedication above and beyond to find the motivation to clean somebody else's swimming pool when you have water in your living room. Here are a few tips to keep in mind when navigating the aftermath.
It's best to inform customers that they will not see a service tech on their typical day. While the clientele is patient initially, it doesn't take long before they become unruly. They forget that every one of that company's customers is experiencing everything they are facing (and some just don't care). Reassure them that the reason for going off schedule is this: Everything necessary to make pools swimmable is occurring on each visit to every home. And although it may be days or weeks before they get there, the same will be done at that person's pool when the tech does arrive.
Storm clean-up should not be part of the regular service you offer, and should be billed separately, at a much higher rate. Hurricane damage is devastating, but now is not the time to run a business as a charity — not if that business wishes to remain in business. If a company operates with a service agreement, acts of God, and weather events should be addressed.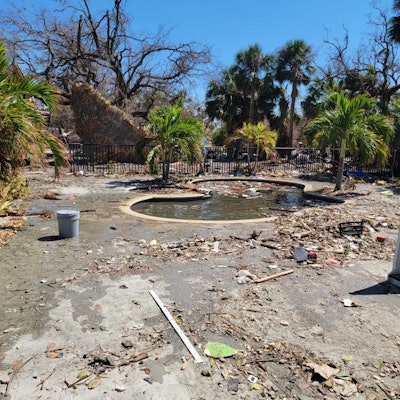 The pools will need to be drained, but with the high-water tables from the flooding and rain, the risk of pop-ups is severe. Sea water has a higher total dissolved solids level (30K to 40K ppm), a significant bromide ion content, and a level of sulfate, nitrate, and metals (lead, mercury, cadmium, chromium, nickel, iron, and barium) undesirable for swimming pools. This is not a task that should be attempted by a pool service company inexperienced with saturated groundwater. A wellpoint company should be contacted, and a wellpoint system installed.
Pop-up insurance MUST be valid and current. If your company does not have pop-up insurance, contact your insurance carrier before draining even an inch of water from one of these swimming pools. Pop-up coverage is an exclusion in general liability insurance and must be added to the policy — without it, any damage will be out of pocket.
To prevent electrical shock hazards, equipment, such as the pool pump, should be replaced if it has been submerged. Internal moisture can cause leakage current paths, and VSPs that have been underwater will experience partial or complete permanent demagnetization. Sadly, the needed equipment may be hard to find, depending upon possible damage to the local distribution center, compounded supply chain issues, or the any logistical nightmares that ensued.
When dealing with storm surge contamination, aluminum sulfate is NOT the solution. Everyone knows I'm a massive proponent of it — but alum can only floc what it can floc, and this damage here is more than the coagulant can handle. The risk to the pool, equipment, and the bathers is too high in what will be left behind.
Ultimately, all you can do is the best you can do. It will take a lot of time — especially if you remove hundreds to thousands of pounds of sand. You'll lose customers, and it's unavoidable. Adding insult to injury, none of the above can happen until the electricity is back on.
To everyone who is currently dealing with the aftermath of Ian: You are in our prayers, and you've got this.