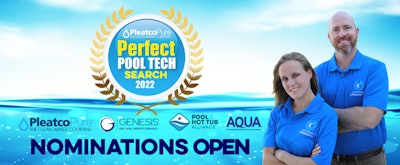 When the Pleatco Perfect Pool Tech (formerly PoolGuy and PoolGal) Contest began in 2008, it was a "light-hearted" contest. But while some of the original entries were funny, most of the entries were submitted by loyal customers who truly appreciated the commitment to service at the highest level.
Over the years, it has become a serious nationwide (and now international) event. The next few days mark your last chance to earn a place among the greats: Nominations for the 2022 Pleatco Perfect Pool Tech Contest must be submitted by 11:59 p.m. on September 18, 2022.
Industry professionals and community members can nominate anyone from seasoned pool veterans to enthusiastic young achievers. Think: an outstanding service technician, a passionate pool association member, a wonderful pool store clerk or even yourself.
And it's easy to enter — simply complete the following steps:
Fill out the online form here and upload a good photo.

Tell Pleatco your story, in a minimum of 50 words.

Upload a video (optional).
Why enter? Take this previous winner's word for it:
"Winning the Pleatco Perfect PoolGuy Award changed my life. Not only did I enjoy the great Pleatco hospitality and the amazing fully paid vacation package, I gained invaluable knowledge from the GENESIS course prize that has helped me get to a new level of performance," says Tom Cucionatta, 2012 PPPG. "Added to that, the greatest thing has been the unbelievable exposure and promotion. This has helped grow my business phenomenally. New clients now ask if they too can have the 'Perfect PoolGuy' service their needs. It has had a major positive impact on my family and me. I am super proud to be an alumni of this heartfelt industry award and urge you to enter."
For more information about the contest, click here.
To nominate yourself or another industry member, click here.