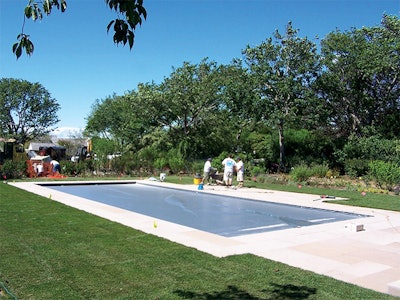 There are various reasons why a homeowner might choose to forgo winterizing and leave their pool open all year. Perhaps they want to continue to swim through the cold months, or maybe they just like the way the pool looks when it's open. Saving money, however, is not usually the motivating factor.
Steve Kenny, president of SRK Modern Pool Solutions, a design, construction and service firm based on Long Island, N.Y., makes a different case. Three years ago, it dawned on him that when combining the efficiency of variable speed pump technology with the heat retention of an automatic pool cover, it might be possible on some pools to actually save money by not winterizing.
One of his clients, a well-known television actress, was interested in using her attached spa from time to time throughout the winter. That led Kenny and his service staff to break down the numbers, comparing the cost of minimal operation through the winter versus the price of winterizing in fall and opening in spring.
"We calculated that for this pool, it would be cheaper to leave it open by keeping it covered and running the pump at a low speed," he recalls. "We're able to circulate and treat the water throughout the winter while leaving the spa available, and it saved money."
RELATED: APC Installation: Outsource or In-House?
COLD BUT NOT FREEZING
The pool is a big 50-by-20-foot rectangle with a 10-by-20-foot spa inside the pool on one end. The entire vessel is covered with an automatic pool cover that stays closed during the winter until the client wants to use the spa. In that case, she heats the spa and pulls back the portion of the cover over the spa.
The rest of the pool remains unheated and drops to roughly 50 degrees throughout the winter. That's too cold to swim, but warm enough to prevent freezing when the circulation system is not running. The result over the past two seasons was a healthy 20 percent savings compared to the cost of winterizing and opening.
When temps start to rise in the spring, the pool is clean, algae-free and ready for action, Kenny reports. "[The customer] loves it," he says. "She can heat the pool, pull the cover back and use it whenever she wants. She doesn't have to wait for us to come and open the pool."
The approach worked so well that Kenny is leaving another account open through the winter to both save money for the client and also protect a glass tile finish on a large tanning shelf. Because glass tile can be susceptible to damage from freeze/thaw conditions, he leaves the pool covered and circulates the water for part of the day, which prevents freezing. And the expensive tile finish stays safe.
All in all, Kenny says he finds automatic covers offer tremendous advantages in terms of heat retention, cleanliness, safety and, for at least two of his customers, savings from skipping the winterizing and opening processes. 
RELATED: Covered Concerns: The Inescapable Logic of Automatic Pool Covers
WELL-ESTABLISHED BENEFITS
Such anecdotal evidence of cover efficiency is well supported by empirical research by both the U.S. government and academia.
For example, the U.S. Department of Energy has long advocated using pool covers as a way to both save energy and conserve water. The DOE maintains statistics on a range of pool efficiency categories, including savings from heat pumps, solar heating systems and high efficiency heaters.
Because pools lose 70 percent of their heat to evaporation, the DOE flatly states, "Covering a pool when it is not in use is the single most effective means of reducing pool heating costs."
That position is backed by calculations for energy savings in uncovered verses covered pools in U.S. major metropolitan areas. Using an example of a 1,000-square-foot pool heated with an 80 percent efficiency natural gas heater at $.80 per therm, the department amassed some truly impressive savings figures.
Some examples: In Miami, heating a pool to 78 degrees (Fahrenheit) year-round will cost $2,136 without a cover, but drops to $416 with a cover. Using the same example in Los Angeles, the difference is $1,864 vs. $168. In seasonal markets like New York, heating the pool from May through September cost $1,448 vs. $208. In Chicago, the cost was $1621 vs. $216.
In the DOE's analysis, which is available on its website (aqmag.co/coverenergysavings), the department explains why reducing evaporation is the key factor: "Swimming pools lose energy in a variety of ways, but evaporation is by far the largest source of energy loss. Evaporating water requires tremendous amounts of energy. It only takes 1 Btu (British thermal unit) to raise 1 pound of water 1 degree, but each pound of 80 degree water that evaporates takes a whopping 1,048 Btu of heat out of the pool."
All told, the DOE declares that with a pool cover, energy savings of 50 to 70 percent are possible. It also points to added savings gained by reduced water loss, chemical use and labor.