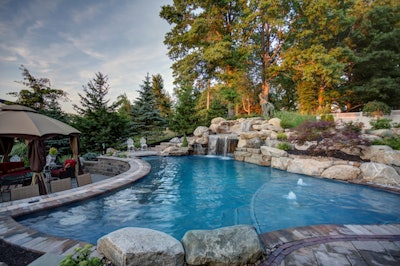 Spring has sprung, and the busy opening season is beginning in northern climes. For service pros perhaps returning to active service after the off-season, we provide this brief pool opening checklist, courtesy of Kris Schmitt, department manager for the design/build department at Neave Pools, Westchester, N.Y.
Everyone needs a checklist to make sure nothing is overlooked — even NASA engineers use checklists before a launch. With that in mind, here's a recap of what you need to keep in mind when opening pools.
RELATED: Avoid Opening Pools to Copper Stains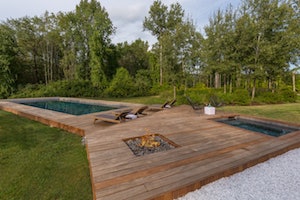 Step One: Surface Check
Take your time for a calm, deliberate evaluation. "The first thing we do when we get there is walk around and make sure that nothing has settled or cracked," Schmitt says. Things to look for include winter damage from snow and ice or damage from trees and branches.
Step Two: Assess What's Beneath the Cover
Remove the winter cover completely. This allows time to access the pool water and see what kind of condition it is in. Check for debris as well as the color, transparency and level of the water.
Step Three: Reconnect and Inspect the Equipment
"Once we start putting all the equipment together, we check all of it," Schmitt says. "Make sure the pump works, the filter works, the heater. We test all the outlets, all of the lights and the electrical panels and turn everything on — make sure that everything works."
Step Four: Replace Pool Fittings
Check/replace fittings throughout the system.
Step Five: Test the Water
Testing alkalinity and pH balance is important at this step. "This is really your first shot at the season to make sure everything is going to be as easy as possible to maintain," Schmitt says.
Step Six: Skimming and Vacuuming
Basically, clear out anything that got into the water during the winter.
RELATED: Tips for a Smooth Pool Opening Season
Tips 'n Tricks
For Schmitt, the two biggest frustrations of opening a pool are low water levels and an abundance of debris. Low water levels mean clients have to refill the pool, which may require a second trip for the service technician to finish opening.
As for debris, you never know what you'll find. Schmitt's least favorite task is disposing of the occasional animal carcass found in the pool or equipment. "It's not fun," he says. (Just about anyone reading this can relate.)
To mitigate these frustrations, Neave Pools offers a pool monitoring service over the winter. Once a month, a service technician visits the pool to ensure the pool is properly covered and, snow permitting, also check the water level. "If the pool is closed right and maintained over the winter it will stay clear and open up clear in the spring," Schmitt says.
In discussions with clients, Neave Pools doesn't ask for opening dates. Instead, they ask for swim dates, or when the time by which the client wants to be swimming. "We have to have at least two weeks ahead of time to get it open and get it ready for them," Schmitt says, "so we ask when they're expecting to be in the water and swimming."
The Horror!
Everyone has their service horror story, and Schmitt is no exception. In his case, it was a pool so contaminated he could almost walk on it.
"We had one client two years ago where that's how it was," Schmitt says. "It took us almost two whole months to get it where we considered it comfortable.
"The scariest part was the client said that was the cleanest they've ever seen it. They had owned the house for four years and they were using it the entire time! We were a little bit concerned about what they were swimming in."