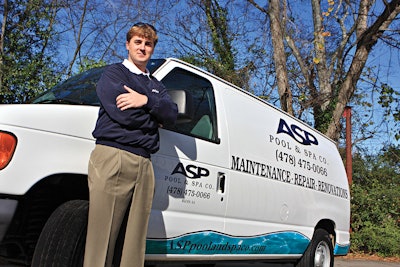 Stewart VernonPresidentAmerica's Swimming Pool CompanyMacon, Ga.
Stewart Vernon founded America's Swimming Pool Company, a rapidly expanding swimming pool maintenance and repair franchise, which grew from a service business Vernon started in 2001. Since 2005, the company has expanded into 56 territories in the Southeast, servicing over 100 cities.
The growth of your service franchise, especially in a tough economy, has been phenomenal. How did it happen?
I started the business in 2001. I really stumbled on the pool and spa industry. I had no history with it. I was looking to move to Macon, Ga., and there was a gentleman in town that was looking to retire from a small pool route that he had, and one thing led to another, and I began to realize this was a truly fragmented industry — at least in Macon, at that time.
And I knew that I could provide a higher level of service, and attract customers the old fashioned way. And I knew the barriers to entry and the startup capital needed were low, so I entered the business. I started doing the same thing we do today, the repair and weekly maintenance or renovation of swimming pools.
We doubled sales annually virtually every year for the first three years or so. By our fourth year we were doing over a million dollars in gross revenue, and had five trucks on the road.
That was the turning point, in 2005. We were making a name for ourselves locally and I was looking to expand. So at that point I had to decide, do we expand internally — grow to other markets on our own — or do we turn to franchising?
Like most franchises when they're first starting out, I would imagine, I had a friend that was looking to start a business in another city, and he asked me if we'd ever thought about letting someone else open up another location.
It was as simple as that.
Did you go to a franchising attorney at that point?
Once we realized it was working, that these guys were able to take our training and systems to their own locations and make it work, I began to work on the franchising idea. I hired a franchising attorney and put the capital in place, which is necessary to become a franchising company. On Jan. 1, 2006, we formed ASP Franchising, the parent company for all our franchises.
By the end of 2007, we had about 12 or 13 owners operating close to 20 territories in Georgia and South Carolina. 2008 brought us more expansion.
By the end of 2008, we'd achieved national account status with POOLCORP. So we were able to develop an extensive pricing program with them. Our Internet presence was developed, and we really started to develop the tools that a "real" franchise company is built around, so that the franchise owners have that true sense that being a part of this bigger company will put me on the path of success.
Your expansion accelerated through the recession. How'd you do that?
In late 2008, 2009 and 2010 we saw continued tremendous growth, not only in our franchise owners, their businesses, but in our franchise company with new owners coming into the system. Both were due to the downturn in the economy.
These new franchise owners were people that had lost their previous jobs.
It was interesting to look back after about a year into the recession and identify new franchise owners that came to us and why. We had one that was a former consultant in the business world. Another was offered early retirement by Duracell. Our New Franchise of the Year award in 2010 went to a 25-year-old kid that started the business after searching for a job for 18 months to no avail.
We found that we were able to offer business-minded individuals a path into business.
How was business through this period?
We saw sales increases in 2010 from 2009. Our average same-store sales increase for a 2-year-old franchise was 13 percent. So we saw strong, double-digit sales increases, and we just finished projecting for 2011 an increase on top of that. We expect another 15 percent increase in 2011.
During this time, VGB was huge for our company. We made a big push and marketed our services to commercial accounts. We have the swimming pool data from each of our franchise owners — we know who has a swimming pool and how much money they make. We got that same kind of data when VGB came out and started marketing to those commercial pools by mail, telling them about compliance and non-compliance, and what we could offer.
Right now, the demand in the service sector is just as strong as ever. I think you've seen some pull-back on renovation work, and of course pool construction. We feel like the consumer is starting to feel more confident now — certainly more so than 2008 and 2009.