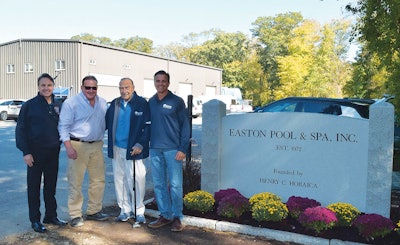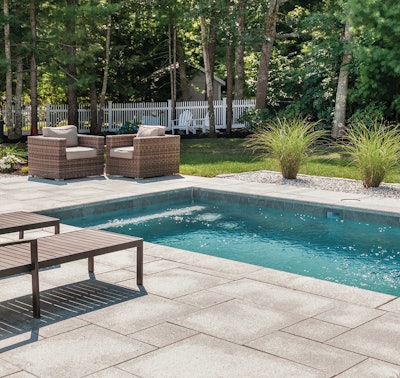 "We aim to make Easton's founder, Henry Hobaica, proud, one pool at a time."
—Robert Hobaica (Owner, Easton Pool & Spa)
Easton Pool & Spa's story began when Henry Hobaica, then school teacher in Walpole, Mass., began building pools for friends during his summer vacations. From those humble beginnings, the company has now grown into one of the most recognized companies in the field, installing over 100 custom-designed pools and patios each year throughout Southeastern Massachusetts.
Now owned and operated by Henry's sons, David and Robert, Easton Pool & Spa continues to not only grow that solid reputation, but to adhere to its founding core principles. "We still build each pool with the greatest of care and attention to detail," says Owner Robert Hobaica. "As if we are building for a friend, just as Henry did over 50 years ago."
Easton's retail locations were designed with three objectives in mind: bright, fun and welcoming. Whether a first-time customer or a repeat customer walks through the showroom doors, they are made to feel at ease. The staff has intensive training each year to study up on new chemicals, methods and water quality issues — each employee is a certified water analyzer through Bioguard. "This way, we are best prepared to help our customers with each unique season that lies ahead," says Hobaica. In 2021, Easton Pool & Spa launched its Plunge+ line. Developed by David and Robert, the Plunge+ is "the world's strongest, most customizable precast plunge pool," according to the company. "The patent-pending, modular construction process cuts down on install time with minimal disruption to a customer's yard. As a result, customers enjoy the benefits of a new pool sooner."
When launching the new product, Easton Pool & Spa partnered with The Cape and Islands Veterans Outreach Center (CIVOC) in Cape Cod, Mass., to raise money for the center and raffle off a Plunge+ pool. Through its marketing efforts, the company raised over $50,000 for CIVOC to support the organization in building new housing. "The event generated a lot of buzz around the new product," says Hobaica. "We ended up installing over 50 Plunge+ pools in 2021."
The company's generosity can also be seen during its Customer Appreciation Day, when each retail location offers an additional 10% off everything. "We raffle off prizes, like an automatic pool cleaner to a season to chemicals," says Hobaica. "Customers can also enjoy face painting and barbecue. It's a very fun event."
---
This article first appeared in the April 2022 issue of AQUA Magazine — the top resource for retailers, builders and service pros in the pool and spa industry. Subscriptions to the print magazine are free to all industry professionals. Click here to subscribe.