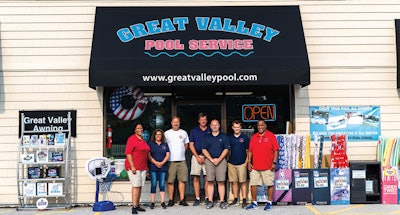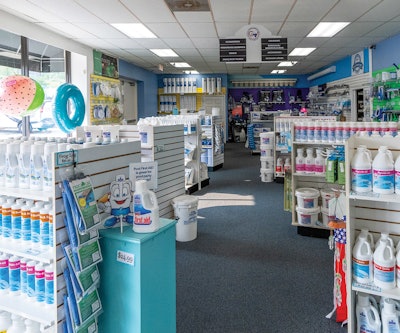 "No amount of paid advertising can produce better results than the good words from our loyal customers."
—Tracy Bond (Owner, Great Valley Pool Service)
At Great Valley Pool Service (GVPS), "customers are the heartbeat of the company," says Owner Tracy Bond. After 30 years in business, they've become a trusted staple in the Frazer community and beyond, largely through word-of-mouth referrals.
"If your customers trust you, the profits will follow," says Bond. And it's clear that GVPS has earned this trust: Last year, the company was recognized in daily local news as the Best Pool Dealer of Chester County, through a public vote. (Not to mention, its Google reviews roundup, averaging an impressive 4.9 out of 5 stars across 333-plus reviews.)
GVPS began three decades ago, when Alfred and Karen Richards started a small pool business out of their garage. By 2000, they acquired a storefront and were able to offer equipment installations, spring openings, weekly maintenance, winter closings and cover services, in addition to retail.
In 2014, the Richards decided to retire and sold the company to brother and sister duo, Tracy and Cecil Bond. The siblings have continued GVPS' tradition of devotion to customer service, attested by their handling of the chlorine shortage at its worst moments last season.
"While other companies were selling to the first person that walked through the door, subsequently selling out within hours and not having inventory for that following week, we took a different stance," says Bond. "We implemented a posted store policy that we would only sell chlorine to our existing retail customers. We also limited purchases to a one-month supply at a time, which prohibited hoarding of our inventory. It allowed us to maintain ample chlorine throughout the summer to provide to our loyal customers."
GVPS' showroom features two water testing stations and an equipment pad setup, which is routinely used to provide operation demonstrations for customers. Across the store, each core chemical is color-coded in order for customers to easily remember and select the chemicals they need.
Aside from the success of their word-of-mouth advertising, GVPS strives to maintain an active internet presence. The company sends weekly email communications to a list of 3,000-plus customers with tips, sales and special events. In fact, one of their best marketing success stories revolves around an email campaign.
"[It was] for a cover blast cover pump attachment. This product had been displayed in our store for many weeks without many sales," explains Bond. "We promoted this on an email blast with a video and some key product features, and sold out of our entire inventory by the end of the same week. We had to reorder another large supply, as the demand was non-stop."
As for GVPS' future, the company is getting closer to automating manual processes and data entry to increase efficiency. "We have been working on a new inventory system to provide better tracking and real-time updates," says Bond. "This system will give us better control on what is and is not in stock." GVPS is also working to enhance training and education to "develop the workforce of the future."
---
This article first appeared in the April 2022 issue of AQUA Magazine — the top resource for retailers, builders and service pros in the pool and spa industry. Subscriptions to the print magazine are free to all industry professionals. Click here to subscribe.