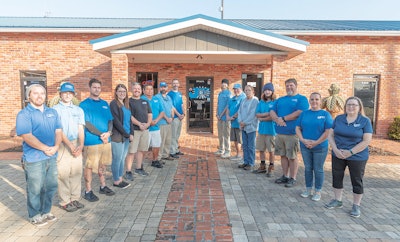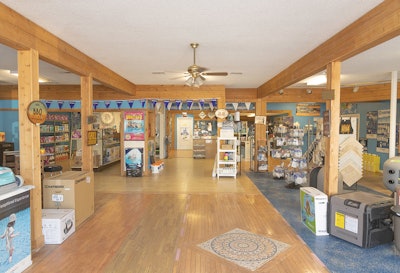 "If there is a question you don't know the answer to, it's okay to admit that. But the response should follow with, 'I'm going to find out for you.'"
—Jeff Noser (Owner, Jeff's Pool and Spa Service)
After years of working for others in the pool and spa industry, Jeff Noser decided to venture out on his own. With the philosophy of widespread exceptional service and a guarantee that his team could get the job done faster than competitors, business grew rapidly: Today, Jeff's Pool and Spa Service offers a range of services from Savannah, Ga., to Jacksonville, Fla.
"The most important part about good customer service is having knowledgeable staff," says Noser. He offers his retail staff Certified Pool Operator (CPO) certification, and they're frequently encouraged to cross-train and learn the job from the field. (In fact, Shannon Sellers, retail store manager, recently earned the 2020 Pleatco Perfect PoolGal title.) "We find that our customers keep coming back not only because we have all the products they need, but because we've also got all the knowledge and solutions to their problems without making them wait."
In this spirit of professional development, Jeff brings most of his staff to trade shows every year. "We are notorious for showing up with a plethora of employees in uniform, tasked with learning something and finding something we can utilize in our business," he says.
Retail customers are kept top-of-mind in store with free water testing, a rewards program and price matching — sometimes even with the internet. In addition, the company is an authorized service center for Pentair, Hayward and Maytronics. Customers can expect their products to be fixed and ready for pickup within 24 hours.
"We offer try-me specials and rentals on our robotic cleaners, and also lend these out to help customers if their unit is getting repaired," says Noser. "We also utilize a variety of vendors that we maintain excellent relationships with so that we're always first in line to obtain a product for a customer as fast as it can be found."
Jeff's Pool and Spa Service takes advantage of their 30-vehicle fleet to advertise. "We've invested a considerable amount of money into vehicle lettering and wraps so that our vehicles are highly visible on the roads, providing a rolling billboard for our business."
Over the next five years, the company aims to expand its customer base (and strong reputation) beyond its original territories and into the Florida market.
"Being right on the border between Georgia and Florida has always netted us calls from the Florida market right down the road, but we had historically stopped at the state line due to licensing requirements that differ between the states," explains Noser. The company has since obtained its Florida license. "We will continue to work hard to be on the cutting edge and be the most accessible professional pool service we can be."
---
This article first appeared in the April 2022 issue of AQUA Magazine — the top resource for retailers, builders and service pros in the pool and spa industry. Subscriptions to the print magazine are free to all industry professionals. Click here to subscribe.