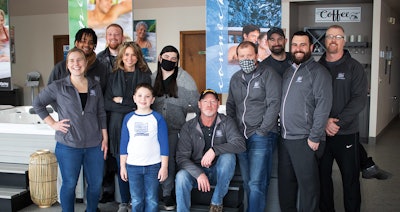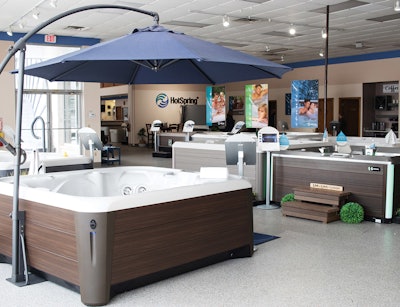 "It's been a trying couple of years, but it has provided our team a chance to be introspective and really dive deep into why we are in business and what we hope to achieve as a group."
—Amanda Annis (President, Ohio Pools & Spas)
Ohio Pools & Spas started as an inground pool company in a converted one-car garage in Canton, but has now grown to serve all Northeast Ohio from two retail showrooms in North Canton and Mayfield Heights. Throughout it all, the company has remained true to its family business roots. Not only is its company president, Amanda Annis, third-generation, Ohio Pools & Spas retains employees that are third-generation in the business as well, with several couples, a father and son team, and many local family ties among the staff. The company believes that family feel is a big part of its success.
The team completed some major projects recently to make customers' lives easier and allow them to enjoy their pools, spas and saunas, with as little hassle as possible. New customer communication software, revamped service pricing and packages has made pool and spa maintenance more affordable and easier for its customers.
One of its biggest success stories has been in review generation. In the past 24 months, the company has more than doubled its review count on Google and recently crossed the 900 review mark while achieving a 4.9 and 4.7 average rating for its two locations. A key aspect of this has been the company's adoption of a "hug your haters" mentality, in which negative reviews are approached with the drive to take critics and turn them into outspoken fans. On numerous occasions, employees have been able to take outraged customers and turn their experience around enough that they were willing to promote products and services in video testimonials.
In addition, Ohio launched a new website to streamline customer experience, reorganized its service department, began a brand new service tech tip video collection, and is creating content for live webinars for pool and spa maintenance to help customers avoid costly issues when maintaining their own equipment. As a result of all this, the service department has seen increased revenue and lowered costs, all while improving team morale and enhancing customer experience at every point of interaction.
Another company overhaul involved upgrading communication software, which has given Ohio one central communication hub for all employeeemployee and employee-customer interactions, which has not only saved time and money but allowed for a more seamless experience for everyone involved. However, the company says the most important tool it has is its employees' willingness to be adaptable, flexible, and to quickly adjust to new methods of doing business.
Out in the community, Ohio has partnered with Rhythm & Stroke, LLC, an organization in Cleveland that teaches adults and children how to swim, with a focus on at-risk communities in the area, to sponsor a Swim-Spa-A-Thon. Company efforts have raised enough money to teach 100 individuals how to swim.
In the next five years, Annis says, "We aim to expand business to several new locations, provide more comprehensive employee benefits and training, increase community involvement through charitable organizations and events, earn both community and industry awards as we aim for excellence, and to continue to help the families in our community live healthier, happier, and more fulfilling lives."