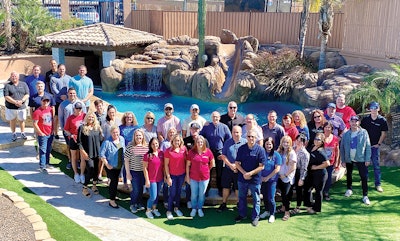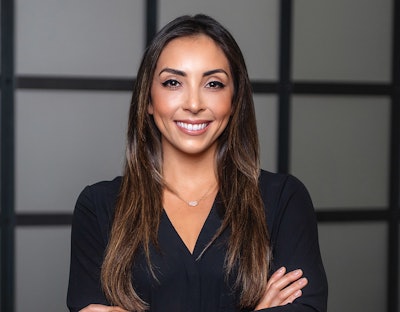 "One of the many things we learned this past year was the importance of educating the customer prior to the construction process. The more they know before excavation, the less likely they are to ask questions throughout."
—Grace Koval (Director of Marketing, Presidential Pools, Spas & Patio)
Presidential Pools, Spas & Patio Founder Tim Murphy got his start as a young teen building a pool cleaning business. Through his years of repairing pools, he learned all sorts of mistakes that pool builders make and where things can go wrong when building a pool. This turned out to be a valuable education a few years later when he started building pools in his own right.
From those humble beginnings, today Presidential's team of over 100 people build over 1,500 pools per year with offices in Gilbert, Surprise and Tucson. The Gilbert showroom is the company headquarters and home to its renowned Presidential Pool Park — 18,297 sq. ft. of pools, water features, and other options where customers can amble through an aquatic wonderland and touch the things they want in their own backyards.
The company's relationship with clients does not end when the purchase is made and installation is finished. Pool ownership is a big responsibility, and Presidential does its best to help clients maintain their pools through email communications, great service and a monthly Pool School.
The Pool School helps new pool owners feel confident maintaining their pool for years to come. There, they learn critical pool ownership skills and strategies, including pool chemical basics and filter cartridge cleaning. When COVID hit, the company took its Pool School online and continues to offer it virtually to make sure everyone receives the training they need. A YouTube channel is stocked with post-class videos in case anyone needs a refresher.
Pool safety is another priority, headlined by Presidential's Pool Safety Expos, where local swim schools are invited to the pool park to help educate local families on pool safety. Presidential believes it's very important that all pool owners know how to keep their pool safe for children of all ages.
In addition to the school, Presidential partners with and supports local nonprofits such as the Phoenix Children's Hospital, the Chandler Compadres, the State Forty Eight Foundation, Blue Line Baskets, and many more.
Presidential Pools stands out in the way they treat and value their employees. CEO James Frabasilio understands that good, strong work begins with employees that feel valued. Frabasilio makes the effort to bring in breakfast or lunch at least once a week for all employees, schedules happy hours and team-building trips, and is constantly giving out Visa gift cards and lottery scratchers to remind employees that he truly values the work and effort they put in every day.
On top of that, every holiday season, the company raffles off prizes valued at over $8,000, including (this past year) two LED smart TVs, a drone, a home security system, Amazon gift cards, and much more. That fun-filled holiday party ends with a huge celebration at a local restaurant where employees can bring their spouses and significant others to let loose, get to know other employees from different branches, and celebrate a successful year.
---
This article first appeared in the April 2022 issue of AQUA Magazine — the top resource for retailers, builders and service pros in the pool and spa industry. Subscriptions to the print magazine are free to all industry professionals. Click here to subscribe.