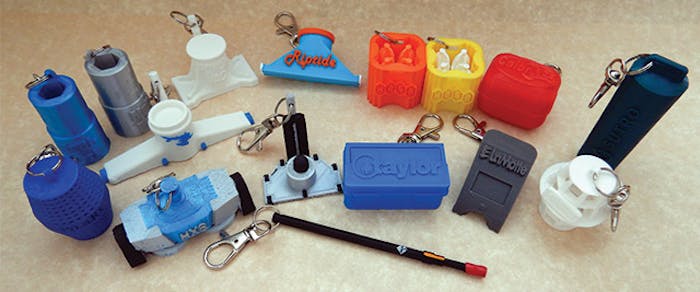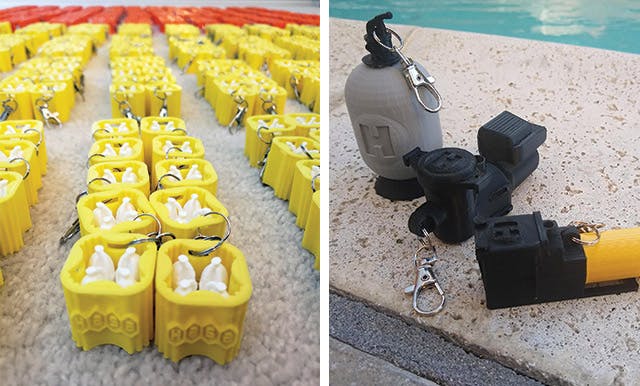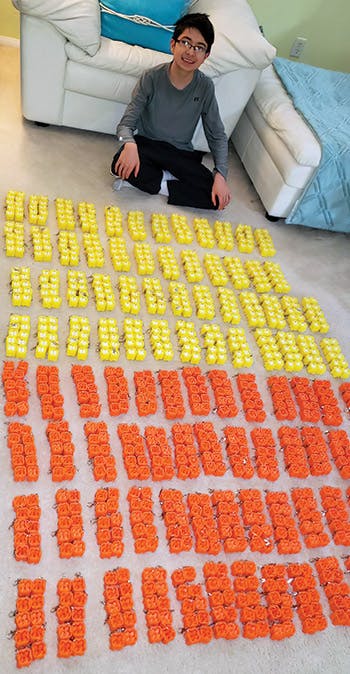 One hardworking eighth grader is the creative force behind HASA's new 3D-printed keychains.
It all began when 13-year-old Caleb Van Brunt wanted to find a way to make parts for his model trains and rockets. "Some of those parts were expensive but would be almost free with a 3D printer," he explains.
Over time, he developed his skills with the technology and learned to make designs using Tinkercad creator software. Eventually, his father David Van Brunt [of swimmingpoollearning.com] got in touch with HASA chemistry expert Terry Arko, whom he knew through his Pool Guy Podcast.
"David showed me some 3D-printed versions of our HASA liquid chlorine cases. It was Caleb's design," says Arko. "They were great."
RELATED: HASA Pool Taps Industry Expert Terry Arko
The two discussed turning the miniature case — a beloved trademark of HASA products — into keychains. Arko brought the idea back to his team, who placed a large order of 1,000 keychains, which meant Caleb had to print 2,000 parts, add chains and bag each one individually. This was no small feat: Five 3D printers ran simultaneously 24 hours a day for over three weeks to complete the project.
After starting each print — it takes two hours to print one case and one hour to print the four bottle inserts — Caleb had to check on the machines regularly in case something abnormal was happening.
"There were a lot of failures and some part-failures. There's a large learning curve to 3D printing," he says. "Even though there are great resources on the internet, there are many things you learn on your own through trial and error. [It] requires a lot of patience."
But Caleb persevered, and his dad couldn't be more proud. "I am always impressed by Caleb's talents, and his 3D printing is something that I find amazing," David says. "Seeing him do an order of this size was impressive. He is one of the hardest working 13 year olds that I know, and I think his work on this project and others will translate into a great work ethic when he is older."
Caleb's keychains will be used as giveaways to HASA customers and to the HASA team. The company recently launched a new Rewards App and may offer them there as well.
In the future, Caleb says he'd like to become a physician assistant and an engineer. But for now, he has a new round of orders to fill from his new partner.
"We have a brand new HASA Liquid Feeder HLF hitting the marketplace now. Caleb has already shown us a design of the HLF as a key chain, and we've placed an order for those, as well," says Arko.
"To know someone as young as Caleb who has developed a skill and is willing to put the work in to get the job done right is inspirational."
---
This article first appeared in the August 2021 issue of AQUA Magazine — the top resource for retailers, builders and service pros in the pool and spa industry. Subscriptions to the print magazine are free to all industry professionals. Click here to subscribe.
---