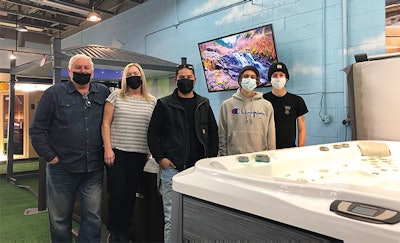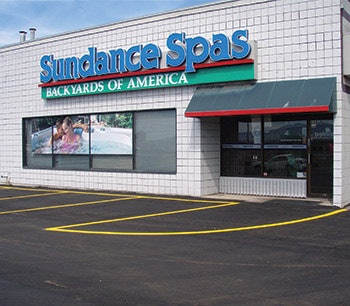 "We have always tried to represent the finest quality products within our industry and back them up with 5-star service."
—Ray Schureman
Owner, Backyards of America
"Our philosophy is simple: Enjoy what we do, imbue that in our employees and treat our customers like we would expect to be treated," says Ray Schureman, owner of Backyards of America.
Backyards of America is Utah's premier Sundance Spa dealer serving Salt Lake, Sandy and the surrounding areas. After a few moves, the company found its home in a storefront that faces the I-15 freeway, which has saved it thousands of dollars in overhead and marketing expenses. "Before that move, we were spending $35,000 a year just in phone advertising," says Schureman. "It took the pressure off us mentally and financially — and allowed us to focus on the things we do best."
The company shines as a hot tub, swim spa and sauna dealer. So much so, that it was awarded the Sundance Hall of Fame Award in 2017 and has won Sundance Spas' Consumer Satisfaction Award every year for the last 30 years.
2020 was a challenging year for Backyards of America, but the year fortunately brought a windfall in sales that led to a 57% increase in total revenue. "We honestly could have sold an additional 30 to 50 spas by the year's end," says Schureman. "We have been fortunate enough to keep the supply lines running, but it does take a little gambling on pre-orders."
Backyard of America's employees love what they do, and it shows in their work ethic. "It's fair to say that being in an industry where we reap the positive responses from selling products that homeowners enjoy, it rubs off on us and is reflected in our customer relations," says Schureman. The company prides itself on many 5-star reviews from customers and consistently works to keep up with the latest trends and demands to streamline the customer experience.
Part of this is reflected in the company's website, which is improved on a regular basis. "We work with a great gal (Jenn) who helps us with SEO. We understand the need to invest in our site, as people increasingly pre-shop there," explains Schureman. "Sundance Spas also audits our website once a year and gives us a report card on how it's performing."
In addition to his business ventures, Schureman has also fought for fair tax laws. He was a strong supporter of the Main Street Fairness Act and an advocate for MAPP pricing. "If dealers want to protect mom-and-pop, brick-and-mortar businesses, we all need to be on the same page to help preserve our industry and dealer networks," he says. "Otherwise, the internet will be running the show."
Backyards of America is currently up on last year's sales by 30% and sees steady growth for the industry for the next 36 months and beyond.
---
This article first appeared in the April 2021 issue of AQUA Magazine — the top resource for retailers, builders and service pros in the pool and spa industry. Subscriptions to the print magazine are free to all industry professionals. Click here to subscribe.