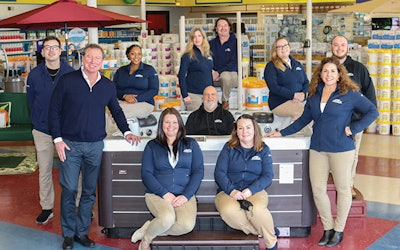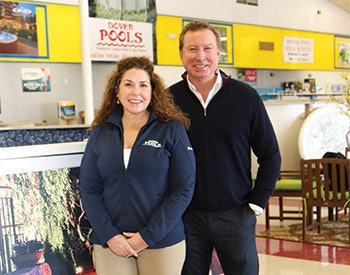 "Dover Pools strives to provide not only the best customer service of local pool retailers, but the best customer service of any retailer."
—Stephen Jost
General Manager, Dover Pools
Dover Pools was built on family values and teamwork, which is reflected both by its loyal customers and employees, the majority of which have been with the company for over 20 years.
Since its founding in 1976 by Randy Anderson, the company has proudly served the Delmarva Peninsula, growing to five locations and the community's most trusted destination for pools and hot tubs.
Dover Pools has successfully evolved its business strategy over the years, adapting to changes in the economy: At its inception, Dover Pools was primarily a construction company building both inground and aboveground swimming pools. It has now evolved into a hybrid company building only aboveground pools and redirecting resources to solidify a strong retail sector.
The retail experience begins with a warm greeting from a staff that strives to know each customer by name. Each showroom has special "little features" that go a long way. "For over ten years, we have made fresh-popped popcorn every morning," says General Manager Stephen Jost.
Stores are decorated with seasonal accessories and balloons to highlight fun and exciting items. Games, lounges and inflatables are arranged in display windows and visible when customers enter. Most locations have aboveground pools on display, which are hardscaped and complemented by outdoor plants and furniture. "These outdoor areas create a sense of fun and leisure for families," says Jost.
At the end of each sale, customers are asked to provide feedback, which is directly shared with staff and management. Customer feedback is paramount to Dover Pools, as it is constantly looking to improve its processes to provide the best shopping experience possible. The commitment has paid off: The company is unfailingly recognized in Delaware Today Magazine's Best of Delaware and the Delaware State News' First State Favorites, awards that are voted on by the public.
Coinciding with its family values, Dover Pools also does a lot to stay engaged in the local communities it serves. At Dover Days, one of Delaware's largest and longest-running public events, the company has fun giveaways for children. They also sponsor events for local schools, churches and sports leagues across all five locations. And with two locations in Dover, home to one of the nation's most active Air Force bases, the business is proud to support its troops. "We have recently started promoting cash raffles for our outdoor furniture and fire pits where all of the proceeds go to support local military families with service members serving abroad," says Jost.
Dover Pools understands that the company's success is mainly attributed to its hard-working staff. At the end of each season, all employees gather to celebrate at Dover Pools' annual Crab Feast. The event serves as a special time to recognize hard work and reflect on another hectic, summer season.
---
This article first appeared in the April 2021 issue of AQUA Magazine — the top resource for retailers, builders and service pros in the pool and spa industry. Subscriptions to the print magazine are free to all industry professionals. Click here to subscribe.