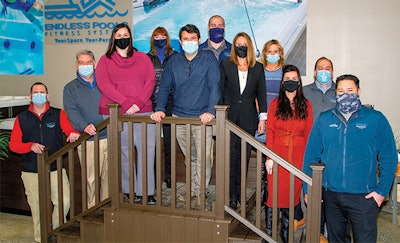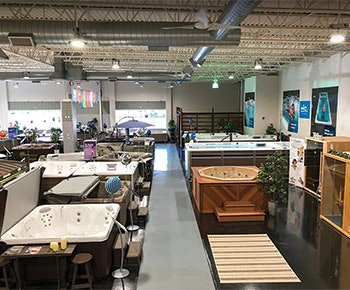 "We have built our reputation on providing the best products with the best ownership experience after the sale."
—Jordan Harboldt
Wellness Consultant, Mainely Tubs
Like a lot of pool and spa retailers, Mainely Tubs has humble beginnings, but what started as a small retail outlet in Portland, Maine, has now grown into 20,000 sq. ft. of showroom space between two locations in Scarborough, Maine, and Rye, N.H., with a third 6,600 sq. ft. location due to open this month in Bedford, N.H.
When customers come calling, the company is always ready to answer. "We are open seven days a week and provide full, year-long service to our growing customer base," says Diana Locke, general manager at Mainely Tubs.
Mainely Tubs prioritizes service and offering the best lifetime ownership experience. The company has set a goal of having 16 active service technicians on the road by year-end 2021, up from 12 currently. It also offers an after-hours email support system to help advise and address complaints — almost any time of the day or night. And if that isn't enough, the senior management team posts their personal cell phone numbers to all customers on the company's answering machine and website. "This has allowed us to continue to provide the best ownership experience available," says Head of Operations Richard Hyde.
One of the company's proudest accomplishments is being one of only a few employee-owned hot tub retailers after converting to an ESOP (Employee Stock Ownership Plan) in 2016. As an ESOP, each of its employees has a stake in the business. "What better way for a group of colleagues and friends to use their collective talents to improve their OWN company," says Wellness Consultant Jordan Harboldt. "The disconnect that occasionally comes with different internal departments is totally reversed when everyone is working towards the same end goal."
Mainely Tubs believes its greatest marketing tool is customers sharing success stories, and the company has the stats to prove it: The company's Referral Program yields on average 65% of its new prospective buyers annually. Customers are willing to speak with new buyers at length, and they exchange emails and even photographs to push a maybe buyer over the finish line. "We recently had a customer who put down the deposit on a swim spa the day after speaking with someone who had purchased the same unit," says Harboldt. "And then that new buyer rewarded us with a glowing endorsement that led to another significant sale."
The company continues to maximize its efforts across all aspects of the business and is hopeful for the future. "Our spirits have always been high, and we have hopes for an even brighter future for the company," says Locke.
---
This article first appeared in the April 2021 issue of AQUA Magazine — the top resource for retailers, builders and service pros in the pool and spa industry. Subscriptions to the print magazine are free to all industry professionals. Click here to subscribe.