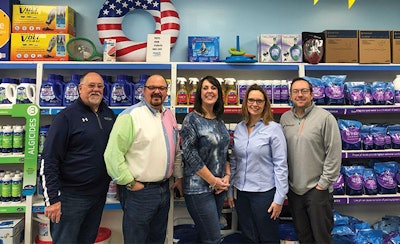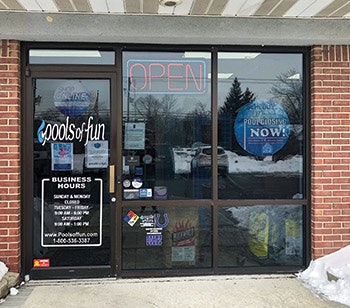 "We believe our company offers the highest standards of service and craftsmanship in Indianapolis and its surrounding areas."
—Tim Colon
Owner, Pools of Fun
"'It's not my...' is a phrase we do not speak here," says Tim Colon, owner of Pools of Fun. In fact, accountability is one of five key principles Pools of Fun follows daily. The second is collaboration: There is no "they" when referring to other departments. Instead, the company practices "we" language.
Commitment is the third core value — every customer, every time, no excuses or exceptions — followed by integrity, as the staff always strives to do the right thing. The fifth and final principle is responsiveness. "Responding with a sense of urgency motivates us to communicate all news quickly, whether good or bad," says Colon.
This platform has helped Pools of Fun to grow into Indiana's largest pool company with five locations open during every season, in addition to a fully staffed service center. The company encompasses a people-first offering of service, which translates directly to its team. "We maintain a comfortable and honest family atmosphere that includes our knowledgeable staff and certified technicians," says Colon.
Each of its locations has a different footprint, but is consistent with merchandising and signage. The company likes to keep open space for its clients to move easily throughout its showroom. Shelf talkers, standee signage, and merchandise signage promote products and specials. An LED light board is changed seasonally for reminders of openings/closings, service and promotions. "We also have a robust business in Big Green Egg products, so each store has a special merchandising area for grills and grill accessories," adds Colon.
Employees are taught to listen to customers, no matter how much time it takes, to help with problem resolution. A client concierge also follows up with any client concerns, and if mistakes happen, she makes it right. "We have a 98.5% customer satisfaction rating," says Colon. "Our clients know our retail pool care specialists by name and often send accolades or post compliments."
Pools of Fun is also active on social media, which gives staff/customer communication a personal touch. Its social channels are used to tell the company's story, introduce team members, educate clients and share updates, which helps to build transparency and strong customer relationships.
"Our 39 years of experience," says Colon, "and strong ties to the community have allowed us to meet our goal of maintaining long-term relationships with valued customers, neighbors and friends."
---
This article first appeared in the April 2021 issue of AQUA Magazine — the top resource for retailers, builders and service pros in the pool and spa industry. Subscriptions to the print magazine are free to all industry professionals. Click here to subscribe.