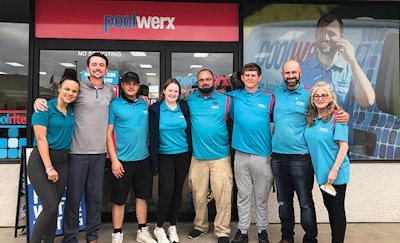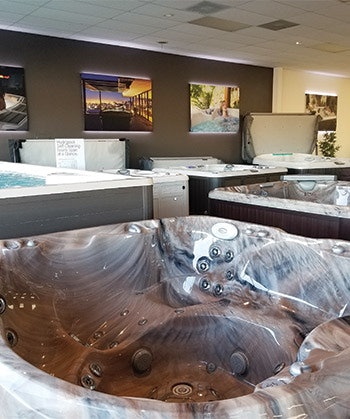 "We have re-invented ourselves many times over the years, and never stop yearning to do better and learn more."
—Blake Overduin
Vice President of Franchise Operations, Poolwerx Forest Lane
Founded in 1967 by E. G. Parkhill and his wife Alice, Poolwerx Forest Lane was originally Dolphin Pool Supply & Service, a division of Dolphin Pools Building Company. The business changed ownership a few times throughout the years, but eventually fell into the hands of business partners Doug Carlson and Larry Collier in 1976, the same year the company moved to its current and only location: 3544 Forest Lane in Dallas, Texas.
Dolphin received many awards for service and retail, including being inducted into the AQUA 100 Hall of Fame in 2002. It also participated in the NSPI Retail Council (now PHTA Retail Council) and served on many national, regional and local boards and councils to lend its expertise in helping to further the pool and spa industry.
After more than 50 years in the business, Doug and Larry retired and sold their business to Poolwerx in 2017, one of the leading industry franchises. "The entire leadership team remained, and they began the process of conversion, energized and filled with a new passion and drive," says Blake Overduin, vice president of franchise operations at Poolwerx Forest Lane.
The store was remodeled, new processes were learned and put in place, but the same principles that the company began with were never forgotten nor cast aside. "Our business principles matched so well with Poolwerx that there hasn't been a missed beat," says Overduin. The company's main focus has always been: 1) customer service; 2) team member quality of life; 3) quality products and services.
The showroom now boosts modern fixtures and technology to present pools and swimming as FUN. For example, colorful and lively items are placed in the front of the store, while more mundane items (like repair products) are in the back. Customers are greeted immediately, as team members can come from behind the counter and stimulate conversation. "Our store design is based on scientific shopping principles and data — not guesswork," says Overduin.
Poolwerx Forest Lane also credits some of its success with reputation management: "We are very proactive in responding to online reviews and use an army of digital marketing forms to streamline communication with our clients," says Overduin. "We try to answer any client immediately, always within an hour or less."
---
This article first appeared in the April 2021 issue of AQUA Magazine — the top resource for retailers, builders and service pros in the pool and spa industry. Subscriptions to the print magazine are free to all industry professionals. Click here to subscribe.