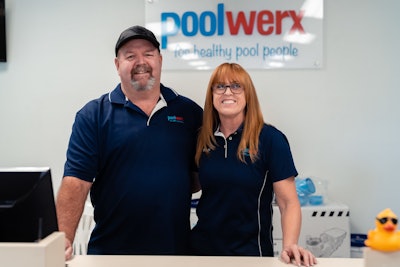 "Honesty and doing what is right is the fundamental standard that has built our business."
—Bobbi Howard
Poolwerx Union Hills
"We try our best to enhance our community as much as possible," says Bobbi Howard, owner of Poolwerx Union Hills. "Nothing feels better than helping those in need."
Since its founding, Poolwerx Union Hills — the company was originally known as M.E.H. Pool Services until joining the Poolwerx franchise in 2016 — has been built on strong company values: honesty and doing what is right. Owners Mark and Bobbi Howard, along with their staff, strive to help their neighbor whenever possible, competitors and peers alike.
Poolwerx Union Hills has countless examples of its generosity. For example, every August as a means to say thank you to its customers, the company has an auction where it gives away products to clients. Mark Howard also provides free repairs and pool service to CDT Kids, a non-profit therapy group. And this past year during the pandemic, the business even offered to help its customers well-beyond poolcare.
"We sent out an email to our residential clientele offering to help with any little tasks they needed, pool-related or not," says Bobbi. "We ended up delivering items, such as toiletries and food, to clients that were not able to leave their homes." Actions like this have helped Poolwerx Union Hills keep long- standing customer relationships. To this day, the company still services its very first client — 36 years later.
In addition to helping his local community, Mark is always willing to help his peers. "Competitor or not, I will help when I can," he says. Pool companies, some on a regular basis, call him to help diagnose problems and get advice. He was awarded the 2016 Big Heart Award from Pleatco for his comradery and compassion.
Poolwerx Union Hills is certainly a success story: It has grown leaps and bounds since its inception, starting from just one truck to now a fleet of 20, from a small, centralized route to branches of routes spanning the entire Phoenix area, from just one customer and one employee to a company that projects 2021 revenues of $5 million.
"We look forward to continuing to grow and expand," says Bobbi, "while staying true to our core standards that we've held from the very beginning."
---
This article first appeared in the April 2021 issue of AQUA Magazine — the top resource for retailers, builders and service pros in the pool and spa industry. Subscriptions to the print magazine are free to all industry professionals. Click here to subscribe.