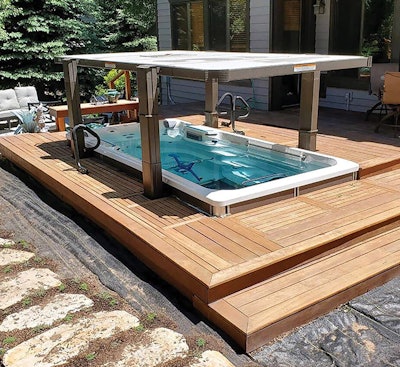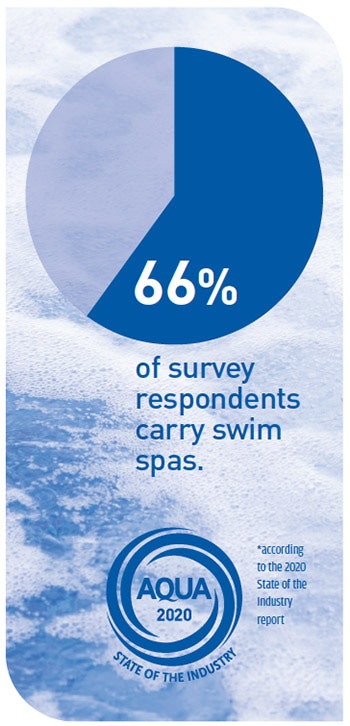 Dealers who are new to the growing swim spa market sometimes struggle with the niche nature of the product, which serves as an alternative to traditional swimming pools and hot tubs. While it can be intimidating to acquire the level of additional product knowledge and understanding required of swim spas, opinion of the category leans very positive.
Ohio Pools (North Canton, Ohio) is a third-generation, family-owned business with both service and retail sectors. The company entered the swim spa market in 2016 with some hesitation. "We initially thought the swim spa demographic was going to be small and entirely made up of professional athletes," says Amanda Annis, president of Ohio Pools. "But we were very wrong, as we quickly found that they appeal to everyone."
When Ohio Pools first started selling swim spas, it was also installing aboveground pools. After only two years, the swim spa side of its business surpassed that of pool installations, and it chose to sell swim spas and hot tubs exclusively. The company went on to win the "Endless Pools Gold Medal Award" for 2019 (Watkin Wellness' equivalent of Dealer of the Year) for its success in the swim spa market.
We sat down with Ohio Pools and other knowledgeable dealers to iron out a few simple rules for success in the category.
DO...
GIVE THE PRODUCT YOUR FULL ATTENTION.
"Swim spas are a very serious investment," says Annis. "Before you decide to get into the swim spa market, you have to commit to going all in."
A large part of this investment is in the showroom, as swim spas require a great deal of space on the sales fl oor. "We had to completely redesign our showroom," says Annis, "and that included blowing out the walls, enlarging doors and hallway spaces and committing to a lot of display space."
Annis suggests that dealers showcase at least three swim spa models to represent the different price points: entry-level, mid-level and high end. She also learned the importance of adequate space for accessories. "If you don't make space to show your accessories, you simply will not sell them," she says.
RELATED: Sellers: Swim Spas Set to Surge
Dennis Barraza, owner of Hot Tub Factory Outlet in Roseburg, Ore., also cautions dealers that swim spas are a significant investment. Before entering the swim spa market, Barraza spent a year just on strategizing. "I ultimately concluded that seeing is believing," says Barraza. "You won't be successful if you pull out a book and say to customers, 'This is what your swim spa will look like.' The customer has to look right at the product."
Barraza has a large showroom space and is able to display 10 swim spas at one time, as well as 40 different hot tubs. "I also find that customers want to look inside the swim spa to gage how deep it is," he says. "I specifically made room for a riser for customers to look at the swim spa from up above. This has definitely helped to close more sales."
STEER AWAY FROM THE VERBIAGE OF SWIM SPAS.
"One of our biggest mistakes was first treating swim spas as a big hot tub," says Annis. "Right now, we are even trying to avoid using the term swim spa altogether."
Annis has found that the "spa" in swim spa groups the product with a hot tub, which is inaccurate and does the versatile product a disservice. Instead, she compares a swim spa to a swimming pool. "But they also offer benefits that traditional swimming pools do not," she says, "so while I more closely associate swim spas with pools — made easier for my company because we carry Endless Pools, where pool is literally in the name — it's important to demonstrate why the product is also in a category all its own."
For example, the swim spa is popular among fitness-minded homeowners, but customers are turning to the product for more than just exercise. "They also offer leisure, enough space for children to play, lower chemical costs and more," says Annis. "A big selling point in Ohio is also that they can be used 12 months out of the year. You don't have to pay to close a swim spa in the winter and open them in the summer. These are benefits unique to them, so they really do deserve a separate product category."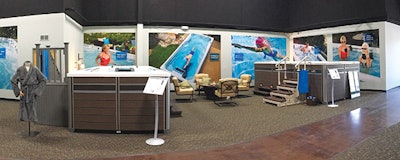 RE-EDUCATE THE "ALREADY INFORMED" CUSTOMER.
"Customers often enter our showroom with inaccurate information about what a swim spa really is," says Annis. "Part of this comes from doing their own research online or simply jumping to conclusions. We are finding there is still a lot of work to do on awareness for this category."
Consumers that visit Ohio Pools to inquire about an inground pool often leave more interested in a swim spa. "When I put customers in front of a swim spa, their opinion of the product changes, and they are surprised at its versatility and convenience," says Annis. "Yes, swim spas can be used for exercise — they usually know that much — but they are so much more than that."
RELATED: 2 Approaches to Swim Spa Water Care
In order to educate customers, Annis warns that employees must first be educated themselves. She walks all new employees through their very own wet test, showing them the different functions of each swim spa, so they can feel the difference between each model.
"I want each of my employees to get the full experience of using the product, and I also encourage them to dive into reading the owner's manual," she says. "When they educate themselves, they can better educate, or re-educate, the customer."
VISIT EVERY JOBSITE BEFORE A DELIVERY.
"Each jobsite is different," says Barazza. "There are a lot of little things to consider and prepare for before delivering a swim spa."
Barazza starts the delivery process by first pulling up a customer's backyard on Google Maps to see an aerial view of the installation site. Google Maps not only allows the customer to position the swim spa to their liking, it also has a built-in measuring device.
"We decide on what size crane we need based on that Google Map measurement. A crane is like the arm on your body. If you pick up something heavy and it's close to your body, the farther you reach it out, away from you, the heavier it gets. We have to be careful when measuring distance to accurately choose the correct crane size per the swim spa's weight," says Barraza.
RELATED: Swim Spas: A Market in Motion
When dealers visit the home prior to delivery, it also gives them a chance to place customers more at ease. "We have to give customers a sense of security and tell them that they are dealing with a reputable company," says Barazza. "I tell customers that we have done a lot of deliveries prior; we can do this successfully at their house; we are fully insured; we have never dropped a swim spa on a house, and we don't plan on doing it."
HOST OFFSITE EVENTS.
"We have found tremendous success in doing offsite events with swim spas," says Annis. "It's very common to get a couple of dozen leads out of an event."
Ohio Pools often partners with local fitness centers and other organizations in its area, bringing swim spas to their facilities for events. It's important to put together a plan to efficiently move the swim spas to the other location, which can be difficult at first. "We had to learn to be efficient in moving the swim spas, setting them up and taking them down," says Annis. "From having a crane to set up at an event to hiding a generator, it can seem like a big production — but it comes with a large reward."
The offsite events can also help to build your brand and further your company's relationship with its surrounding community. "The events give us a chance to form really great relationships with all kinds of people in the community," says Annis, "but they're also just fun to do. It's a bit like hanging out with friends, but you're also making sales on the side."
DON'T...
DISQUALIFY CUSTOMERS TOO FAST.
"The time it takes to turn a swim spa lead into a sale is going to be a lot longer than a hot tub," says Annis. "You have to be prepared for that and have patience throughout the entire sales process."
Ohio Pools has worked a swim spa lead for as long as two years before the customer was ready to place an order — which was likely due to the larger price tag. "We also do not disqualify customers who come into the showroom seeking an aboveground pool," says Annis. "We bring them over to the swim spas and oftentimes, they find a swim spa ultimately makes more sense for them, even if it costs them more money."
Barazza has also found that dealers should especially look to older clientele. "I find that a swim spa is a great choice for grandparents because they are excited about the exercise and therapy a swim spa can offer," he says, "while also providing a fun activity for their grandkids. The pool is installed at grandma's house and suddenly, the grandkids are over there all the time."
SKIP THE WET TEST.
"The first thing customers ask when they call my store is, 'Do you actually have a swim spa that we can try out?'" says Barazza. "Customers want to see the product and experience it, so the importance of a wet test is absolutely crucial to closing a sale. I compare it to taking a car for a test drive."
Annis agrees, "Almost every single swim spa sale has included a wet test," she says. "And it would be very rare for us to close a deal without a customer trying out the product first."
She encourages dealers to set up one-on-one appointments before or after office hours, so customers can take their time and enjoy the comfort that comes from having the showroom all to themselves.
FORGET TO GIVE SUPPORT AFTER THE SALE.
"We understand that a swim spa is a huge investment for our customers, and we want them to have this product for 20 years or more," says Annis, "so one thing that is crucial to a successful customer/dealer relationship is to check in with them on a regular basis and to provide support after the sale."
RELATED: An Olympic Swimmer "Works From Home"
Ohio Pools offers customers a maintenance package, which includes weekly or bi-weekly service visits. During each visit, service technicians test and treat the water and answer any questions the customer might have. "Swim spas are generally an easy product to balance correctly," says Annis. "The visits are sometimes more to give our customers peace of mind that they're product is being well taken care of."
Dealers, especially those just starting out in the category, can also lean on manufacturers for informative videos and product information, which is largely provided in a virtual format amid the pandemic.
UNDERESTIMATE THE IMPORTANCE OF REFERRALS.
Praise from happy customers can bring a maybe buyer over the finish line. "Our past customers are our best sales people," says Annis. "They are the best closers for sure."
Ohio Pools puts potential buyers in touch with past customers, who are happy to speak with them and put them at ease. "Our customers love their swim spas so much that they let us put them in touch directly with prospective customers," says Annis, "and that has been very helpful in earning more business."
Barazza has even had referrals lead to sales from customers who don't even enter his showroom. "I had a lady call me up, who lived a hundred miles away, and say, 'I go to church with a woman who just bought a swim spa from you. I don't want to drive all the way to your store, but I will take the same swim spa that she has.' Even after I told her that the model was $22,000, she did not waver. She said, 'Yes, the same price as hers. I want that one exactly.'"