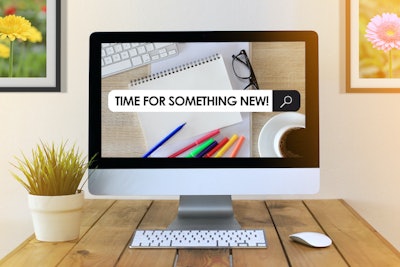 While most service pros and construction crews are still out in the field during the shutdown, many inside staff workers and retail employees have been sent home to help fight the spread of the Coronavirus. While many of these workers are still able to perform their function by computer from remote locations, others are struggling to find a full day's work that can be accomplished from home.
At the same time, the No. 1 reason pool and spa companies list for their failure to upgrade and improve website capability is lack of time. With all the other crucial jobs to be done, there just isn't enough time to focus on the problem
Well, suddenly, thanks to the Coronavirus, there is. So it's a good time to take a look at your company website and make some improvements, as this is a task that dovetails perfectly with the sudden allotment of dozens of hours in front of a home computer. And the best way to upgrade a website is by eliminating some of the most common mistakes pool and spa companies make in building and operating their online presence.
I've been helping small business owners for over 30 years with the last half of that focused on getting their companies online — and in that time I've solved the same problems again and again. So in this article, I'm going to tell you the 5 most common website mistakes, how you can avoid them and ultimately have a website your customers will love at a cost in dollars and effort that you can afford.
There's no better time than now to work on your website, so let's take a look at what the most common website issues are — and if you've got any you need to take care of.
1. No analytics to measure your performance
How do you know if your website is doing its job? You measure the amount of people that visit it and how many of those visitors call/email you.
One of the most common website mistakes small business owners make is not including a way to record these measurables.
Being able to analyze your progress and measure your success helps protect your investment, and helps you see what you're doing right and wrong.
You can easily track all the important data you need with tools like Google Analytics. This will give you access to highly valuable info, including where your visitors come from, where they go and what they find most interesting on your site. Google Analytics also allows you to set goals and track your conversions (people contacting you).
With the data you get from Google Analytics, you'll be able to apply newfound knowledge to help your team improve your online marketing. This will improve your conversions and get you more business.
2. Non-existent search engine optimization
Having poor organic search engine optimization (SEO) will cost your business down the line, especially if you've been using paid ads to stay at the top.
Money for advertising only lasts so long, and if you want to get to the top of Google, there's a certain amount of work that must go in to doing so.
There's no magic cure to help you get No. 1 on search engines, and your rank certainly won't improve overnight.
Bad SEO techniques include stuffing keywords into your content and littering your pages with low-quality backlinks. Search engines have gotten a lot smarter over the years, so this sort of behavior will only get you penalized.
Here are a few ways you can increase your organic SEO and get to the top of the search engines.
Long-tail keywords
When you're writing content for your website (whether that's blogs or new pages), focusing your efforts on long-tail keywords is an excellent way to help your SEO. Long-tail keywords are longer, more specific phrases used in searches by your audience.
Long-tail keywords will be more likely to get customers to contact you the more specific they are. The people that use long-tail keywords will also be a lot more motivated to do business with you, as they're looking for the specifics that you have.
You'll find it a lot easier to rank using this type of keyword as it will bring more high-quality, relevant leads to your website.
Post high-quality content
A website with no content — or worse, duplicated content — won't get you anywhere in this industry. You want to offer unique and fresh ideas to your audience in order to build up strong relationships with them.
By writing content that's 100% yours on a regular basis, you will rank higher on search engines and attract more potential clients to your site.
There's a phrase in the online world: Content is king. It's never been truer.
You can start creating high-quality content by writing a blog. This will allow you to show off your expertise. Choose topics that will be useful to your audience, and provide them with valuable content that will keep them engaged with you and your company longer.
Keep your audience engaged
Connecting your social media accounts back to your website can seriously help your rankings.
Posting on social media and responding to comments from your audience not only keeps them engaged, but if you link back to your website, it can increase traffic flow, too.
If you combine all of the above points, you've got the perfect ingredients to start improving your organic SEO.
3. Unclear CTAs
Having an unclear call to action (CTA) is a major mistake in web design. It can cause you to lose a lot of leads that would have signed up to work with you otherwise.
CTAs make sure that your visitors know what to do when they get to your website and where they need to go.
What is a call to action?
A call to action gets your visitors focused on the next step in their journey through your website. It is a persuasive command that prompts your visitor in following a link or clicking a button.
You can use content to describe the value of your services and showcase the benefits of your work before prompting the reader to take action with a simple CTA.
When writing your CTAs, you should use concise, clear language and avoid being too wordy. You want your CTAs to be direct and tell potential clients exactly what you want them to do.
4. Poor UX Design
If your web design has poor user experience (UX), then it's already failed. You want your website to be simple and easy to use.
Here are a few reasons why UX can be uncomfortable for a website user.
Contact information is hard to find
If you don't have your contact information on your website or a contact us page, then you're going to lose out on clients. This is an easy mistake to fix.
If your contact information isn't clear on your page, add a clear call to action in your header with your company's phone number.
Make your contact details obvious for your customers. They don't want to have to work hard just to get in touch with you.
Your load times are too slow
If your website takes longer than three seconds to load, you're going to lose visitors.
Everybody wants information instantly, so having a slow-loading site is one way to drive your customers away in pure frustration.
Slow load times can also significantly affect your search engine rankings. It's important that you get your web developer to improve your load time before you lose any more potential clients.
Poor navigation
Your website's navigation should create the perfect path for your visitors, so they can call or email you.
If your website has multiple drop-down options along with a lot of menu headings, your visitors are going to get disoriented quickly.
You want your visitors to be able to find exactly what they're looking for, so provide them with simple navigation that doesn't overwhelm them the second they load up your home page.
5. Difficult to use on mobiles and tablets
The days of being stuck at home on a PC are over. People can access your website wherever they are, on whatever device they have in their pocket.
You have to make sure that your website can be viewed on smartphones, tablets and other devices with ease. If users can't load your website on their phone, you're going to lose a lot of potential leads.
Google has confirmed that they actively penalize companies with websites that aren't mobile friendly. Having a mobile-friendly website will also assist you in improving your SEO and help you reach the top of search engines a lot faster.
Pam Haskell's website design and development company Chili Pepper Design (Pool & Patio Marketing Division) helps businesses in the pool and outdoor living space create and maintain a modern web presence and provides online marketing and reputation management services. She can be reached at 410.757.7852 or [email protected]. Visit www.cpdesignco.com for more information.