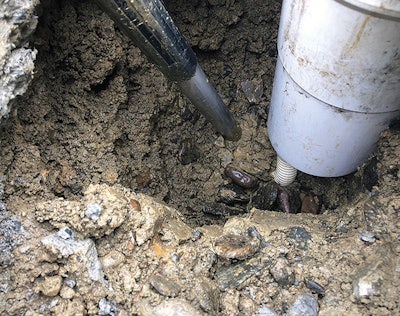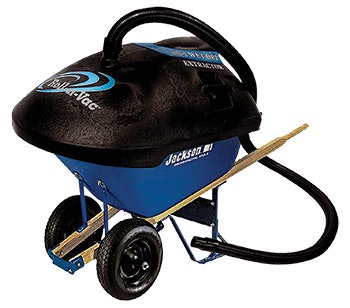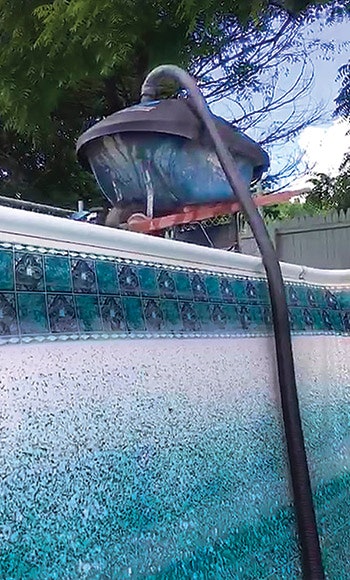 If there's one thing all pool pros can relate to, it's the pain the job can entail. The bending, lugging, hoisting, dragging — a career of it can lead to arthritis, pulled muscles and thrown-out backs. All of which is why, for many, the Roll-n-Vac is a godsend.
The Roll-n-Vac is an industrial-grade wet/dry vacuum that makes routine tasks like sand filter changes and vinyl liner replacements faster and easier. However, unlike the shop-vac you could pick up from a big-box store, the refuse it collects goes directly to the wheelbarrow below it, making for easier, faster transport without the back-breaking work.
For pros like Trevor Gans, vice president of Tri-State Pools in Chattanooga, Tenn., the wheelbarrow design a game-changer.
"I knew it had the potential to literally save my back," he says. "Prior to using the Roll-n-Vac, I was using a Home Depot shop-vac and carrying six or eight buckets of sand and water that were between 50 and 80 pounds apiece. It was just brutal to do a sand change.
RELATED: Roll-n-Vac Industrial Extractor
"A sand change on a residential pool used to take me anywhere from 45 minutes to upwards of an hour and a half," he adds. "Now I can do the same job in approximately 15 to 40 minutes, 40 minutes being max. And not only is the job faster, but your crew feels better and stays healthier, so they're going to be more productive."
While the product's price tag (just shy of $1,500) may intimidate some, pros like Gans find the versatility of the product to be unparalleled. With vinyl liner replacements, the Roll-n-Vac can be used for getting rid of gunk at the bottom of the pool and vacuuming the liner into place. It can extract soil and water that surround buried pipes and, with its powerful exhaust, clear out lines during winterizing.
The impressive breadth of material the Roll-n-Vac can extract — sand, debris, water, loose concrete/gravel — all points to the Roll-n-Vac's power. If you need more evidence, check this out: the product cannot be used with just any wheelbarrow; any steel wheelbarrow shell below industrial-grade can actually be sucked in by the vacuum.
Gans, who has six units throughout his company's three locations, has quickly become an evangelist for the product.
"If I suddenly didn't have it, it would be like going back to the Stone Age," he says. "It's lightyears in front of any option that's out there for this size of a job."