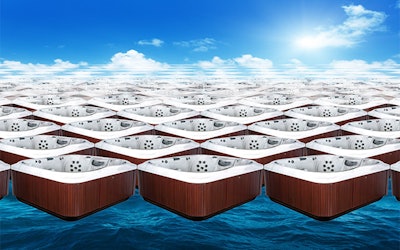 Remember the scene in the movie "Speed" when Dennis Hopper says to Keanu Reeves: "Pop quiz, hot shot. See if you can name so much as one spa dealer anywhere in the city. Go on — just one."
Okay, so that's not exactly what he said. But the sad fact is that, according to new research, it would have been a real challenge for any hot shot in the market for a new hot tub to name any dealers in town.
Pkdata recently completed a new study of higher income households, dividing them into two cohorts — Potentials, respondents who said they have recently considered the purchase of a new hot tub; and Doubtfuls, respondents who said they have not considered a hot tub for whatever reason. As it turned out, 23.5% of the entire sample ended up as Potentials. That's a very large percentage. There are some 58 million socio-demographically qualified households in the U.S. This is the total of all households residing in a single-family detached dwelling, making over $50,000/year, who do not already own a hot tub. And 23.5% of that number is roughly 14 million. Yet over the past five years, only an average of about 206,000 hot tubs were sold in this country.
Where is everybody?
RELATED: The 3 Keys to a Hot Tub Sale
The Doubtfuls gave the usual reasons for their indifference: "Haven't thought about it/Not interested" (23.3%); "Cost to maintain" (18.6%); "Time to maintain" (18.4%); "Too expensive" (17.8%); and so on. For the moment, let's set aside the "Not interested" group, but for future discussion, cost/time to maintain and perceived purchase price are all very fixable with some adroit advertising (refer to Chart 1).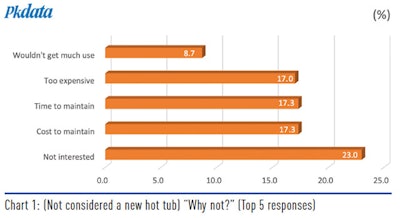 For now, let's talk about the lower hanging fruit, those 14 million Potentials.
First the bad news: When asked how much they expected to pay for a new hot tub, the average worked out to just under $3,500. Yet, according to Pkdata's most recent annual spa dealer survey, the average selling price was nearly twice that. Either spa retailers are very persuasive salespeople, or a lot of would-be customers experienced major sticker shock and walked. We suggest that it is probably the latter because we also know the average store visitor conversion rate is about 15%, based on those same dealer surveys.
If that's the case, the conversion rate needs to be fixed because apparently a lot of people plan to shop very soon. When we asked Potentials how likely they were to look for a new hot tub in the next two years, 20.4% said either fairly or very likely ("4" or "5" on a 5-point scale, plus half of "3").
Okay, hot shot, do the math: 14 million times 20.4% is roughly 2.9 million over two years, or about 1.5 million potential customers in the next 12 months. If we convert 15% of those prospects, that's 225,000, about as many hot tubs as sold last year. So, if we could just increase the average closing rate by five percentage points, that would ostensibly increase the total industry sales to 300,000 new hot tubs per year, a 25% sales increase for the industry (refer to Chart 2).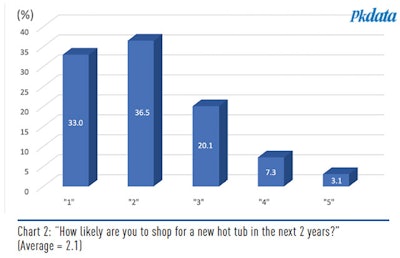 Further into the survey it developed that nearly four in 10 Potentials have used a hot tub in the previous 12 months with the top two venues being "Home of acquaintance" (45.6%) and "Hotel/resort" (38.6%). Obviously, experience counts for a lot, which is not news to anyone who uses mood rooms or other ploys to get bodies in hot tubs. There needs to be more of that. In plain speech, the industry's prosperity depends on the positive initial experiences of non-owners using hot tubs away from their own homes.
RELATED: Sell More Hot Tubs By Selling Wellness
Along those same lines, it also turns out that 11.6% of Potentials have previously owned a hot tub. This compares with 24.1% of current owners who had a hot tub in the past. High repurchase rates are obviously very desirable, especially for big-ticket discretionary purchases like spas. Repurchasers become a core constituency and can act as advocates to the noncognoscenti. Word of mouth still counts for a lot in the internet-enabled age. In this same survey we learned that "Advice of others" (owners) was the second leading source of information about hot tub ownership (25.4%) behind "Internet" (refer to Chart 3).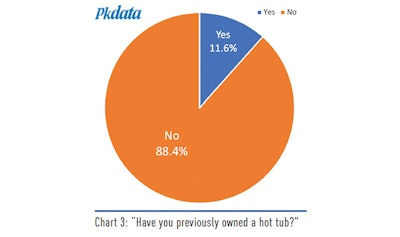 Oh, and about that pop quiz: Of all Potentials in the sample, only 27.1% could spontaneously name at least one spa retailer in their area. You might think that's a pretty good number, but what do you suppose the percentage would be for, say, appliances or bath fixtures? And remember, these are people already in the market. And yet, three-quarters of them have no retail brand affinity (refer to Chart 4).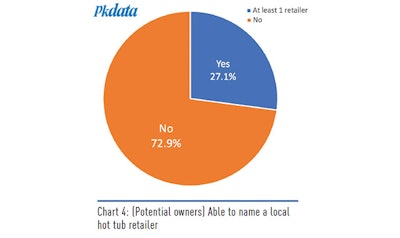 So, hot shot. You have 14 million people out there who are considering the purchase of a new hot tub. Nearly 1.5 million are ready to buy. But they don't know you exist. And when they do visit, you're only turning 15% into customers.
What will you do?