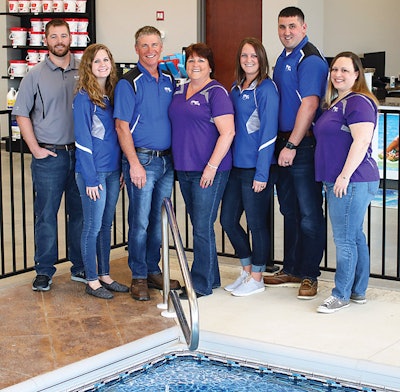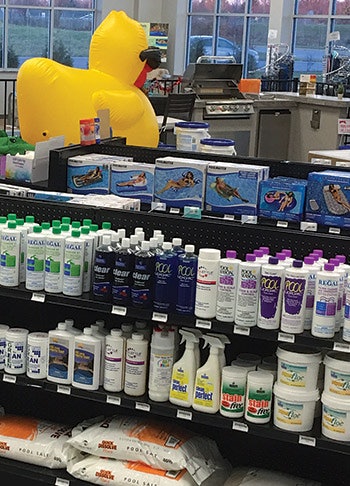 "To build a family-oriented team that treats each pool as if it's our own' is more than just the cornerstone of our business, it is the way we approach each and every customer interaction."
—Chris Hill
Owner, Hillside Pools
Like some of the biggest companies in the world — and many companies in the pool and spa industry — Hillside Pools started in a garage.
It was 2007, just before the recession, and husband-and-wife team Terry and Chris Hill were eager to combine their respective talents — his 20 years of industry experience, including time assembling plumbing kits for a major spa manufacturer; her extensive retail experience, including managing retail programs for hardware chain Do It Best — into a leading outfit in the Northeast Indiana market.
After years of double-digit growth in service alone, Terry and Chris took a dive into retail, opening their first store in 2014, making Hillside Pools the youngest retailer on the AQUA 100 list. In 2016, they realized their dream of building their own store, which had its grand opening in April 2018.
The AQUA judges were impressed by the Hills' dedication to creating a one-of-a-kind showroom experience. The new store, for example, includes a fully functional 12-by-18-foot inground pool equipped with an assortment of features including an automatic cover, deck jets, vinyl-over steel steps with a connecting bench, a fountain, basketball hoop, jumping rock and concrete options in various finishes and textures.
"It has a huge WOW factor that prompts nearly all customers to immediately ask, 'Can I go swimming?'" Chris says.
The comprehensive display enables salespeople to take a "show, don't tell" approach to sales by encouraging customers to envision their dream pool.
"We believe we aren't just selling pools; we are selling the family fun and entertainment pools bring," Terry says. "The pool helps facilitate conversations with customers about what features they want to include in their dream backyards." (For customer safety, the pool is surrounded by a gate with an alarm system, both of which Hillside sells.)
Hillside has big plans for the future, too. Should they outgrow their 5,000 square-foot retail space, their property can accommodate an addition that is a mirror image of the current store.
"As Hillside continues to grow, the ability to quickly and easily scale the operation brings peace of mind to the entire team," Chris says.