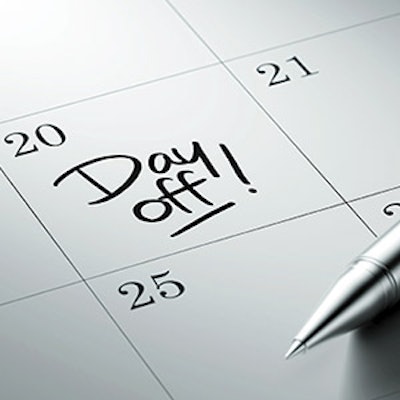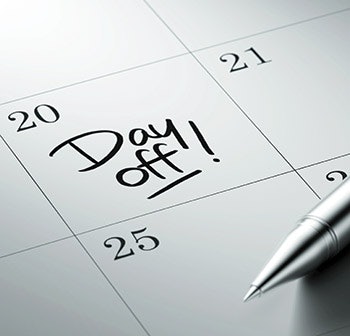 Staff members in seasonal positions often want to take vacation during the summer, which puts a huge strain on retail and service companies who do the bulk of their business during that time. How do you manage time-off requests (and your own vacations!) during the busiest season of the year? Industry pros share their insights:
THE QUESTION:
How do you manage time-off requests and your own vacations during the busy season?
RELATED: What Would You Do: Fake Facebook Reviews
---
ANSWERS:
Mallory Wachowski
DesRochers Backyard Pools & Spas | Wilmington, Shorewood, Morris, Ill.
"We have blackout dates. We say we cannot guarantee an entire vacation off in-between May 15 and June 15, and all of our people are pretty respectful of that. If they do request it, we go to them and say, 'Hey, what's going on? These are during the blackout dates and you know I can't guarantee it.' We usually work it out; they usually schedule their vacations in July. It took a couple years for it to catch on, but it was a really good decision for us."
---
Mark Jeffery Lilley
LilleyPadPools | Chico, Calif.
"I just don't take time-off."
---
Steve Goodale
SwimmingPoolSteve.com | Ontario, Canada
"I never understood the logic to blackout the entire summer as being unavailable for vacation. I did not understand it when I was the employee and I did not require it when I was the employer. Telling someone that they must work mandatory six-to-seven-day weeks, with absolutely no time-off for any reason during the best parts of the entire year, is unreasonable. It's one of the major reasons why the industry chronically suffers from a lack of fresh blood entering the field.
Look, I get that you like money, but structure your business so that you do not run with the bare minimum staff you need to get by. Why make someone work 75 hours per week against their will? Hire and train more people. It takes the pressure off everyone and allows for sick time and vacations like a regular human being deserves. Plus, it creates an atmosphere where there is competition for hours and work. It makes it really easy to find out who the motivated and hungry workers are. Mandatory Saturdays from March to October? Go suck an egg."
---
Refresh Pools
Phoenix, Ariz.
"We have a conversation with the customer, as they have us year-round. We discuss the dates off and agree to add extra chems the week prior. We never have a problem. This isn't a regular thing. If the customer has a problem with the time-off, we offer to deduct the cost of service that week from their next bill."
---
Steve Brookbanks
Brookbanks Pools | Tucson, Ariz.
"No vacation in summer."
---
Shaneo Matthews
Sunshine Coast, Queensland, Australia
"After troweling pool interiors for 13 years, I know you definitely need to book time-off far in advance, even at the start of the year. However, when you are working six to seven days for the last four months of the year, a well-deserved break is much needed."
---
Scott Walker
Custom Pool Services | Fort Smith, Ark.
"April to mid-August, we do not allow vacations. That's not too much to ask. There are many professions that tell you when you can or can't take vacation. Number one is the military: As long as men are willing to stand in the gap on the battlefield. I'll not be a crybaby about sleeping in my own bed every night while I work."
---
Josh McCarthy
McPools, Inc | Bradenton, Fla.
"I treat each situation differently. Thirty days prior to busy season, I have a one-on-one with each employee. In that meeting, we discuss any vacations, weddings, doctor visits, moving plans, family in town or important travels.
I continue this each month during one-on-ones.
Typically, if I have time to plan for it, I approve time-off.
If they request it at the last second, I'll do the best I can but can't promise it.
I don't want to lose a good employee because they want to attend a family wedding or other important event."
---
Christy Worden Strand
Klapprodt Pools | Keller, Texas
"I'm fortunate enough to work for owners that are open to vacation days for us all as long as our work is covered. Great teams have employees that have each other's backs. Cross-training is invaluable for this to work."
---
Kevin Stempien
X-Pert Pool Service | Throop, Pa.
"As long as I get advance notice, no problem. I vacation the last week in August before closing season starts."
---
Rocky Cisneros
Premier Pools | Moultrie, Ga.
"We spell it out in our maintenance agreement that we are allowed to skip one week out of the summer, with those dates provided in advance. The agreement also includes time off around Thanksgiving and Christmas."
---
Anonymous
"It takes an act of God for us to get any time off March-August."

---
David Gilmore
Softub of the Carolinas | Myrtle Beach, S.C.
"Lock-out months. The two months a year known to be busiest are locked as no time-off periods."