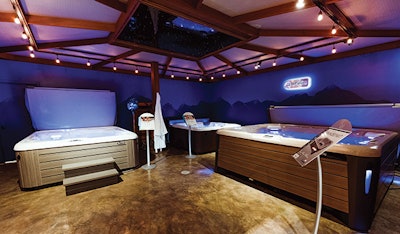 It would be wonderful if running a hot tub retail store were as simple as filling a space with merchandise and unlocking the doors to welcome throngs of customers. But we all know there's much more to it than that.
Managing a space that encourages customers to plunk down thousands of dollars on such a large luxury item means your show floor has to be clean, beautiful and designed to entice customers to buy at all times. But there are a lot of retailers who are missing the mark. We turned to industry experts Ted Lawrence, corporate retail category manager at Covington, La.-based distributor POOLCORP, and Mario Maichel, dealer development manager for Vista, Calif.-based Watkins Wellness, to get a sense of what a lot of hot tub retailers are doing wrong…and how they can fix it.
1. NOT SHOWING ENOUGH PRODUCT
Yes, hot tubs take up a lot of space, but that's no excuse for having just one or two tubs on the show floor. Lawrence believes retailers should have at least four to six hot tubs on display at any given time. A larger range of product allows store owners to showcase a variety of units in different sizes and configurations so customers can really get a sense of which hot tub is the right for their needs.
THE FIX:
Well, what can you do if you don't physically have enough space to showcase four to six hot tubs? Maichel suggests reexamining all of the merchandise that's currently on the floor and consider whether it is earning its keep. "If there's anything that's had a birthday, it has to go," Maichel says. In other words, get rid of anything that's more than a year old and replace it with a fresher model — or swap in a different product category altogether. Once you eliminate underperforming products, you just might find you have enough room to showcase a few more hot tubs, after all.
2. PRICES AREN'T LISTED
About 50 percent of retailers don't have prices listed on their hot tubs, Lawrence says, because they don't want potential buyers to know the cost of the hot tub right off the bat. Instead, salespeople prefer to avoid discussing pricing until they've had an opportunity to thoroughly "wow" potential customers with their sharply honed pitches. But the fact is your customers already know the price of your hot tubs before they even walk through your door. Who told them? The internet. "The internet has brought one thing to every business, and that's pricing transparency," Lawrence says. "[Retailers who don't price are applying] old school thinking in a new environment."
THE FIX:
This one's pretty easy: simply put price tags on your hot tubs. But let's think for a moment about what happens if you keep trying to leave customers in the dark about your pricing. The odds are they won't trust you and will no longer be your customers. It turns out that being up front about pricing actually raises the credibility of the sale, says Maichel. If customers can't see a price tag in black and white, they might think that you're just quoting a price off the top of your head. It also makes the shopping experience a lot harder. When customers can't get a sense of your base model prices versus your high-end units, it becomes more difficult for them to determine what they should be able to afford on their budget. They need an "anchor price" in order to comparison shop, Maichel says.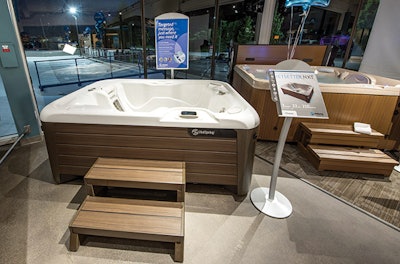 3. POOR MERCHANDISING STRATEGIES
No Disney World visitor has ever left the park without seeing Cinderella's Castle. Why? Because it's really hard to miss. The towering structure has a way of catching your eye no matter where you are in the park, and that's the type of hot tub display that Lawrence believes you should have in your store. This "castle display" needs to draw attention to whatever hot tub model you want people to see the most.
THE FIX:
Your hot tub of choice could be on a raised platform and surrounded by all of the accessories that you want people to buy: everything from patio lighting and furniture to hot tub covers, spa steps and the robe and slippers. "[People need to say] 'I want that in my house just the way it is,'" Lawrence says. "Hot tubs are a very emotional purchase and a very expensive purchase, so let's make it as close to the dream as possible — not just an appliance that's sitting on the floor." This type of display also shows customers that you're a one stop hot tub shop. They don't need to go anywhere else.
Lawrence believes most retailers will be able to rig up a nice display on their own, but if they need help they can always look to their manufacturers for assistance.
4. CAN'T TRY BEFORE YOU BUY
Call it a mood room, a wet room, a try-me room, a soaking room or whatever you want. But you should definitely have one in your store. Lawrence estimates that more than 75 percent of consumers who try a hot tub in the store wind up purchasing one — and that's quite a conversion rate. Ideally, the room should be sealed off from the show floor and have its own bathroom and/or changing room, he says.
THE FIX:
You say that you don't have enough space for a wet room? You may not be looking hard enough. "A wet room doesn't really take up any more space than a hot tub," Maichel says. "It's typically just two more walls…about 6 inches worth of wall on two more sides, and then a little bit of space to walk." The trick is to avoid thinking of a wet room as a huge undertaking that's going to cost you lots of time and money. You have to think of it as an investment. "It fascinates me that a restaurant will put more time into the [dining] environment…for a $20 sale, than hot tub retailers will put into a showroom for a $12,000 sale," Maichel says. "You've got to invest in your environment and your showcase."
5. USING THE WRONG TERMINOLOGY:
Your sales staff should be using the term "hot tub," not "spa." The confusion arose a while back when the industry tried to move away from the term hot tub, but "it didn't catch," Maichel says. People are more likely to think of a spa as a destination spot for a massage or to get your nails done. And that's why Lawrence always encourages retailers to refer to their products as hot tubs. "It will resonate better with the consumer," says Lawrence. "They understand what it is."
THE FIX:
Train your sales staff to use the correct terminology and revise all of your marketing collateral — your website, advertisements, signage, etc. — ASAP. Remember: If people are Googling "spa," they're most likely looking for a day spa, not a hot tub retailer. That's misleading for those customers, yes, but more crucially, it means you're likely missing out on web traffic from customers who search for the word "hot tub." (And if you run Google AdWords campaigns with the wrong keywords, you're just throwing away money.) Consistent verbiage across all platforms is key.