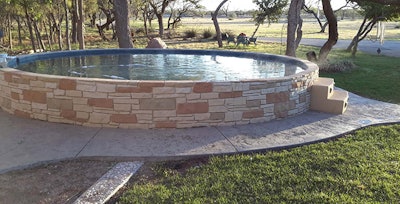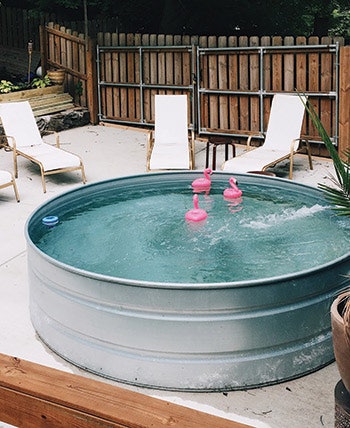 Like drunken cowboys in second-rate Western flicks, a lot of folks are spending time soaking in stock tanks lately. Only these people haven't gotten there via face-punch or bartender banishment. Quite the contrary, actually. They're paying for the privilege.
Stock-tank pools began showing up in backyards and, most notably, on Instagram feeds and Pinterest boards in 2017, catching the eye of assignment editors from New York to the Napa Valley and seemingly everywhere in between.
Better Homes and Gardens, the unofficial arbiter of backyard tastes, predicted they'd be "all the rage" in the spring and by summer breathlessly declared them a "must have." The Seattle Times called them the year's hottest backyard trend, while New York Magazine dubbed them "The Mason jars of backyard pools." And much like drinking from grandma's old canning jars, these pauper's pools appeal to the thrifty, the unpretentious and the
trendsetting alike.
RELATED: The Power of Simplicity In Pool Building
Thankfully, responsible writers are cooling people's expectation with sobering reminders about circulation, water balance and safety. But for those still eager to dive in (does it need to be said that diving is out of the question?), YouTube videos and other online how-tos show the DIY demographic how to plumb and filter these so-called hillbilly hot tubs.
Even fully outfitted, they are very cheap to install and operate. And, thanks to design ideas on photo-sharing social media, people are making them relatively attractive. Still, while they're easier on the eyes than plastic kiddie pools or inflatable ones from Walmart, we think they're a better fit on a movie studio's Western backlot than in a typical backyard.
Ed. note: A concerned reader called to point out that the zinc contained in these stock tanks could be problematic for both pool chemistry and people's health.