Craig Ecelbarger is the owner of Recreational Warehouse of Southwest Florida, a backyard retailer based in Fort Myers that also serves customers in beach communities about 40 miles to the south and 40 miles to the north. Until last year, he had two stores: the 16,000-square-foot flagship and a southern satellite about half that size in Naples. That left the seasonal residents, retirees and townies of Port Charlotte, on the northern end of Ecelbarger's media radius, to battle traffic on 41 South to visit the main store. Many did, with about 15 percent of his business coming from that area, but Ecelbarger knew that to properly serve the city, he needed a local presence.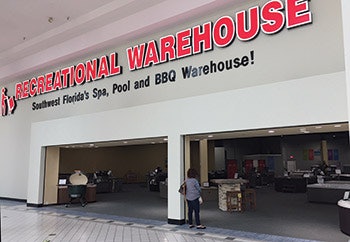 He's got one now, and it's a big one that's kind of hard to miss.
"We chose the city of Port Charlotte with intention," he explains. "We did not intend to choose the mall. That just sort of happened!"
Initially, Ecelbarger thought the very idea of operating in a mall was ludicrous, so when his real estate agent suggested it, he quickly dismissed it. "I told him he was wasting his time, and that there was literally zero chance that a pool and spa and outdoor kitchen store could ever end up in a mall," he says.
Among the objections were the steep price, lack of space, the difficulty of a big buildout in a busy mall and the complete and utter lack of precedent. I mean, there had to be a reason pool stores are located by frontage roads and not food courts, right?
So he continued to search, but couldn't get the idea of opening in the mall out of his head.
RELATED: Madison, Wis.-based hot tub dealer tries hand at mall location
He eventually decided to give it a shot, and last November, six days before Thanksgiving and the start of the holiday shopping season, the new mall store threw open its doors.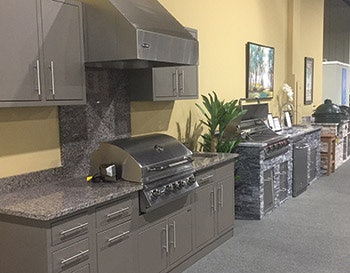 Ecelbarger says he was thrilled with how quickly it all came together, especially considering the scope of the project: eight mall stores had to be converted into a single spa store, equipment installed, hot tubs lined up and salespeople made ready, all between midsummer and the migration of the snowbirds.
"It was a pleasant surprise," he says. "The local mall people were excited about having us, the corporate mall people were excited about having us, the county was excited about having us, so people were anxious to help. Now, they didn't just roll over and let us do whatever we wanted, mind you, but everybody did what they could to expedite things, because if you're the mall and you've got eight crappy store or empty stores, and Christmas is coming? It was very important for them to get us in before the holiday season hit."
Ecelbarger obviously shared that goal, knowing what a shame it would be to put in all that work dismantling dividing walls, ripping out and replacing the ceilings and floors and gearing up to open his new 22,000-square-foot store, only to miss the busiest shopping days of the year. He simply had to make it. Asked what he thought about the chances they'd actually make it? "Slim," he says. "But it happened."
GEARING UP
As contractors were getting the space ready, Ecelbarger was busy readying a staff. Here, the challenges are familiar to any pool and spa company that's opened new locations. They're challenges typical mall stores like Sephora, Spencer's, and Sunglass Hut don't face.
"We're a pretty specialized store. We can't just hire a clerk and hand them a manual and say, 'You start tomorrow.' It takes us weeks to get anybody even slightly ready," he says. "Our intention was to transfer one employee from our existing operation up there to be the manager and to do the hiring."
Just to be safe, Ecelbarger decided to send two seasoned employees to Port Charlotte. It didn't take long for that hunch to prove prescient.
"There were more people shopping at the mall than we thought, and we learned right away that those people were in shopping mode," he recalls. "I can tell you there were an awful lot of spas sold at Christmas time in Port Charlotte, Florida, that were sold to people who were not necessarily expecting to buy one during the holiday season. It was a great surprise."
SAME THING, ONLY DIFFERENT
Rec Warehouse's new and suddenly bustling store looked much like a typical high-end backyard retailer, if only a little bigger. Then, as now, it had an array 40 Hot Springs, Caldera and Freeflow rotomolds from Watkins Wellness, three swim spas from Endless, three full-sized aboveground pools, 21 outdoor kitchens and a plethora of grills, covers, chemicals and other supplies.
RELATED: Improve the look of the hot tub showroom
A key difference, however, is the two distinct entrances. One brings in prospects from the mall, and the other from an adjacent parking lot.
"The outdoor entrance is basically like any other location we would choose, where we'd be a destination point in a shopping center. So somebody can respond to an ad, they can drive to our store, park in front of our sign, and walk through the door," Ecelbarger says. "But then you have a mall entrance, with Macy's across the hall, Sears to our left and a movie theater to our right."
Before opening, Ecelbarger thought the dual doors offered two advantages: It would increase traffic for one, but it would also tip off the sales force about how each set of shoppers was likely to behave. That was the working theory, but Ecelbarger was in for a surprise.
"We were hoping to be able to categorize people that way. 'Hey, anybody who comes in through that door is just like a customer at our other stores, and the people who come in through the mall are less likely to be serious," he explains. "But those people were going to be the gravy that we got for being in the mall.
"The reality is that there are people who use our outside entrance as a shortcut to get into the mall, and on the other hand, there are plenty of people from the mall — and this was the good part of the surprise — there are plenty of people from the mall that became primary shoppers."
The spa buyers with bags from other mall stores do tend to be impulse-oriented, and for them price is the driver. That's why the average ticket on a hot tub sale over the busy holiday season is lower than it is throughout the rest of the year. Ecelbarger is fine with this. In fact, he sees it as a positive.
"As the average sale is lower, we are certainly opening ourselves up to the ability to sell more units," Ecelbarger says. "These people know it's within their budget, it works for them and it's a quality product, I think it's the same thing for a hot tub or an outdoor kitchen. If you hit a magic price point you just open it up to more people. And at Christmastime, in the mall, that's pretty important."
SECOND SEASON
As another holiday shopping season approaches, Ecelbarger says that aside from doing a bit more targeted marketing (he did no advertising and no special events for the opening), he will mostly stick with the same script he used last year, and every year since he opened the first store.
RELATED: APSP's Top Five Reasons To Buy A Hot Tub This Holiday
So, no doorbusters? No odd hours?
"As a matter of fact we are not even going to be open mall hours," he says. "We will not be opening on Thanksgiving Day at 6 o'clock, we will not be opening at 6 a.m. the day after. We're going to open at 10 in the morning on Friday because we've been opening at 10 o'clock on Friday the day after Thanksgiving for 22 straight years, and this year is not going to be any different."
He knows, though, that things will always be a little different in the mall store.
"We're still learning every day how to operate in a mall, because it's not easy," he says. "Everything is different when you're trying to gauge traffic and have a rotation of salespeople. Everything goes out the window because it's a different beast.
"That said, it's been the best possible outcome we could have hoped for, and this year we're looking for an even better result. Last year we did it as a brand-new store, running around like chickens with our heads cut off, trying to get everything fixed and displayed. Now, we're going into the season with a year under our belts, and I'd like to think we've learned some lessons and we're better prepared."
Among those lessons is the importance of treating the casual shoppers — those who may have wandered in from Macy's or after seeing a movie — with special care. Some of them will never have the means or desire to buy a hot tub or outdoor kitchen. Then there are those who might, but just don't know it yet. These prospects are hard to identify, but they're a bigger part of the store's business than Ecebarger expected.
"Some people who come in never had any intention of seeing us, but now that they're there, we get a chance to plant a seed and maybe turn them into a future buyer," he says. "And I know that's happening. I don't know how to measure that, and I probably will never be sophisticated enough to do it, but we have to figure out how to engage everybody that comes into that building. So far that's working well and paying off, and I'm knocking wood and hoping it keeps going that way."