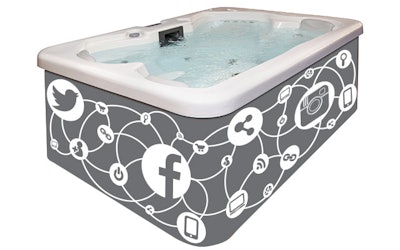 Believe it or not, social media outlets aren't just for posting vacation pictures and making people feel uncomfortable with your political rants. It's been proven time and time again that these social vehicles can also help you sell more products and improve customer engagement, which can set you up for improved sales in years to come.
We've turned to the experts to explore the social media secrets that can help hot tub dealers move more of those big, bubbling gateways to relaxation and boost your overall bottom line.
CHOOSE WISELY
There is an absolute slew of social media outlets from which to focus your efforts. But the big three are Instagram (a photo- and video-sharing platform), Twitter (used to share quick thoughts, comments and links in only 280 characters) and Facebook (used to share just about everything). But like any other form of media, it's up to you to decide which outlet will work best for you.
Although Instagram can be used to post pictures of hot tub installations and new showroom models, the color-rich world of Instagram might not be the hot tub's natural ally. A quick glance around the site reveals that photos that earn a lot of "likes" are usually very colorful or scenic…or were posted by celebrities. Therefore, it's a perfect medium for florists, photographers, chefs or other businesses that deal with highly visual products. (Pool builders are another prime market — Instagram is a great platform for showing off your backyard creations.) So if you're hoping to get followers, you might have to take a photography class or two to learn how to make your hot tub shots pass the visual-appeal test.
Twitter might also seem like a good place to invest your time simply because it's built upon the premise of concise thoughts and ideas. But the experts would disagree. "We actually don't recommend using Twitter for 99 percent of our clients," says Scott Reynolds, CEO of The Get Smart Group, an Angels Camp, Calif.-based marketing and web-design firm serving pool/spa retailers. "The Twitter audience is not typically engaged in buying behavior, [and] with any marketing strategy, you need to make sure that you're reaching your target audience when they're thinking about purchasing what you have to sell."
RELATED: The WRONG and RIGHT of Social Media
That leaves Facebook. Granted, the medium has been through some drama over the last few years, but the site boasts more than 2 billion monthly active users — and logic dictates that a heavy percentage of them could be in the market for a hot tub at any given time.
"Facebook is incredible for finding customers and increasing sales," says Reynolds. He believes the most-effective ways to generate sales on Facebook are through the use of lead ads, Messenger ads and Facebook Live. Lead ads allow you to capture lead information right inside the Facebook interface, while Messenger ads facilitate immediate conversations when a potential client is interested in your products. And with Facebook Live, which lets you broadcast video live from your smartphone, you can convey the personality of your brand. "Even a few years ago, it would have cost tens of thousands of dollars to stream an HD video from your store," Reynolds says. "Now you can do it for free from your phone and generate sales in the process."
FIND YOUR FOCUS
Once you've settled on where to place your social media efforts, the next step is to figure out exactly what type of posts you'd like to put out into the world. Seattle-based Olympic Hot Tub focuses the bulk of its social media efforts on Facebook, and the majority of its posts are focused on how hot tubs can fit into a healthy lifestyle. "I think that social media plays a more critical role in raising awareness of the category, more so than it would for selling hot tubs," says Don Riling, owner.
Olympic's lifestyle content is sparsely complemented with news about in-store special events and hot tub deals — the majority of this type of content has been relegated to email marketing campaigns. Riling believes that social media posts that focus too much on product marketing are a quick way to lose engagement with potential customers. Olympic has more than 10,000 Facebook followers and posts content between two and five times a day.
RELATED: Why Giving Matters in Social Media
Pla-Mor Pools in Mechanicsville, Va., has taken a similar approach to its Facebook posting strategy. "We love to post beautiful lifestyle images that feed the imagination of customers and allow them to visualize an oasis in their backyard," says Jennifer Clements, co-owner and director of business development. "The spa brands we have partnered with have put together a fabulous library of images from which we pick and choose." She notes that Pla-Mor also posts videos and ad slicks that are provided by spa brand partners and provide details of each of the brand's promotions. The number of times the company posts varies based on the season, but you can usually find fresh Facebook content from Pla-Mor a few times a week.
The organization has chosen to mostly utilize the "promoted post" feature in order to ensure that their content is viewed by their target audience. And the experts agree that this is the best route to take. "Over the last few months, Facebook has made several changes to their algorithm to prioritize what friends and family share versus what [corporations] share," says David Carleton, CEO of Spa Pool Marketing Success in Portland, Ore. "For most brands and Facebook pages, this means that if you want to be seen, you have to pay in the form of boosted posts or through the different types of advertising options that Facebook offers."
TAKING THE LEAD
But no matter what type of content you choose to post or how you choose to promote it, the most important outcome is arguably generating leads. "The bottom line for any and all strategies, including social media, is that eventually it should generate a sale that the dealer can specifically attribute to a specific lead generated by a specific Facebook ad or post," Carleton says.
In order to know whether your Facebook strategies are generating leads, you need to be able to track them on Facebook and Google Analytics via traffic stats, goal conversions and, eventually, sales, he says. The Facebook leads his company generates include names, emails, phone numbers and postal codes, which dealers are then able to use to follow up with prospects. "When sales are generated, we can then look back and track how many leads/sales came from which specific Facebook ad or post — selecting the most effective ones to continue to invest future ad budgets."
RELATED: A High-Scoring Approach to Generating Leads
Clements has noticed an uptick in store traffic and from Pla-Mor's Facebook campaigns. And in addition to using Google Analytics and POS tracking to monitor which promotions are the most effective, she also uses a fool-proof analytical strategy: "Part of our process is to ask a customer how they found us. But it's more rewarding when customers state upon arrival that they saw our Facebook ads."
SOCIAL MEDIA OR CONSEQUENCES
Still think that social media isn't for you? Well, avoiding the medium altogether might not only result in lost sales, but lost customer engagement. You can think of social media as a two-way street that lets you connect directly with customers and potential customers. In fact, lots of companies use social media to respond to general questions, comments and even complaints. So why would you want to eliminate such a widely used platform? "Different people like to engage in different ways with different companies — phone, email, text and social media," says Carleton. "Eliminating one of these four ways to communicate means you have possibly eliminated 25 percent of potential customers."
He cautions, however, against simply having a social media presence and never interacting with customers who have reached out to you. "If you have it, then people expect you to use it." 
---
Dana Robinson is a Los Angeles-based freelance writer who specializes in health, food, careers and business. 
Get in touch at Dana-Robinson.com.