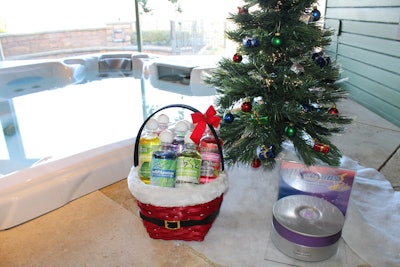 For most of the country, pool and spa sales slow in December. However, that doesn't mean retailers can't take advantage of the holiday shopping experience!
Here, we share just a few creative ways pool and spa retailers can boost sales in December.
Gift Cards

Everyone has that hard-to-buy-for friend or relative. But do they own a pool or spa? If so, gift cards are ideal. Try setting up a special offer: Buy $100 in gift cards and receive 10 percent off the next order, with an expiration date of May 1. This incentivizes customers to come back in before they open up their own pool or spa for the spring season.
End of Year Inventory Blowout Event
Let's face it, you need to move inventory this month. Wouldn't it be nice to have a last-minute burst of revenue before you close out the year? And from your customers' point of view, who wouldn't want to save in December on pool supplies and chemicals that are needed when the sun is shining again?
The key to a good blowout event is promote the sale to existing customers through a direct email campaign, which ensures your marketing investment is minimal and highly targeted.
Encourage customers to bring a friend and make it a one- or two-day event; running the event for a limited time ensure you aren't wasting a lot of time or energy. You could even partner with some nearby business owners to make it a block party blowout! And don't forget refreshments, like coffee, hot cocoa, pretzels and popcorn, which are inexpensive, fun traffic boosters.
As for the deals, consider offering two-for-one specials on items you are not going to reorder and want to move for year-end. All other items can simply be discounted based on how much customers spend. For example: "Get $10 off when you spend $50 or more, $25 off when you spend $100 or more."
For an extra creative way to draw traffic to your event, bring in Santa Claus! Consumers are always looking for ways to get a holiday card photo (while avoiding long lines at the mall), so don't overlook having Santa at your store for a holiday photo shoot opportunity. Perhaps customers get a free Santa photo with any purchase over a specified amount. Get creative and find ways to incorporate products you sell into the photo!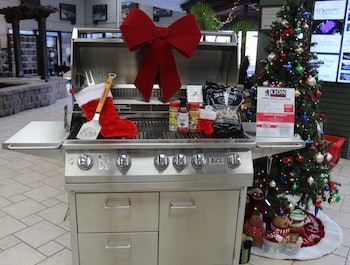 Stocking Stuffers
As you decorate your store for the holidays, be sure to put up stockings that display stocking stuffer gift ideas. Not only do these displays add a great seasonal touch to your store, but they also go a long way to inspire purchases among your customers. (This is a great idea for pool toys, as they're impulse buys to begin with, and spa scents.)
RELATED: Deck the Pool With Boughs of Holly
Buy and Save Programs
You can also appeal to prospects by offering the option to pre-pay for a new pool or spa now. Customers can pay in full, or in parts with a two- or three- term payment plan. Try adding an incentive to encourage customers to pay in full, like free CPR, pool safety or swim lessons for the first 10 owners who buy now — even if they don't build or install their pool or spa until next year.
'Tis the Season of Giving Back
Nothing builds more loyalty than businesses who pay attention to their clientele. With that in mind, try promoting a December event where a percentage of all sales go to your local school district or charity that is meaningful to your community.
Not sure where to start? Ask a few customers what charities they give to or causes they support. Be sure and get your staff excited and energized about the event or cause.
Lastly, consider a food drive. These are great events, not only because you're helping a good cause, but also because you drive more traffic to your store.
For every customer who donates to the cause — you could gather food, gifts, toys, warm clothing, etc. — you can offer a percentage off their next purchase. It's the season of giving, after all, so even when people are buying for themselves they feel better if they know they are helping someone else—especially in December.
Worried about tracking all these sales promotions both at point-of-sale or in accounting? Make sure you are using software that allows you to assign sales start and end dates on every product, close out prices, write-offs for inventory losses and even charitable giving.
Dan McManus is the VP of sales and marketing at Evosus Software, makers of an all-in-one software program designed specifically for the pool and spa industry. He can be reached at dmcmanus@evosus.com.