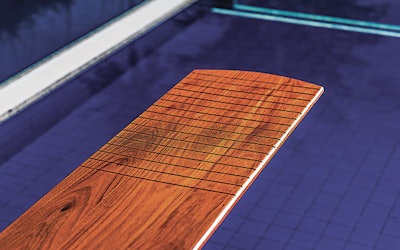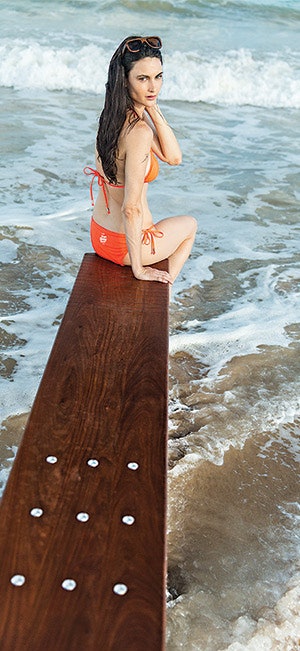 When it comes to aesthetics, just about every aspect of the swimming pool environment has evolved — but the diving board has remained largely the same. Belgian designer Mikel Tube is changing that conception, however, by melding art and backyard fun with his collection of wooden diving boards.
Tube's beautiful diving boards are made from ipe, a Brazilian hardwood popular for outdoor applications, and are uniquely designed to bend according to the weight of the diver. Two models are available, including the Revelation 1 (pictured); and the Tom Sawyer, inspired by the classic Twain character and his dive into the Mississippi River.
While the boards are waxed, they do feature anti-slip measures, including grooves at the jump-off point and an optional white rhine sand coat, which creates a rougher surface for more security on the board. The boards are available in three stain options — light, medium and dark brown — while the bases are made with 316 marine-grade stainless steel to resist chlorine and saltwater corrosion.
Not only are the boards stunning, they're also produced with the environment in mind. The boards are made by Tube's network of local woodworkers, a practice that supports local artisans and maintains a low ecological footprint, Tube says. In fact, he even turned down an opportunity to have the boards mass-produced at an international factory to continue to support his local contractors.
The result: gorgeous diving boards that are sure to be the centerpiece of a poolscape.
To learn more about Tube's diving boards and how to order them, visit woodendivingboards.com