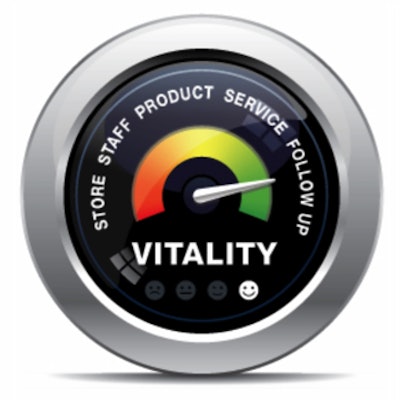 This series focuses on guiding you with concepts, practical strategies and tactics to create what we refer to as a "High Fidelity Business" — a business refocused on a new market position, offering predominately differentiated products and services in remarkable ways. In this industry, we're specifically addressing how to deliver a new, more relevant value proposition: creating remarkable backyard experiences. One way of doing that is by using the "David Strategy," an idea inspired by the classic David and Goliath fable. In today's post, we learn how to adapt Hewlett Packard's Vitality Index concept to your business, and how you can turn your company into a 'PureWow' business.

If you missed the last post, click here to read it.

Welcome back! I hope the concepts of this series so far are starting to resonate with you. Maybe you have taken action and visited a Bass Pro Sports store, as I suggested last week, and are intrigued about how you can revamp your pool and hot tub business. This blog will focus on a powerful concept: building a PureWow business to transform your business for the new market realities, and leveraging a powerful tactical concept — the Vitality Index, first pioneered by Hewlett Packard — to begin your journey.
Let us first explore the concept of building a PureWow business. Here is a visual of the concept:



Notice it calls for you to focus on three things: performance, style and substance.
One of the easiest and most effective ways to transform a business culture is to give your team what is referred to as an "organizing thought." An organizing thought is a powerful but simple idea that you can use every day to lead your team towards where you wish to take the business. At Backyard Brands, we've helped our dealers use this concept with great success for quite some time. It aids our customers in leading their staff and cultures towards a High Fidelity Business.
The idea and concept are simple: Ask your staff every day to scrutinize all aspects of the business and strive to provide PureWow (remarkable) deliverables in all aspects of their work and customer experiences. From customer interactions to product selections and recommendations, the goal is always aspirational: we are here to create unforgettable backyard experiences for our customers.
Say you encounter a messy area, such as empty coffee cups in the parking lot. Grab your staff and ask, "Is this PureWow?" When setting up in-store displays, aim for remarkable. When following up on a customer issue, was it PureWow? You get the idea.
This strategy is so simple for a leader to implrement, but massively positive for your company culture.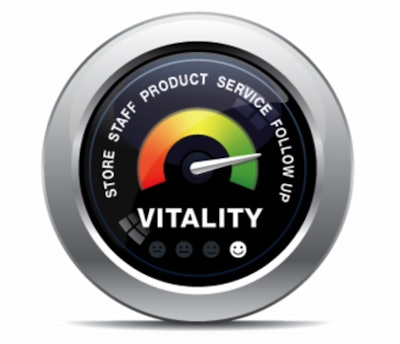 The second concept focuses on transforming, over time, your product selection and promotion strategy, an idea that has successfully and continuously transformed Hewlett Packard's business in a highly volatile market space. This is called the Vitality Index (see right).

Hewlett Packard studied thousands of businesses in all facets of business and discovered a fundamental business truth: The "secret sauce" of Apple and Bass Pro Sports Shops and related successful businesses deploying the Vitality Index.
They discovered there is a common thread in the most successful business in their High Fidelity business designs: a total focus on bringing new, better, higher-performing products continuously to their target customers. Even better, HP discovered there is a 100 percent correlation between the business leader's passion and focus on bringing differentiated, remarkable products to their target customers, and a dramatically improved bottom line and passionate tribes of profitable consumers. Steve Jobs lived by the Vitality Index -- it's no coincidence this is the root of Apple becoming the world's most profitable company, in a highly competitive market space. Pool and spa business owners can learn from and leverage this learning.

So what is the Vitality Index? The Vitality Index is a powerful metric that pushes you to examine your business very closely, with laser-like precision. It measures one thing: the percentage of your products and services that come from products or services that are less than five years old (innovation and differentiation), or are distinctively unique and in limited supply (remarkable). The metric is culture changing. It forces your team to continuously seek out and learn to champion new products.
The Vitality Index guides and disciplines your team on new product selection and promotion. It forces a culture of always looking for new and better, on building skills for pioneering new products It adds an edge of urgency: every year, 20 percent of your products move from being "vital" to the "commodity" category. And again, commodities are the low-margin items your customers can buy anywhere, the products that place your company in the "Death Zone" I addressed in the last post.
To be a High Fidelity business, it's critical for your company to be unique, differentiated and remarkable. Achieve that, and you'll find your customers coming in every spring, asking a very promising question: "What's new?"
So here where to start: the "Red Dot Test." (Tip: Most dealers have told us this works faster and better with 3M colored strips from Staples than red sticky dots.)

Start with each water care category and work outward from there to all aspect of the business. For each category, attach a red sticker to every product that is over five years old or "unremarkable" (meaning it can be easily searched for and found on Internet). Then stand back. Do you see red dots everywhere? If yes, you have work to do. No wonder Wal-Mart, big box and discount Internet vendors are stealing your customers; your business has been commoditized into the red "death zone." Time to shift focus to the Vitality Index and become a High Fidelity business.

Dennis Gray is the co-founder — along with one of the most experienced teams of innovative industry professionals — of Backyard Brands Inc., and former President of Biolab's International Group of companies. Backyard Brands is focused on one mission: to develop differentiated and remarkable backyard water wellness products sold exclusively through Backyard Leisure Professionals who have a passion for reinventing their businesses to compete more successfully in this new age.