What if truly effective strategic marketing was as simple as playing tic-tac-toe, that simple child's game we all know and understand?
Anyone who knows us and the team at Legendary Escapes knows that we like to live in the land of "what if." It's in this place where we've had the keen insights into work, happiness, business and success that have allowed us create a company that truly meets our needs financially, professionally, artistically and personally.
Out of this has spring a simple yet incredibly powerful system called Organic Marketing that can help your business grow in a way that brings you more joy, more fulfillment and yes, more money.

RELATED: Organic Marketing in the Digital Age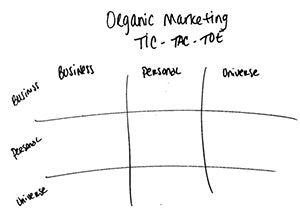 It looks deceptively simple. It starts with a basic tic-tac-toe board, with each of the nine squares representing a part of you and/or your business. So what's the secret locked in the layout of the Marketing Tic-Tac-Toe board?
The magic lies in breaking down your marketing efforts into three categories: personal, business and universe. We lay out the board's horizontal and vertical axes with each category. (See image on right.)

Just like in traditional tic-tac-toe, a winning campaign or marketing strategy comes from successfully connecting three squares in a row – whether it's up and down, across or diagonal. Using the tic-tac-toe concept creates a visual short-hand designed to help you reach new audiences, build new relationships and build your business.

The Middle Square: YOU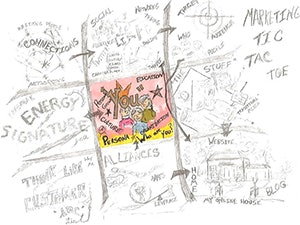 To get started, we begin in the middle, defining the most important square of all, the one that represents YOU. This is square that becomes the linchpin around which everything else revolves.
As you think about this square, imagine your ideal vision for your own business. What do you want it to become? What do you see in the business? How does it make you feel? What does your business look like to customers? How about in the background — how does your team view your business? How does your business make them and your customers feel?
How confident are you in your business? Do you let outside influences change your perspective? Do you look at the competition and see somebody else that is bigger, that has more tools or more abilities, and let that affect you?
This center square of You should take the most time to contemplate. It will be a work in progress as you grow and change. Take the time to clearly define your vision of your work as begin this process. As we move through the other squares, you'll want to revisit this square as you discover more about yourself and gain even more clarity.


Square Two: Your Target Audience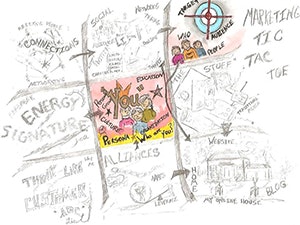 "The customer is always right. Except when they are wrong."
In this new connection economy, who you choose to do business with is just as important as what you choose to do. Not everyone should be your customer, yet turning down potential business seems counter intuitive.
We began shifting our approach at the end of a particularly challenging project. The homeowner was beyond thrilled with the results of our planning and hard labor. As he happily wrote the final check, he turned to Al and said, "You know, you could have charged me 50 percent more for this project and I would have paid it, no question."
Our ideal customer, we realized, would be the homeowner who wants something out of the ordinary, something epic, and is willing to give us the artistic leeway (and the budget!) to create that vision.
RELATED: How 'No' Can Help You Build Your Dreams
Creating a business that truly feeds your soul begins with knowing your true value in the marketplace and honoring that value by only working with customers that get it.
Who are your existing best and favorite customers? Would you like more of them? (If this answer is not clear, please take the time to go back to the middle square to reevaluate your vision and develop more specific thoughts on who you would like to work with.)
As you consider this square, don't get hung up thinking about the kind of customers you have now; they might not be the ideal ones moving forward, as Al and I discovered through this process. Instead, think about what your ideal customer looks like in light of what you've learned about your business vision in the first square.
By clearly identifying your customer, you'll find you can create marketing messages that are so specific and relevant that you'll actually attract that ideal customer you're looking for.


Square Three: Think Like Your Customer (TLC)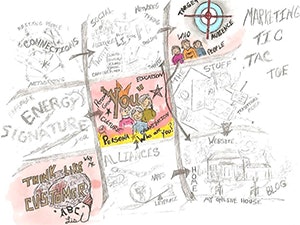 Many of us start our businesses trying to appeal to the mass market. In our industry that means basic pool designs for basic budgets, nothing really special or unique, but plenty of customers willing and able to buy. If volume is your thing, this business model makes sense.
If you long to provide more creative and custom solutions, you are looking at a smaller, but infinitely more interesting client base. They certainly aren't the typical mass market client with a fixed budget and set expectations as to what "pool" means.
The question becomes: "How can I find a client who is willing to hire me to do this different thing I want to try?"
We believe it's all about telling the right story that echoes what your ideal customer needs or wants. We quickly realized our ideal customer is not looking for a pool — they are hoping to create a lifestyle experience in their backyard. Once we knew this, we created marketing messages — by telling stories of that ultimate backyard experience and the fun it brings — that would resonate with this particular audience. As a result, we began building a voice and a brand story.
RELATED: How Storytelling Sells Pools
How about you? What does your ideal customer really want, and how can you inform your marketing to tell that story? Do they want something nourishing or something scrumptious? Do they want a fast car or transportation from A to B? Do they want to do more or just make it easier/faster?
How much time do you spending thinking like your customer? The more often and more specifically you do this, the more likely you are to put out the right marketing message that will bring them into your business.

What's Next
To get the most out of Organic Marketing, we recommend you grab a journal to keep all your work in one place that you can refer back to. This month, spend some time fleshing out these three squares, jotting answers to the questions for each square and gaining a good understanding what you want, who you want to work with, and what they need. These are the building blocks around which you'll build a strategic marketing plan that is simple to understand, fun to play and powerful to use. Next up: squares 4, 5 and 6!
Read the next article in this series here.

For a signed copy of the Sandi and Al's book on Organic Marketing, just drop us a line at askthepoolguy@legendaryescapes.com, if you are interested in working the entire program, join us on Skillshare.com for our Organic Marketing Course (Free Enrollment) that will tie this all together.