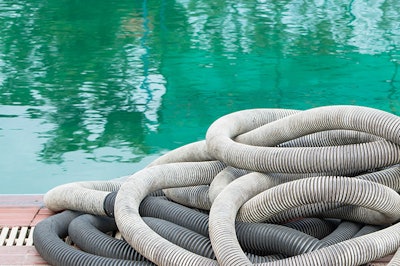 A successful pool and spa business takes advantage of every chance to pick up a sale. A prime opportunity can often crop up in the casual, friendly interactions that occur on a daily pool service route between a tech and a customer.
The backyard service tech using an APC to clean a pool is actually providing an informal demo presentation just like the Juiceman rep at Costco. Only the audience doesn't realize it's being sold. In these situations, the customer observes the process of cleaning a pool with an APC and applies the inevitable logic to the situation: "I could easily have a completely clean pool every day, even between service visits, with one of those things."
Such scenarios are playing out across the nation as service companies take advantage of normal-course-of-the-day openings to sell more APCs.
"Selling robotic cleaners to customers has become more commonplace," says Dan Lenz, All Seasons Pools & Spas Orland Park, Ill. "Customers see their pool pro using a robotic cleaner on their pool and realize it's fairly easy to toss in the cleaner and plug it in. This can be appealing for the pool owner who really wants to keep their pool as clean as possible between service visits."
These transactions are not only profitable for the service company, but help build customer trust as the service technician is seen to be focused on the end goal — a clean pool.
Russell Koch of Backyard Vacations Pool & Equipment in Medicine Hat, Alberta, says he's glad to sell customers an APC unit because it helps preserve the relationship for other business.
Nearly every consumer is tempted to look online to try to find a better price, but the backyard customer/service tech interaction allows Koch to explain his APC sales caveat: that he will service any cleaner he sells, but will not service a cleaner purchased elsewhere.
It's the tremendous convenience of the APC that really drives customer interest. Most consumers have an innate belief that with enough machines working independently on the myriad tasks of an ordinary day, they will have time to relax. The automatic pool cleaner fits that bill precisely, as it performs its job effectively and with a minimum of attention from the user.
Also, a major subcultural movement is the growing aversion to dirt. Many people are obsessive about cleanliness, and having an automatic pool cleaner working every day to keep their pool clean provides a powerful subconscious source of satisfaction. For these people, daily APC use means the pool will always look clean and tidy — a major goal.
The service technician may not even need to keep a supply of salable APCs on hand. Chris Morelli of South Strand Pool Maintenance in Surfside Beach, South Carolina, sells to people on vacation, far from home, by simply directing potential buyers to his company's website.
"Many of the pools we service are attached to vacation rentals at the beach," he says. "These people see us using the units and want one for their own pool back home. When the renter inquires, we direct them to our website online, where we sell them the unit and ship it directly to them back home."