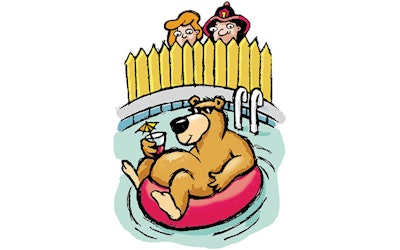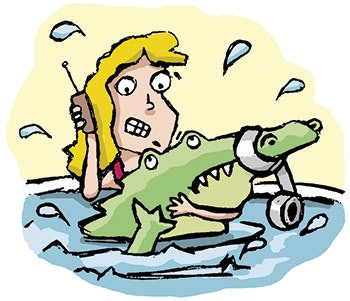 Last month, AQUA devoted its entire September issue to exploring the myriad ways humans have fun in pools and hot tubs. Assembling the collection of stories was great fun, but we did inadvertently leave something out of the mix — animals! They have as much fun in the water as we do!
Don't think so? Consider these famous examples:
Way back in 1994 in Monrovia, Calif., a cinnamon-colored bear that would become affectionately known as "Samson the Hot Tub Bear" was videoed lounging in resident Gary Potter's backyard hot tub. To the delight and amazement of Potter and soon-to-be Samson fans, the bear (technically an adult male black bear) made his spa breaks part of his daily routine for over a month.
Once the local news broadcast the video, Samson became an overnight media sensation.
He became so popular that after he was safely captured there was a public outcry to find Samson a suitably comfortable permanent home. Eventually funds were raised for a lavish paddock complete with spa at the Orange County zoo, where Samson lived until he died in 2001. In 1998, author Wendy Takudo published her book, "Samson the Hot Tub Bear." Today a bronze statue memorializing Samson stands near the zoo's entrance.
While Samson's meteoric rise to fame was certainly unusual, modern media is full of such stories. Many are relatively common and even predictable — ducks, frogs, raccoons and snakes in a backyard aboveground barely raise a brow — but others are so unexpected they've warranted coverage by the likes of National Geographic and Animal Planet.
In 2010, Animal Planet aired a story about "the case of the disappearing spa water" at the Etalti State Lodge in South Africa's elephant country. As the story goes, a spa used by lodge visitors was losing around 200 liters of water each day. The vessel and plumbing were inspected for leaks but none were found. It didn't take long before a large African elephant named "Troublesome" was seen dipping its trunk over the fence and into the spa for a daily drink.
Just this year, clips of capybaras, the world's largest rodent species, lounging in a steaming spa at the Saitama Children's Zoo in Japan went viral on YouTube and other Internet channels. Similar videos of alligators, primates and other species have likewise garnered countless online clicks.
SERIOUS BUSINESS
For all the serendipity of animals in manmade pools and spas, it's also been treated as a serious matter from a variety of camps.
For example, the U.S. Centers for Disease Control disseminates guidelines for dealing with dead animals found in pools and spas, and Jacuzzi also publishes guidelines for homeowners concerned about animal intrusion.
But those recommendations are not always aimed at human safety and comfort. The Humane Society offers specific recommendations for making pools and hot tubs safe for animals with ideas such as building a sun shelf or beach entry for easy entry and egress or using chaise lounges or deflated pool toys as makeshift ramps. And for homeowners interested in preventing animals using their vessels, the Humane Society recommends using pool or spa covers.
In an entirely different context, there are businesses such as kennels and animal daycare centers that offer pools for pets as amenities. There are now even veterinary clinics that use therapy spas for treatment of large animals such as thoroughbred horses.
All told, it's safe to assume that as long as we bipedal hominids create pools and hot tubs for our own enjoyment, there will always be opportunistic animals that will also gladly take a dip.
AQUA has an enthusiastic history of covering the joyful interactions between animals and backyard vessels. It only makes sense. We love animals; and we love pools and spas. Check out our Top 10 Animal Stories at aqmag.co/top10animals