Swimming pools are a perfect match for film. Their shimmering, inviting water lends an irresistible beauty to an already visual media. They're meaningful in how they act as a bridge to our youth, our summers in the sun. More practically, pools make a great setting for a scene in a movie or TV show, while artistically, they can create deeper meaning by quietly acting as a metaphor. Quite often, it's both.
Thinking back on why we love something can usually, in some part, tie to pop culture — we like local diners because of "Happy Days," or the twist reminds us both of the Beatles and "Pulp Fiction," for example. It's inevitable.
With this in mind, the AQUA staff looked back on the swimming pools from TV and film that have stuck with us. We'd love to hear what's stuck with you, too.
---
The Graduate
There are so many powerful impressions from this famous pool scene, it's hard to focus on just one, and that is Ben Braddock's problem as well. He's finding it hard to focus. Ben (young Dustin Hoffman) has just graduated from college, he's intentionally unemployed and just floating — often literally, in the pool.
With Simon and Garfunkel softly singing in the background, Ben takes to the pool, day after day, comfortable but uncomfortable with his shallow life, as his parents look on, concerned.
"Ben, what are you doing?" his father asks in annoyance, leaning out over the pool, blocking out the sun.
"I would say that I'm just drifting… here in the pool."
"Why?"
"Well, it's very comfortable just to drift here."
No truer words were ever spoken in a cinema.
Every time I see this brilliant movie from Mike Nichols it recreates the actual feeling of an aimless life of comfort, with all its seductions, with all its subtle anxieties. And Benjamin's hours of floating around the pool work perfectly as a metaphor, certainly one of the strongest in pool cinema history.
---
Caddyshack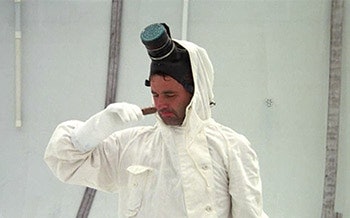 Here, we go from high brow to low brow with one floating Baby Ruth bar! The accompanying sound track from Jaws was a comedic inspiration, using a film everybody in the audience had seen to instantly build the emotional foundation for the gag, with "doodie" substituted for a Great White. In both films, the horror and panic in the bathers' eyes is visceral, true-to-life and a credit to the filmmakers. —SW*
*Eds. Note: Professionally speaking, there's nothing funny about fecal accidents, and we are ashamed of laughing at this one.
---
The Sopranos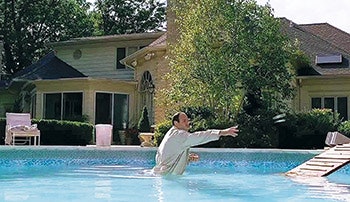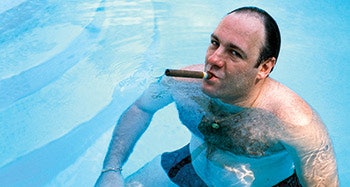 One of the most potent and entertaining portrayals of a swimming pool in television and film history came courtesy of HBO's classic gangster series, "The Sopranos."
Throughout the series, one of the primary thematic threads explores protagonist Tony Soprano's ongoing struggle to reconcile his desire for a normal family life and his "career" as an organized crime boss. Time and time again, the swimming pool serves as a passive metaphor and poignant venue for those often-explosive internal conflicts.
Early in the pilot episode, for example, Soprano is seen wading in his backyard pool wearing his bathrobe as he attempts to care for a family of ducks that have made the pool a temporary nursery for its ducklings. He's fascinated by the ducks to the point of obsession and at the cost of snarky chiding from his family.
In that same first episode, Soprano sees a psychiatrist in an attempt to figure out why he's been having panic attacks, a human frailty that is unacceptable for a mobster. Through a sequence of brilliantly scripted scenes, we learn that his attacks began right after the ducks grew to maturity and flew away, leaving him alone, sad and bewildered, staring at the pool.
As the series progresses, some of the pool scenes are enormously humorous, others brazenly sexy, while others still are brutally sad. The more powerful pool-related vignettes include one in which he "reunites" with his wife, Carmella, in the water as they reconcile following a bitter separation. In another his son, A.J., unsuccessfully attempts suicide by way of trying to drown himself, and yet another a wild bear threatens Soprano's family's safety by invading the pool area.
Ultimately, in the final sequence of episodes when everything is falling apart in both Soprano's criminal exploits and his family life, the pool is left empty and badly needing repair.
Soprano's beloved ducks were never to return. —EH
---
The Simpsons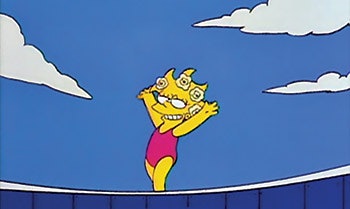 When it comes to the classic American family trying to have it all, there's nothing quite as relatable (and funny) as "The Simpsons." Given the show's lengthy tenure of more than 25 years on the air, it seems like they've covered just about every subject one can think of, including what it's like to be a kid with a pool.
The episode in question, "Bart of Darkness," opens on a boiling hot Springfield day. The local bus driver, Otto, drives around the "Pool Mobile," quite literally a swimming pool on a truck bed that stops in each neighborhood. Enchanted by their swimming experience, Bart and Lisa petition their dad for a pool, and he quickly complies.
The episode is naturally full of jokes at the industry's expense, from the dealer the Simpsons visit — "Pool Sharks: Where the Buyer is Our Chum" — to the names of the aboveground models: the HickTub, the Insta-Rust, the Lightning Magnet and the Tinkler.
Once the pool is up and running, Marge and Homer find the entire town at their doorstep hoping for a dip, and thus Bart and Lisa become the most popular kids in school. Until, that is, Bart breaks his leg in a pool stunt gone wrong, prematurely ending his swimming season. (A broken leg and access to a telescope naturally turns Bart into a "Rear Window"-esque stalker, but that's another story for another day.) With Bart out of commission, Lisa gets a rare, solo glimpse into the world of popularity, and enjoys it so much that she shows off with an Esther Williams-inspired swim routine.
However, when school nerd Martin Prince gets a pool bigger than Bart and Lisa's, the Simpsons find their popularity gone. Martin's turn in the limelight is also short-lived, though, as overcrowding results in the collapse of his pool. Everyone leaves, Martin gets pantsed as a way to add insult to injury, and all he can do is stand in what was once a glorious pool, naked, singing Sinatra's "Summer Wind." —CH
---
It's a Wonderful Life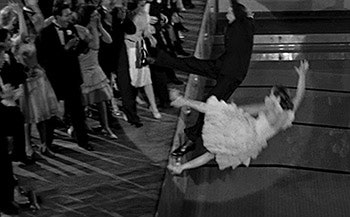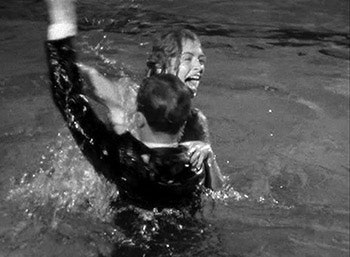 It's hard to believe a pool with a retractable dance floor overhead existed in 1946 when this charming film was made, but this was a working pool located at Beverly Hills High School in Los Angeles.
In this famous scene, dancers in formal dress falling into a swimming pool adds wild exuberance to the Bedford Falls High School dance, jump-starting the courtship of George Bailey (Jimmy Stewart) and Mary Hatch (Donna Reed).
Some people tell me this film is too syrupy and sentimental, but I still have to fight back tears at the end, every time. —SW
---
The Way Way Back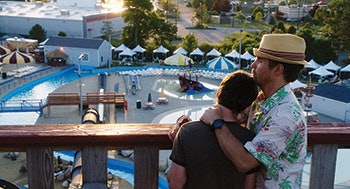 An aging waterpark takes center stage in the 2013 coming-of-age film, "The Way Way Back." Both wildly funny and deeply touching, the film chronicles the rocky summer vacation of Duncan, a lonely 14-year-old who struggles to fit in with his family and their hard-partying social set. Vacationing on Cape Cod, Duncan has become a verbal punching bag for his mom's overbearing and philandering boyfriend. Sullen, depressed and seeking escape, Duncan spends his days aimlessly riding around on a rummaged, bright pink, girls' "sting ray" bicycle. By chance he meets Owen, the rumpled wisecracking manager of the nearby Water Wizz water park. An aging beach bum suffering from chronic Peter Pan syndrome, the kind-hearted Owen offers Duncan a job. Duncan eagerly accepts and finds himself working alongside a staff of lovably tragic misfits. He gradually opens up, eventually becoming employee of the month. Along the way he discovers girls and ultimately finds fun and self-confidence among the park's aging slides and play structures. Like its motley staff, the waterpark is worn out but still big-time fun, if not a bit hazardous as well. For Duncan, it becomes the perfect place to discover the sunnier, and soggier, side of life. —EH
---
America's Mermaid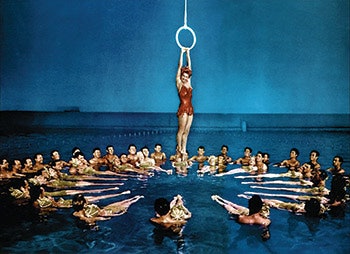 If it hadn't been for World War II, we might remember Esther Williams as an Olympic champion instead of a Hollywood movie star, but fate had other plans for the woman who would come to be known as "America's Mermaid."
In 1940, at the age of 19, Williams was at the top of her game as a competitive swimmer having set multiple regional and national records as a member of the Los Angeles Athletic Club. Unfortunately, the Olympics were cancelled that year because of the war, and she briefly took a job in a department store, a stint that wouldn't last for long.
Later that year fame and fortune came her way when she landed a role in Billy Rose's "Aquacade," a series of popular live aquatic extravaganzas where she swam alongside swimming legend and Tarzan star Johnny Weissmuller. It was during a run of performances in San Francisco Williams caught the eye of MGM talent scouts, who quickly ushered her into a series of minor motion picture roles.
During the 1940s and early '50s, Williams literally swam into the limelight as she popularized a film genre all her own, the "aquamusical," extravagant productions featuring lavish water ballet and diving scenes along with remarkably sophisticated water effects. Her stunning beauty, athletic figure and talent in the water propelled her to international stardom, culminating in her signature role in 1952's "Million Dollar Mermaid."
Williams rise to fame came at a time when the U.S. suburbs were blossoming in the aftermath of WWII as millions of "the greatest generation" fanned out across the nation, traveling on the newly minted interstate highway system; a cultural migration fueled by countless veterans purchasing homes and attending college on the GI Bill.
Few would argue with the acknowledgement that Williams' popularity in those halcyon days of American society helped propel the growth of the middle class backyard swimming pool.
Years later she also would be closely associated with establishing the beautiful, yet grueling sport of synchronized swimming, which she would tirelessly support and promote in her later years. In 1984, she served as a commentator for the synchronized swimming competition at the Los Angeles Summer Olympics.
Williams also made her mark in business with her own line of swimming pools and swimwear, becoming one of the most celebrated members of the pool and spa industry. She routinely appeared at industry trade shows and aquatic sporting events, remaining ever the swimming enthusiast and ambassador.
Although by the time of her death in 2013, her film career had been over for decades, Esther Williams will forever remain one of the figures most closely associated with the fun and glamour of swimming pools. —EH
---
Breaking Bad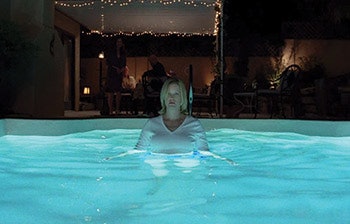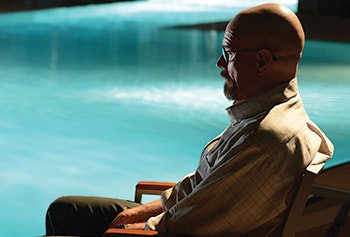 In "Breaking Bad," it's all about the blue. It's the color of the sky from which plane wreckage falls, it's the color of the water found in the central family's backyard pool, and most importantly, it's the hue of the methamphetamine created by series protagonists Walter White and Jesse Pinkman. And that correlation is no coincidence.
The White family swimming pool isn't necessarily remarkable. It's a classic Roman-shaped pool, not too big. It's a cookie-cutter pool that speaks to Walter's bland life. When suddenly diagnosed with cancer, and without a way to support his family, Walter utilizes his exceptional chemistry skills to produce high-grade meth, a kind known for its signature blue color.
As Walter's "side business" grows fruitful, so too does his commitment to the pool. He's often seen skimming the surface, tending to its needs, or simply sitting alongside it while considering his next move. During a particularly good mood, he even discusses purchasing an automatic cover or an alarm system to protect their newborn daughter.
The metaphor morphs as other characters learn more about Walt's new cash flow. We see shots of the pool's reflection wash over the characters, seemingly submersing them in the drug's signature sky blue hue. Walter's wife, Skyler, attempts to drown herself in the pool after learning of Walt's actions. In other scenes, pools are seen as sources of violence and pain.
In the final season of the show, Walter returns to his former home to find the house, pool included, in complete disarray. But by that point, it's the least of his problems. —CH
---
Let the Right One In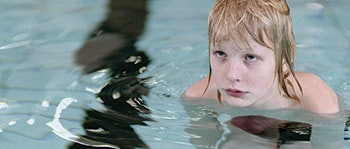 There's a lot of reasons why I enjoy horror movies. First, it's an endlessly creative genre that constantly reinvents itself. The range of what is considered "horror" is vast, from low-budget comedy/horror blends like "Sharknado" to nuanced stories that comment on various aspects of society. (Think "Rosemary's Baby," "The Babadook" and classic zombie films like "Night of the Living Dead.")
But I have to admit, I also just enjoy the thrill of being creeped out. And when I saw the pool scene from "Let the Right One In," I knew I found something great.
"Let the Right One In" is a Swedish film later remade in the U.S. as "Let Me In," and tells the story of a young boy named Oskar who unwittingly befriends a vampire, a girl named Eli. In one scene, Oskar is confronted by a bully, Jimmy, while in the school swimming pool. Jimmy's demand: For Oskar to hold his breath underwater for three minutes. If he fails, Jimmy will cut his eye out.
Knowing this to be nearly impossible, Oskar nevertheless tries to hold his breath. During the scene, we watch him underwater, eyes tightly shut, and hear some commotion from above. Someone is dragged to the other side of the pool, as evidenced by sneakers gliding unnaturally along the surface. Then: a severed head falls into the pool. Jimmy's arm, which formerly had a tight grip on Oskar's hair, loses its grip and falls to the bottom of the pool, severed. Oskar is pulled out by the pool by Eli, who saved him by "taking care of" the others. With blood on her face, their eyes meet, and they smile. —CH
---
4 x 100 freestyle relay, 2008 Beijing Olympics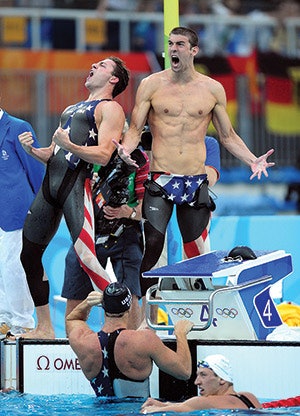 Before the race, world record holder and French relay anchor Alain Bernard said of this duel between the USA and the favored French team, "The Americans? We're going to smash them. That's what we came here for."
With 50 meters to go, trailing by a seemingly insurmountable margin, America's Jason Lezak chased the Frenchman down to take gold by a whisker, smashing the world record by nearly 3 seconds. It remains the fastest relay leg in history. No one who saw this will ever forget it.
The win for the USA relay team, which included Michael Phelps, Garrett Weber-Gale and Cullen Jones, kept Phelps on track for his record eight gold medals. —SW